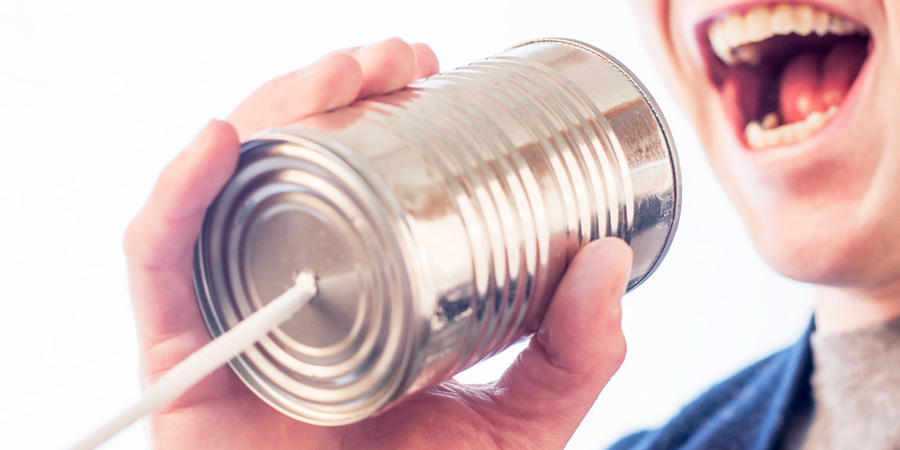 Most companies—probably in the neighborhood of 65% of them—create the websites they want to see, with content they want to share…with little thought to what it is the visitor wants or needs. These sites are filled, in part, with information about the company's history, the size of their plants, news of awards and other stuff visitors don't really care about. And the content that could be relevant to them, like products, is often missing the critical connection to the prospect—the answer to prospects' question: "What's in it for me?"
Not only does a site filled with "you-focused" content have the very real potential to bore (or worse, annoy) your visitors, but all that content—all those words about you—do nothing at all to help you come up in search results when your prospects are looking for specific solutions. Discussing the challenges prospects have and how your product solves them, on the other hand, will.
If you're unsure about your content or you know it needs to be reoriented to align with your prospects, the following tips just might help you:
Organize Your Content with Smart Architecture.
Does the way you've organized your site content mirror the way prospects are most likely to search? You can organize your content by product type, industries you serve, prospect challenge – all work, but what you choose should reflect what you know about how they think about their needs.
Make a Strong First Impression.
What's your target's greatest pain point or need? If it's finding equipment that requires little or no maintenance, for example, then your very first statement should be something like, "Product XYZ has the record for fewest interruptions in productivity," or, "You've found the answer to reducing downtime." First impressions also include visuals. We still see websites of equipment manufacturers that feature an aerial shot of their plant; all that does is tell prospects that you have a building. (We once presented to a prospect and a photo on one of the slides was our office interior; he asked, "Why is that picture there – are you trying to lease your space?") Instead of your real estate, show your product on a customer's site, doing what it's supposed to do; you can even put a video loop of it right on your home page banner so that's the first thing prospects see.
Show & Tell,

D

on't Just Tell.

Create as many videos as is appropriate and practical. Most all of your prospects know what your equipment looks like (maybe not yours specifically but certainly in general), but seeing it in action gives them a better sense of how it works, especially if what your equipment does is somewhat unique.
And, BTW, What's Your Tagline?
Yeah, I know: this isn't a blog about taglines. But if yours is something along the lines of, "Providing Quality Products Worldwide," or "Family Owned For Over 20 Years," you've missed an great opportunity to speak to and align with your prospects' needs. A tagline, depending on how prominent it is a part of your site, can "set the stage" and indicate to visitors what you're going to talk about (in these cases, yourself…not them). If yours is all about you, you might want to rethink it and create something that addresses what they're looking for.
Focus Content on Your Prospects.
I just read a web page with this on it: "ABC Company has been putting high-quality equipment on the job for over 20 years. In the process, we are proud to have developed a reputation for expertise, integrity and unparalleled customer service." That's great—now ABC Company should tell their visitors what that means for them. If expertise means products that perform 19% better than competitors and integrity means a 100% satisfaction guarantee and unparalleled customer service means their on-time delivery is at 99%, that's what this site needs to say.
Write with Your Prospects in Mind.
The natural tendency for most equipment manufacturers creating content for their site is to "tell their story"—list all their products, include an "About Us" section, talk about their locations and provide contact information for each. Nothing wrong with that if 1) it's written in a way that answers the question every prospect asks—"What's in it for me?" and 2) if you also include content that directly links to their pain points and needs.
Showcase the "Other Stuff."
In addition to your product's primary features and benefits (things like performance, flexibility and durability), equipment manufacturer customers may be very interested in warranties, maintenance agreements, guarantees and other "sidelines" – those things that enhance the value of your product. Don't hide them under a navigation heading like Contact Us or Resources; feature them prominently, even on the homepage if they're important considerations in your prospect's mind.
The key to creating a site that will attract the highest quality visitors (and help turn them into leads) is one that makes them feel as though the site was created especially for them; one that demonstrates empathy about their challenges, that speaks their language, and that's structured to meet their search needs. The result will be higher search engine rankings and more visits by the people you most want to talk to: your best prospects.