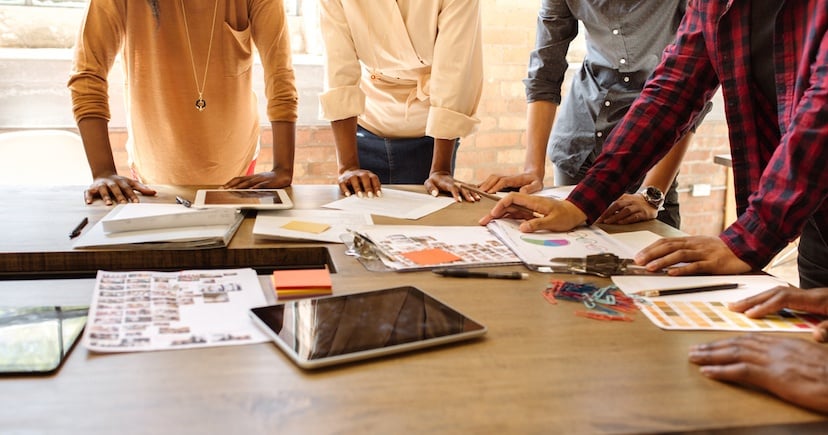 When you sit down to create new content for your website, what's the method to your madness? Are you following a pre-planned editorial calendar, or are you flying by the seat of your pants, taking stabs in the dark at what you think would be the most effective? If your strategy is more like the latter, it's about time you stop guessing at what your prospects want, and start planning content that answers their questions.
This means developing a comprehensive content strategy, and to help walk you through all the steps involved with creating one, here's an outline of what's required:
Where do you start?
Step #1 — Create Your Playbook
Whenever we start working with a new client, one of the very first things we do is create a marketing playbook for them, complete with a target persona breakdown, buyer's journey map, strategic brief, and more. In order to develop an effective content strategy, you need to have a solid understanding of who you're trying to reach, including your prospects' beliefs, feelings, behaviors, wants, needs, and more. We want clients to understand who their audience is and what they want, so they can better tailor their marketing messages.
Step #2 — Conduct Interviews
If you're looking for insights and perspectives on your prospects and customers, there's only so much you can learn through your outside observations. If you don't talk with these people on a regular basis, you'll want to talk to the people who do so you can learn more about the questions they're asking every day. This means setting up interviews with the individuals who talk to prospects the most, such as your sales team, customer service reps, and even facilities managers and engineers. As the individuals who spend the most time talking to prospects and customers, find out what questions they regularly get, and problems customers frequently have. If you can find out what their biggest hurdles are, you can develop your strategy around helping prospects clear them.
Step #3 — Prioritize Topics from List of Common Problems
Once you're done interviewing the people who interact most with your customers and prospects, the next thing you'll want to do is start prioritizing the list of problems and questions you've gathered—which should contain dozens of questions, issues, and hurdles that can be addressed by content. From performance to maintenance agreements, and cost to productivity improvements, understand the burning problems your prospects are having and prioritize content that would prove to be the most useful. By identifying the biggest pain points and addressing them, you can start to establish your company as a credible thought leader.
Step #4 — Determine Which Stage the Problem Fits (Attraction, Consideration, or Decision)
If you know what questions you're going to answer, the next logical step is deciding at which stage you're going to promote them. If you've mapped out your buyer's journey, you should have a good idea of where your prospects are experiencing the biggest hangups, and you can tailor your content to best fit their buyer's journey stage. If it's a simple, generic question about your industry, for example, you'll want to create content that helps prospects in the Attraction stage, as they're just trying to learn some of the basics. If it was a specific question about pricing, however, they're likely much closer to making a final decision, and should be promoted to prospects in the Decision stage.
Step #5 — Choose the Content Type
Now that you know what the biggest challenges are and where they fit at each stage in the buyer's journey, the next step is deciding which content type would be the most effective. For those just looking for more basic information in the Awareness stage, a tip sheet, infographic, or video can help convey the message easily, for example. In the Consideration stage, a more thorough eBook or whitepaper is often more suitable, while deals, offers, and discounts typically prove to be the most effective style of content for convincing prospects in the Decision stage.
Step #6 — Schedule It & Support with Social and Email
Once you know what you'll be talking about and how you'll be talking about it, the last step is getting everything scheduled on your editorial calendar, including the corresponding social media and email nurturing you'll use to support your content. Make it clear what will be publishing on any given day and on what platforms, and what supporting content will be used along with it. You should be able to plan everything weeks in advance, eliminating the need for any last-minute, "shot-in-the-dark" content.
Want to learn more about what goes into developing a comprehensive blogging and content strategy? Download our free eBook below to learn more!