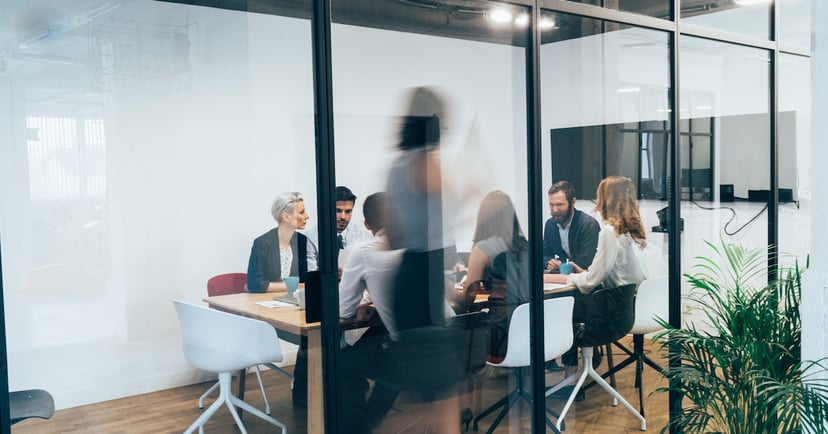 People at the top of organizations are usually there for good reasons. Perhaps they consistently produce top business performance results, or they strategically built their careers one promotion at a time.

Sure, some executives probably hold titles because of their last names, but, in my experience, most C-suite leaders (CEO, CFO, COO, etc.) have earned senior positions by demonstrating good, sound business judgment when it comes to protecting and investing business assets.

That said, if you're a vice-president overseeing sales and marketing, or you're a marketing director who believes your business could benefit from the attract-engage-delight inbound methodology, you know you have to convince some financially shrewd people at the top.

But before you can sell them on a solution, you need to get the C-suite leaders to agree that the problem or opportunity you want to address is a beneficial use of company resources. Next, you'll need commitment from key stakeholders that inbound is the right long-term strategy, because it won't work if marketing does it in a silo.
What's Your Most Compelling Goal?
There is no shortage of marketing tactics: SEO, content marketing, social media, video marketing, email marketing, lead generation, advertising, marketing technology — you get the idea. Yet, according to HubSpot's Ultimate List of Marketing Statistics for 2020, 63% of companies report that generating traffic and leads is their challenge, and 40% struggle with proving marketing activity ROI.

With so many marketing options, why the dismal results? It may be because of all of the choices. It's easy to get distracted by the "how" of marketing and lose focus on the "why," specifically goal-setting.

The goal(s) you choose should be based on your situation; while most businesses want more qualified leads, some would be best served by increasing their closing rate, or reducing the average cost of new customer acquisition, or improving the quality of new leads. Getting an objective handle on current business development performance will help you focus improvement efforts in the area(s) that provide the best business impact.
Selling the C-Suite
Once you have consensus around a clear goal that everyone can focus on, how do you get the CEO, CFO, and COO to agree that inbound marketing is a strategy that will positively impact your specific goal?

Shape the argument around the five factors that matter most to them:
1. Growth
Inbound marketing starts with great content optimized for search engines, which attracts more quality leads at a lower average cost per lead than traditional outbound marketing tactics
Marketing automation facilitates lead nurturing so that more leads become sales-qualified
Centering sales efforts entirely around qualified leads results in a higher closing rate and a lower customer acquisition cost (CAC)
2. Predictability
Content creation grows marketing assets which are largely evergreen — committed inbound marketers report a majority of leads coming from older content that continues to attract prospects
Growth in traffic and leads is predictable based on benchmarks and proven models
RELATED: What Is An Evergreen Marketing Asset? Watch the video!
3. Risk Management
4. Sustainability
Evergreen content assets continue to produce economic value by attracting and engaging leads, unlike paid tactics such as PPC that stop generating traffic the moment you turn them off
Ongoing learning by marketing and sales teams contributes to continuous improvement in business development effectiveness
5. Solvency
Payback is predictable and relatively fast: typically 12-18 months
Investment to create and execute the plan is controlled, with a majority of spend set up to pay-as-you-go
ROI is attractive and continues to improve over time as you measure and improve both customer lifetime value (CLV) and CAC
I guarantee, if you take the time to make this five-point argument in the context of your current business development performance — and the business goals you've identified for 2020 — you'll get leadership buy-in for inbound marketing. In fact, your C-suite will be asking you how soon you can get started, and what took you so long to show them the light.
Of course, once you show them how compelling inbound marketing is for your business, you better be ready to act with confidence!