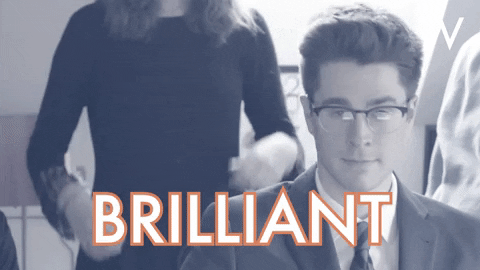 Congratulations to you! You're using inbound marketing to achieve your business development goals.
Wait...what was that? You're NOT hitting your goals? Not growing like you think you should?
We're not here to help you assess blame; we're here to help you move forward. So, whether your current inbound marketing agency's efforts are questionable, you're looking to hire your first one, or you just need to learn how to improve your inbound marketing program, we have some insights to share.
Before we jump in, please know that we understand the stress you're under. You're likely committing to a large budget and spending more on a monthly basis than you ever have before. Partnering with an agency for an ongoing marketing program is a big step.
From our experience, maximizing this type of engagement requires a unique mindset. Notice how I used the word "partnership" earlier? The best clients treat their agency as a true business partner. When they're open with their business performance and engage an agency as an extended team, they see better and quicker results from their inbound program.
As you continue your inbound marketing journey, here are some ways to ensure you're getting the most from this partnership.
Get Senior Leadership Involved
Companies who fully embrace the inbound marketing philosophy, including all aspects of the flywheel, see a faster and more dramatic transformation than those who leave it up to their marketing department.
This transformation moves from the top down. It's crucial you get immediate buy-in from senior leadership and involve them in key early meetings with your inbound agency. When other departments understand that senior leadership has embraced inbound and has participation expectations from the entire organization, you begin to see true transformation.
RELATED: What Does Organizational Buy-In Have to do With Inbound Results?
Engaging leadership early also helps to set proper expectations on anticipated growth and establishes key performance indicators (KPIs) that matter to them as they evaluate the success of the inbound program.
Engage Your Internal Subject Matter Experts
Companies successful at creating great inbound content get full participation from their subject matter experts (SMEs) within the organization. People from engineering, product development, service, and sales are treasure troves of valuable insights and expertise that allow you to create content that truly sets you apart from the competition.
To fully engage SMEs, give your agency partner direct access (versus always working through your marketing department). This is especially important when you're relying on your inbound agency to write content on your behalf.
Being able to have live conversations with your SMEs is not only more productive and results in better content, it allows your agency partner to ask deeper questions to advance their understanding of specific topics and your business as a whole.
Forming these direct relationships also helps foster a partnership in which your SMEs start to think and act like publishers and might even begin to pitch topic ideas for their next blog article. It's a magical thing when this happens!
Connect Your Agency With Your Sales Team
Perhaps the most important SME to engage for a successful inbound marketing program is your sales team. Not only do they have insights and expertise to contribute to your content development efforts, they also understand the buyer's journey, pain points, and signals that indicate prospects are ready to buy.
Giving your inbound agency direct access to your sales team educates them on the importance of their involvement, creates a collaborative environment on nurturing and closing inbound leads, and inspires them to fully use your inbound marketing content.
RELATED: Sales & Marketing Service Level Agreements: A Guided Tour
We recently conducted a content brainstorming workshop during which the client's entire 26-person sales team participated. At the end of the 2-hour meeting, we had gathered enough blog topic ideas to fill their editorial calendar for at least 12 months. Plus, the team is now engaged and motivated, which is a 180-degree change from previous attempts to get them to participate.
Share Your Business Performance
What you'll quickly learn when working with a top-level inbound marketing agency is their desire to get "under the hood" of your business and understand your business goals. How do you make money? Where are you most profitable? How is your business performing overall?
Answering those big picture questions is a great springboard into capturing other KPIs around the business performance metrics that matter most to your senior management.
A flywheel dashboard not only shows KPIs around the flywheel (attract, engage, delight), it identifies the force and friction for your marketing, sales, and service teams.
A dashboard also creates transparency and accountability across the organization regarding what's happening with leads, opportunities, and customers relative to your business growth goals. Everyone can see at a glance if leads aren't turning into pipeline opportunities, if they're not being worked by sales, or if customer satisfaction/NPS is trending down or up.
Your inbound marketing agency should also be asking about:
Target revenue goals
Ongoing sales performance (year-over-year and actual sales vs. goals)
Sales pipeline
Utilization of resources
Newly closed sales/customers (to evaluate the source of that new customer)
Customer acquisition cost
Customer lifetime value
Market sensitivities/trends
These types of details are priceless to making wise quarterly adjustments to your inbound strategy where needed.
Invest in the Right Inbound Tools & Platforms
Many B2B marketers feel overwhelmed when evaluating thousands of available apps, platforms, and software to perform various marketing functions. Yes, you should have certain digital tools in your arsenal, but this responsibility shouldn't completely fall on you.
The best inbound marketing agencies have a marketing tech stack, or technology-based tools that help them automate, perform, and report on marketing activities across multiple channels. So, your investment in the right inbound marketing agency should also include advanced technology that they use for your benefit. To get an idea, check out these: Databox, Lucky Orange, and SEMrush.
If you're serious about inbound, you know about HubSpot (they invented it, after all). One platform you're definitely going to need is HubSpot's Marketing Hub Professional. This license gives you and your agency the ability to do...well, everything: blogging, emails, landing pages, analytics, automation, social media, SEO, ads, etc. It's a "must."
As the use of video continues to surge throughout marketing (especially B2B), choosing from the thousands of software platforms available can make your head hurt. Although YouTube and Vimeo may be the top two right now, Wistia is uniquely positioned to help marketers because it's focused on metrics and conversion rates, offers a customizable video player, and is staffed by extremely helpful professionals.
Like I mentioned, building a productive partnership with an inbound agency requires a unique mindset, which should include some realistic expectations on your end. I hope this list of initiatives helps you transform your company and achieve your business development goals.
If you haven't seen our resource library on "Improving Inbound Marketing," you're invited to check it out. It's loaded with helpful information and insights from Weidert Group.