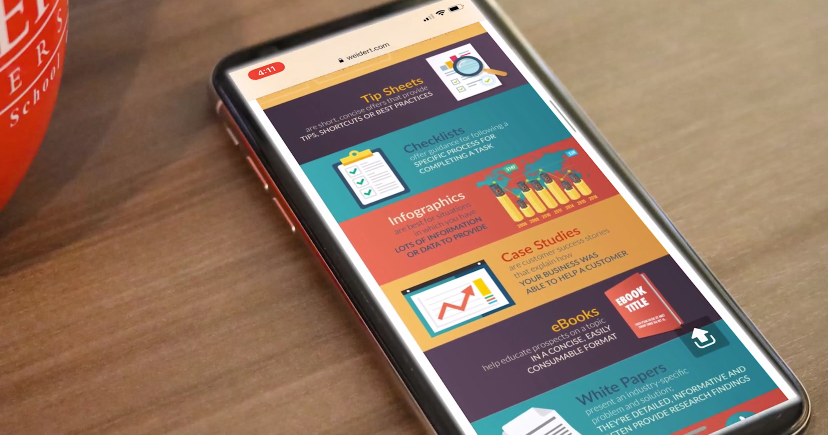 At Weidert Group, we live and breathe content. As inbound marketing experts, we see firsthand how content helps our clients successfully attract, engage, and grow their target audiences. To some the thought of filling an editorial calendar with content is overwhelming and we sometimes hear from our clients that they can't think of anything new to write about. But it's important to remember that content pieces like blog posts or explainer videos can — and should — be repurposed in many different ways to maximize engagement and get you the best results from your inbound marketing program. Take the next two minutes and watch the video below to get ideas for repurposing your content not just to fill out your editorial calendar, but to engage your audience where they're already spending their time each day.
Transcript: Repurposing Content
At its very core, inbound marketing is all about content. After all, we rely on having content available to attract visitors to our websites and to nurture them throughout their buying journeys. As practitioners of inbound, It's no wonder that we spend so much of our time and effort on creating quality content.
Think about the time that goes into creating a single blog post, for example. You invest your time not only in writing and publishing the post, but in all of the planning that goes along with it: the strategy behind the specific message you want the post to get across, the research...maybe even an interview with a subject matter expert to really get to know the topic.
RELATED: How to Write a B2B Blog That Generates Leads
There's a common misconception that you're "done" with a blog once you've hit the publish button, but wouldn't it be great if you could get even more out of all that time you'd invested in creating the content for that blog post?
Think about all the different ways you can package that content to get the most mileage out of it: you could turn that written blog into an infographic for your website, you could record it as a podcast or present the information as a webinar, you could get someone on camera to turn it into a video, you could break down the key points of the blog in to bite-sized nuggets that can fuel a social media campaign, you could even create some fun visuals like memes or gifs to use on social media. And, of course, you can build on the momentum of that content and expand that standalone blog article by including it in a more robust content piece, like an eBook or a tip sheet.
Thinking about a piece of content and how you can repurpose it will not only help you keep your editorial calendar full, it'll also help you promote and distribute that content across more channels to engage with more of your audience.
Conclusion
Repurposing content is a key part of any inbound marketing strategy. It exposes a larger audience to all the good things you have to say, just sliced and diced in many different ways and formats — allowing you to offer content for many user preferences. But don't forget that it all starts with content that helps your customer. For more ideas, download our tip sheet "10 Ways to Keep Your Blog Stocked with Great Content" and you'll be well on your way to filling your editorial calendar!