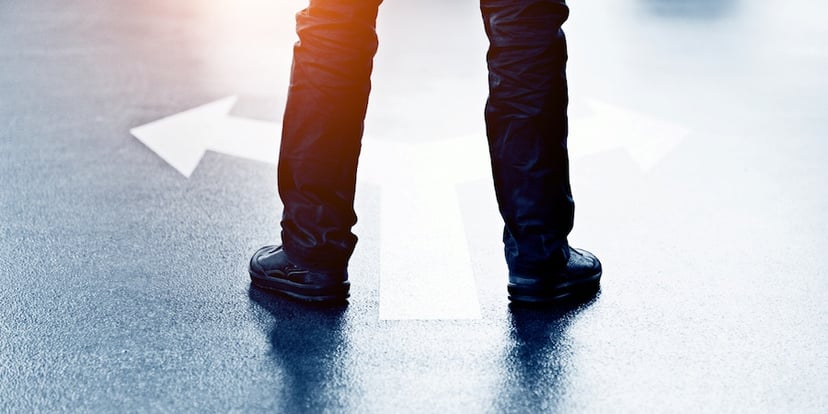 If you're a marketer charged with contributing to your company's growth goals, odds are you're well aware how much B2B marketing and sales has changed in the last 10-15 years — and that the traditional marketing and sales playbook (e.g., exhibit at and attend major trade shows, advertise in vertically focused trade pubs, make cold calls, rely on personal networks and word of mouth, etc.) no longer aligns with the way your prospects buy products and services.
At the same time, you see that content or inbound marketing is on everyone's short list under the heading "Where I need to spend more of my marketing time & budget!" What can hold you back is the lack of confidence you feel in creating and managing an editorial plan that will actually attract potential buyers to your web properties. (After all, you're a marketer, not an online publisher!)
But the message we're delivering every day to B2B marketers is that with buyers in control of their journeys, sellers and marketers need to start thinking like publishers, or face the ugly possibility of becoming irrelevant. Today's rapidly growing cadre of buyers rely on content to inform their journeys, and they eliminate potential vendors from consideration if their online help isn't easily accessible, valuable and transparent. There are many considerations when mapping out your buyer's journey, but start with these foundational steps to fuel your content strategy.
Click here to access our free Buyer Journey Mapping Tool
Getting Started With a Buyer-Centric Content Plan
Step 1: Internal Interviews
We always start the editorial development process by learning everything we can about a client's true value proposition, or the answer to the question "Why do your best customers choose your company over all the other options?"
We begin this step by interrogating everyone on the client's team who has enough personal experience with customers to feel confident about answering the question. So naturally that includes sales/business development people, but it also includes customer or account services staff, project managers, project engineers and, in some cases where the deals are huge, it may include senior management if transactions involve top-to-top engagement.
Step 2: Customer Interviews
The next step is to ask the our client to introduce us to decision-makers at some of their best customers so we can interview and hear from them — in their own words — how they choose vendors and why they picked our client as a trusted vendor partner. We also learn from them what precisely they would say if they were recommending our client to a peer. The values they focus on and the words they use to describe are extremely valuable toward informing our editorial tone, direction and language.
Understanding the "how" part of the vendor selection process is critical because it helps us to walk in their shoes and see the process more tangibly. Learning who is actually involved, what different people may be responsible for, and at what stages of the process different people are involved aids us in identifying and developing target personas (e.g., representatives of the actual people we want to be thinking of as we construct and execute content and editorial plans).
Step 3: Conduct a Buyer Journey Workshop
At this point we've generally got a good understanding of the client's business model and a solid foundation of knowledge about how and why customers choose them. So the next thing we do is get the expanded client team (everyone who understands their customers and is part of customer value delivery) together for a buyer journey workshop.
We have several important expectations/goals that we want to walk away with:
Gain consensus on specifics of the buyer journey — who's involved, how long and involved are the stages (awareness, consideration, decision), what is the relative importance/weight of each stage, etc.
Convince the team they have the insights and knowledge to create incredibly relevant, credible and compelling content and editorial plans simply by mining their experiences and wisdom gained during their careers.
Generate enough raw content ideas in this first effort to fill the idea vault for at least their first year of content publishing.
The work doesn't necessarily get easier after this, but the workshop is clearly a launch pad that helps open minds and inspire teams to what's possible, while filling them with the confidence that their collective organizational knowledge becomes raw material for growing a content library that can eventually represent a powerful competitive advantage.
Want to learn more about becoming a publisher of the knowledge that makes your company great? Download our free inbound marketing Buyer's Journey Worksheet below and start learning how to build a competitive advantage with staying power.