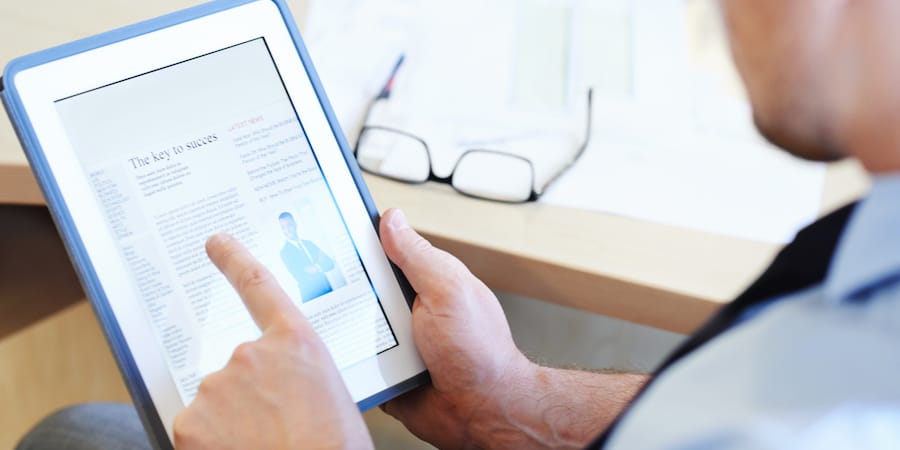 It's been said (I think in the movie "Ghostbusters") that print is dead. If you're not Dr. Egon Spengler, that assertion may be subject to debate. But 34 years after that great movie, "getting ink" in the trade press for your company is still a major boost to your reputation and to becoming a thought leader in your market.
As many of you know, shrinking staffs at trade publications mean that B2B editors are turning to expert companies for insightful, non-advertorial, articles on tools, tips and technologies. These appearances in the trade press get you in front of a lot of eyes.
Now, thanks to many of these publications adding a digital platform – or going strictly digital – your ability to draw more customers to the sales funnel is even greater because your articles can go beyond the type on the page and can be engineered to be SEO friendly. Here are some tips to help your publication content strategically build your SEO. First and foremost…
Get Placed
Someone once said, "80% of the job is showing up." Having the opportunity to present compelling copy on the digital pages of an important trade publication in your market already makes your article an SEO magnet.
Provide useful, detailed and valuable content for your target audience and you'll be going above and beyond. The readers will appreciate the time they've spent with your article, and the search engines like that, as well.
If you've spent time talking to your sales people and prospects (at trade shows, doing case histories and other opportunities to get to know your market), don't fail to mention it in the article, as it enhances your credibility. Of course, if you made it past the editor you've already satisfied these demands.
Here are additional ideas to attract more search engine attention:
Work in Keywords
Before writing your article, determine which keywords you want to work into it. Though this can be a DIY proposition, a digital marketing service can zero in on those that are the most effective in aligning with your prospects' searches.
Keywords should be incorporated in the most natural fashion possible, not awkwardly placed within the copy just to get them in. The search engines can pick up on this practice, called "keyword stuffing," and they'll downgrade you in search results when they see it.
Start with the headlines and subheads. Write them well so they grab and insert your keywords logically. Readers will get your point with an easy skim and that portion of the article will increase keyword saturation. Then go on to incorporate keywords into the copy, headers and tags.
Expand Your Article with Links
If you've produced other content that relates to your topic, link to the URLs in your copy. At some point you'll have developed blogs and placed articles that give further insight without interrupting the flow of the article.
But here's the trick: Just like the article itself, the link must not lead the reader to sales copy. If the link goes to another magazine article that your company produced, be sure it did not appear in a competitive publication. Generally, if the article ran in a general interest horizontal publication and you're putting the link into a specialized vertical magazine (or visa versa) you're good to go.
Work in links from other sources. The SEO team can help those producing your PR to optimize links for your earned media coverage. Working together, the combined team can choose SEO-boosting links for the article, and avoid those to avoid a search engine penalty.
Or, you can follow the old maxim, "it's easier to ask forgiveness than to ask permission," and leave it up the editor to deal with the links. Either way, if done properly you have earned additional exposure for your content and depth for your topic.
Put a Pressroom to Work on Your Site
I'm always amazed when I know a company has appeared in the trade press and a visit to their website reveals that they either don't have a pressroom, or they do but they only display their press releases. This omission happens often and is a wasted opportunity.
As great as it is that your article has been published, adding it to your website's pressroom gives it one more level of SEO attention. Plus, if that article is reachable as a link in a subsequent editorial, you draw more visitors to your site either through the clicks or the increased SEO.
Team Up the People in the Silos
The evolving digital landscape means that combining trade press PR with your digital program increases the effectiveness of both. Though there are marketing professionals who can play in both silos, usually they are specialists with either PR or digital-focused experience.
Create an alliance between the two areas of expertise so the PR hand knows what the digital hand is doing. Though one specialty can educate the other, this does not mean they will be doing each other's jobs; they'll be doing their own better. The PR people own the hard-earned relationships with editors. On the digital side, they have the technological understanding. Combining them results in a marketing and communications program with more punch.
More will be coming in the next post on boosting your SEO through the trade press.