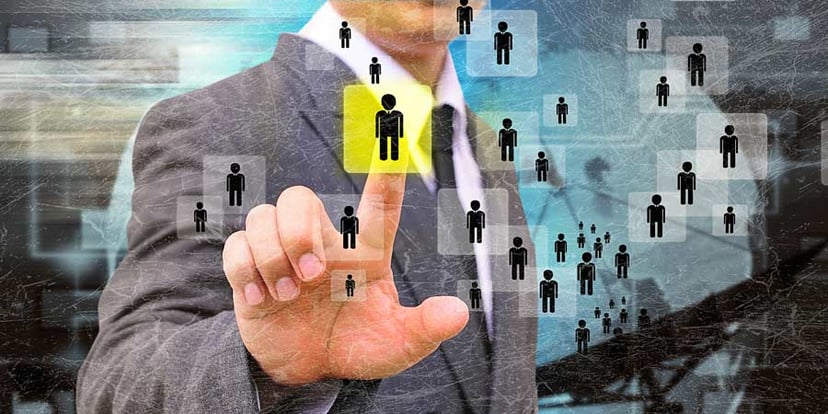 Using a marketing automation or CRM platform is the best way to manage a company's external message for prospects and customers. But did you ever think to take advantage of these software tools for recruiting the right talent for your organization?
If you're doing inbound marketing to attract your best prospects to your website and turn them into qualified leads, you should be using the same methodology and automation for recruiting the best candidates. Sure, you could buy a candidate relationship management tool (also "CRM") or other types of HR software, but marketing automation platforms, like HubSpot, are also fully capable of managing the interaction and messages you send to job candidates. You can use HubSpot to organize, automate and integrate your activities and interaction, including nurturing candidates once they download content or fill out an application.
Inbound Methodology Works for Prospective Employees Too
The same principles of inbound marketing that apply to potential prospects also apply to employee candidates. First, you want to draw candidates to your website by making sure they find the content and information they're looking for. Content should include messages that demonstrate your culture, your organization, and the reasons someone would want to be a part of your team.
Once you get your targets to your site and they become contacts by downloading the content you've created for them, you should nurture prospective job candidates by sending emails with links to additional information that aligns with their place in the "buyer" journey. In the case of job candidates, they're in the market for a new job and will, by what they download, demonstrate their level of interest in your organization.
The Process Begins With Candidate Personas
The first step in setting your hiring strategy is to clearly articulate who it is you want to attract, including specifics like years of experience, skills, career goals, values, motivations, and interests.
For a company that does plastic injection molding, a candidate persona might include details like these:
Male or female with a minimum of 10 years experience as a design engineer in a manufacturing setting
Has experience designing mission-critical medical plastic parts
Is an active learner
Has demonstrated success working independently, with the adaptability and collaborative spirit to work as part of a team
Has been given roles of increasing responsibility in past work environments
Has used the XYZ platform to develop 123-type projects for the automotive industry
Campaigning to Attract The Best Candidates
In order to attract your candidate personas to your site, you must provide the content they'll find valuable. What are they searching for and where are you going to put that content to attract them? You have multiple opportunities to publish the content that will attract the people doing searches online for open positions:
Blogs that talk about your workplace, projects you're involved with, the types of challenges you're solving, successes you've had, industry news, etc.
Social media – LinkedIn in particular. This is where those looking for a job will be focusing their searches, looking for companies in need of quality people, and you can make a huge impact by sharing relevant posts. (Make sure your company's LinkedIn profile and that of each of your employees is up-to-date and works hard to present your company in the best possible light.
Advanced content – downloadable, gated information. Create content they'll find useful as they consider your company. Maybe it's a copy of your organization's culture code or a customer case studies—something that demonstrates what's important to you and the type and quality of the work you do.
They've Shown Interest. Now What?
Once someone fills out a job application and/or downloads "candidate-focused" content, you start nurturing these leads. Send emails to candidates you're interested in that include links to additional content you want candidates to read. You could also include them on your company newsletter and encourage them to subscribe to your blog.
Each time they come to your site to download additional content, make sure you ask more (and more in-depth) questions in the form fields they fill out to get the content – questions that give you more insight into their intentions ("When do you anticipate wanting to make a career move?") and into any skills you think are necessary ("Do you have experience with ABC process analysis?"). This process will help you weed through the candidates to find those that most closely resemble your candidate persona.
How To Close a Candidate
In a typical inbound process, Marketing would turn over sales-qualified leads to Sales, and Sales would reach out to ask/answer questions and, in some cases, set up a meeting. The same process can be used for candidates, with an HR representative (or similar role in a small company) reaching out to ask if the candidate has any questions he or she might be able to answer. This is the bottom of the funnel, where a candidate just might need that one incentive to trigger the "sale."
Using a CRM to attract and hire the right people for your organization is far more effective than placing an online ad and hoping the right people see and respond to it. Ads can't tell the whole story – how your company thinks and acts, the details of its culture, demonstrations of what success means to your team – but a variety of compelling content definitely can. Content has the power to attract the right people, and a CRM has the power to optimize the process of finding them.