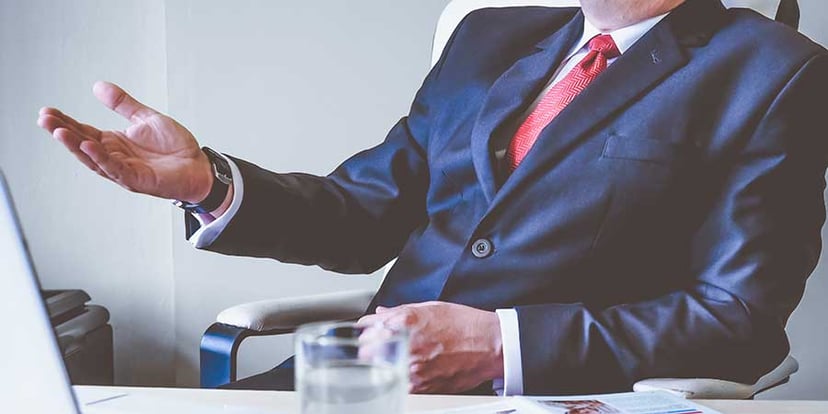 Part of our roles as B2B marketers is to always be looking for ways to get better…to get more from our efforts. Whether that be improved messaging, a more effective website or more engagement on social media—we're always looking to get more bang for our buck.
One area that gets a lot of focus—and rightfully so—is lead generation. For me, lead generation has been at the center of everything I do as a marketer for several years. In my role as a marketing manager with a small manufacturing company, it was my number one responsibility. Not long after taking that position, I realized I was facing a lead generation problem.
I spent a lot of time researching ways to improve. That led me to inbound marketing and it didn't take long for me to be convinced that inbound was the way we needed to go. The problem was I had to convince my boss to get on board.
While I believed strongly that inbound marketing could have a huge impact on our lead generation efforts, the idea of selling that to my boss was still intimidating. Change is hard for people even when the data shows it is necessary. Convincing my boss to try something outside the norm was going to be a challenge. Here's what I did:
1. Define the Problem
One of the most helpful studies I found was Google's Zero Moment of Truth or ZMOT study. In a nutshell, it explains that the way prospects—B2B prospects included—shop and buy has changed dramatically in the last 10 years. They no longer begin the process by talking to a sales rep. Instead, they do their own homework and start their process with an internet search.
Getting your boss to think about your prospects in that way is the first step in selling inbound marketing. Even though it's understood that the typical buyer's journey has changed, many don't think that change applies to B2B prospects—but it does.
2. Provide evidence
After introducing the ZMOT study, the next step I took was to begin defining what inbound marketing really means. I relied heavily on HubSpot to help me with that. In fact, I shared their webpage with my boss to introduce the concept.
From there I moved on to data. Who can argue with statistics like these?
Inbound marketing costs 62% less per lead than traditional outbound marketing. (Mashable)
Inbound practices produce 54% more leads than traditional outbound practices. (HubSpot)
B2B companies that blog only 1-2x/month generate 70% more leads than those who don't blog at all. (HubSpot)
Companies that blog generate 126% more leads than those that don't. (HubSpot)
SEO leads have a 14.6% close rate whereas outbound leads have a 1.7% close rate. (HubSpot)
Nurtured leads make 47% larger purchases than non-nurtured leads. (The Annuitas Group)
The list of statistics around inbound marketing and lead generation goes on and on. Focus on those that will mean the most to your boss.
3. Enlist an inbound agency
My boss saw the light pretty quickly. The more he learned about inbound marketing, the more excited he was about the types of results we could achieve if we put it into practice. However, there was one more hurdle we had to cross before we could get the ball rolling. That hurdle was the president of the company.
While I had done a lot of research and could present a lot of information, I could not claim to be an expert. After all, I hadn't actually practiced inbound marketing yet. My boss and I decided we needed to bring in reinforcements.
As part of my research, I had attended an inbound "boot camp" event hosted by two inbound agencies. It was a great experience. I learned more about the tactics that make an inbound program and heard from companies who had been practicing inbound for some time. The results they were experiencing confirmed that we needed to get started.
To help us convince the president that we needed to try inbound, I contacted Weidert Group—one of the hosts of the event. We embarked upon a journey that ultimately led to them coming in to help us sell inbound.
By demonstrating results through their experience and sharing even more statistical data, they were able to confirm the story we had been telling and convinced the president that we should move forward.
Don't Wait to Grow Your Business
As someone who has now been a practicing inbound marketer for nearly three years, it's easy to lose site of the fact that inbound marketing is still a relatively new thing. There are many small to mid-size B2Bs out there that haven't implemented an inbound approach or are just starting to dabble in it.
Nearly every marketer I talk to—and business owners, too—are intrigued when I tell them what I do and are very interested in learning more. If you think inbound could help you reach your goals, do your homework, share what you learn, and ask for your help if you need it.
The best time to implement an inbound marketing approach was five years ago. The second best time is today! Schedule that meeting with your boss.