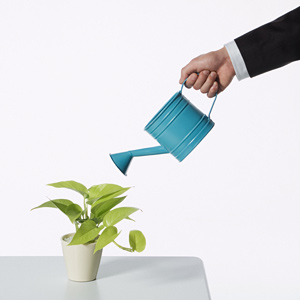 The statistic is a haunting one - 50% of leads are not ready to purchase your product or service when they first convert.
I used that statistic a few weeks ago when I first wrote about how a nurturing campaign can help you convert your leads into customers. That number has rattled around my brain for the past couple of weeks, so much so that I decided to revisit the topic this week with some additional tips for using nurturing campaigns to further qualify your leads.
Since we've already covered how a nurturing campaign can help you, let's dive right in with a look at the steps you need to take to set up a nurturing campaign that will help you convert leads into customers.
Determine your goal
The first step is determining the results you want to achieve with the campaign. Is this a campaign that will start with an e-mail to cold leads to try and re-energize them? Is this a campaign that further qualifies a lead in the sales funnel after an initial conversion? Considering the stat that began the blog - that 50% of your leads won't be ready to purchase when they first convert - this will be a common nurturing campaign for most businesses. That will be our goal for the rest of the post.
Determine your content
In a campaign that will be used to further qualify your leads after their initial conversion, moving them further down the sales funnel, you'll want to determine your content from the initial offer to the final stage of qualification. You can repurpose your existing content from other offers; just make sure it's related to the offer the lead initially converts on.
For example, one of our most popular content pieces here at Weidert Group is our guide to Turn Your Website Into a Sales Magnet, which introduces leads to the concepts of Inbound Marketing. Once a conversion takes place, the lead goes into a nurturing campaign that delivers related content, including an e-book on social media, an important component of Inbound Marketing, a more detailed step-by-step guide to Inbound Marketing and, finally, an offer for a free marketing evaluation that will show how ready a company is for Inbound Marketing.
Not only is all of the content related, but it's educational in nature. If your lead isn't ready to buy when they first convert, it makes more sense to educate them and further qualify them than it does to bombard them with a sales pitch.
Set up your timeline
This is where it's important to know your sales cycle. The content should be delivered via e-mails timed at regular intervals to move the lead through the sales funnel so that at the end of the campaign the lead is more educated, further qualified and ready to buy.
In Weidert Group's nurturing campaign based on the e-book Website Redesign 101, we have timed the e-mails out at intervals of 1 day, 3 days, 15 days and 30 days based on our experience with the sales cycle when a prospect talks to us about website redesign.
Here's what it looks like all ready to go: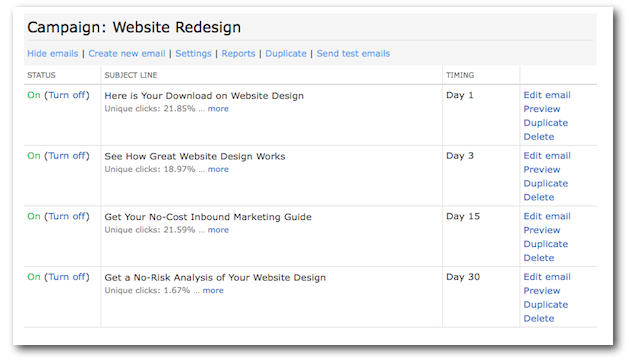 Now, as a user of HubSpot, we're able to have the campaign all set up and the process takes place automatically when a lead converts. You could use other e-mail tools and accomplish the same thing, though more manual intervention may be needed.
Monitor and adjust
Of course, none of this matters if you don't monitor your progress to make sure your nurturing campaign is guiding your lead through the sales funnel. Are they clicking through? Are they getting to the bottom of the funnel offer? Are the prospects getting to the bottom of the funnel truly ready to buy?
Depending on the answers, you have to adjust the timing of your e-mails of the content of your additional offers. Learn from your campaigns. Test variations in content and e-mail timing or subject lines. There is always room for improvement.
Learn more about Inbound Marketing and the role of nurturing campaigns in our free infographic.