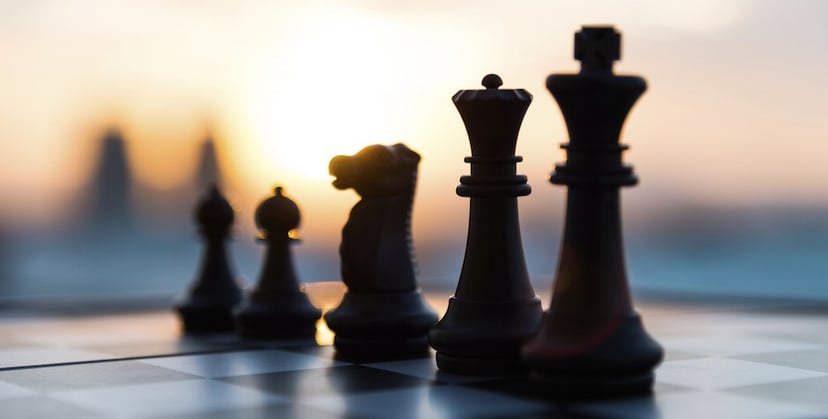 One of the trickiest aspects of content creation is the very first step: developing an editorial calendar. You need to understand your audience's pain points, choose which topics resonate most with visitors, and make sure your blog pages show up in a Google search.
It takes a lot of time and analysis to reach this point and, as in the past, keywords need to guide your content strategy. In 2019 and beyond, however, keyword campaigns are no longer enough; you need to take a topic cluster approach.
Following this approach, you can build out a content strategy that targets your ideal prospects' pain points. In this article, I'll help you understand how to determine your topic clusters to help you develop or improve your content strategy, and how to use it to guide your ongoing editorial planning. First things first, let's clarify one thing:
What is a Topic Cluster?
For B2B companies that actively blog (at least once a week), tracking a wide range of keywords relevant to your company, industry and previous content lends insight into your editorial calendar. However, a list of hundreds of keywords and long-tail variations isn't easily managed. Focusing solely on keywords can make your blog and website repetitive and unorganized.
Instead, a better approach for your marketing content is to organize your keywords into content pillars which broadly outlines a topic based on your different products or service areas — a much smaller (and manageable) list. Topic clusters address areas in-depth by focusing on the main topic rather than granular keywords. This strategy improves your website's architecture, makes it easier for search engines to discover your content, and can boost your SEO results.
Think of your main pillar page as an exhaustive resource on a specific topic which links to each related page within the topic cluster. Each cluster page also links back to the pillar page, each with the same hyperlinked keywords. This way, if a page performs well, the entire topic cluster's authority improves as well.
1. Audit Existing Content and Find Gaps
There's a long list of resources available for finding the keywords that are buzzing in your industry, and can suggest keywords based around topics relevant to you. Some SEO tools to guide your content strategy include SEMrush, Ubersuggest and KW Finder (targeting long-tail keywords with low SEO difficulty) just to name a few.
Before tapping into these resources, however, you'll need to understand the various "buckets" of content or topic clusters associated with your blog. Which topics do you want your business to compete in? Keywords are still important, but centralize them around topic clusters to drive your keyword strategy.
For instance, a steel pipe manufacturing company might want to focus on the areas of sizing, welding, quality control and material selection as four primary buckets of blog content. This will help narrow their research and home in on keywords that best match their products and services. As an example, below are results from SEMrush for the topic of "steel pipe welding."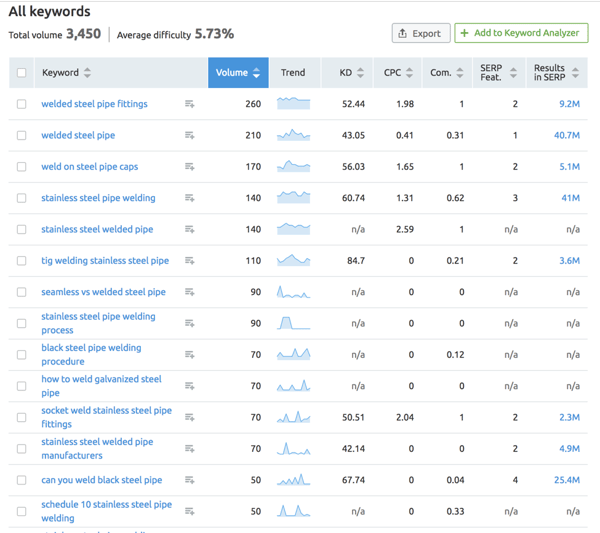 After defining these topic areas:
Develop short lists of keywords (and their variations) within each bucket of content. These should reflect the blog topics you're hoping to pursue or have already written on — and the search queries of your ideal customers.

Diversify short-tail (common industry terms) and long-tail keywords (specific to your company's products and services.

Import these keywords into different keyword research websites for additional suggestions and variations.
From these suggestions, you'll be able to build out hundreds of total keywords that will be separated into various topic clusters, and address your prospects' pain points.
Once separated and organized, you'll likely find that some topic clusters have a lot of resources and blogs dedicated to them while others may only have a few. Any gaps will expose opportunities for improving your content calendar and building out your content so that it's more well-rounded and can be viewed as an authoritative and reputable destination for search engines.
If you find that you have a treasure trove of content dedicated to a single pillar page topic, you could break it down into subclusters. Looking back at the pipe manufacturing company, for example, if you have 50+ blogs related to the "materials selection" pillar page, you might want to create subclusters for each type of material (e.g., aluminum, stainless steel, titanium, nickel alloys, etc.).
2. Develop and Manage Your Pillar Pages & Topic Clusters
Through your marketing automation and website CMS software, you'll be able to build out your pillar pages and topic clusters. If HubSpot is your tool of choice, it can help you create your pillar pages and topic clusters and even provide suggested subtopics through its SEO strategy tool.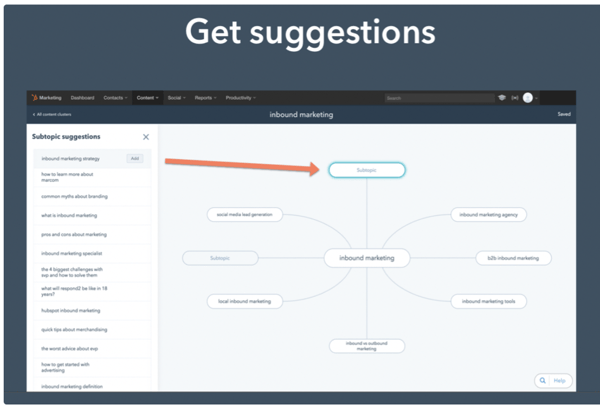 In the example from HubSpot above, "Inbound marketing" is the main topic for the cluster, and you'd build an inbound marketing pillar page that links off to the related pages/blog articles within the topic cluster. Each of those pages also links back to the pillar page, so Google sees all this content as being related.
Whatever tool you use to track your keywords or determine new ones, the "buckets" of keywords in your campaigns should align with your pillar pages and topic clusters. The nice thing about Hubspot is that it helps you align your keyword research in relation to your pillar page and topic cluster strategy.
Now that you've built out your campaigns, you'll be positioned to analyze the keyword campaigns that are producing real results as well as those needing adjustments.
3. Analyze Content Against Specific Keywords
Using your marketing automation software, analyze which keywords visitors are typing into search engines to find you. Continue to monitor your pillar pages and, using your SEO tools and industry research, find additional long-tail keywords to focus on in future content or when optimizing older blogs. Make sure that as you write new content, you're adding links to and from the associated pillar page to improve your site architecture and search rankings.
If you're generating visitors and engagement (e.g., CTA clicks) from a specific campaign or topic cluster, you might want to consider ramping up content in this area. Look for any links between clusters and engagement, and also which areas are falling short of your original goals and in need of adjustments. Your analysis will go a long way in deciding where to adequately funnel your blogging efforts.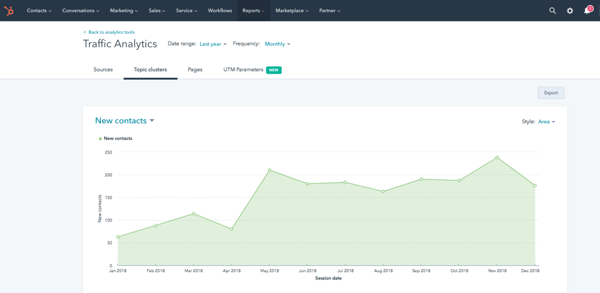 4. Keep Track of Your Content
Managing your content within a topic cluster strategy not only eases the process of planning an editorial calendar, but also shows that you have a deeper understanding of your buyer personas — addressing the topics that matter most to them (and your company) at every stage of the buyer's journey.
To help ensure that you've optimized every backlink opportunity to maximize SEO, use a spreadsheet or checklist to keep track of various categories within your topic clusters, including pillar topic, cluster topic, subclusters, page urls, and hyperlink anchor text. This will help you quickly prioritize actions that need to be taken to fill gaps and improve your SEO.
Reorganizing your website into pillar pages and topic clusters won't happen overnight and can feel overwhelming. So, start with your highest priority and most valuable subjects first (those with the highest search volume and that generate the most quality leads). With time, you'll start to see results. Want to see how a real-life pillar page works? Check out our own SEO Survival Guide pillar page by clicking the link below. You can even download the content to take it with you.