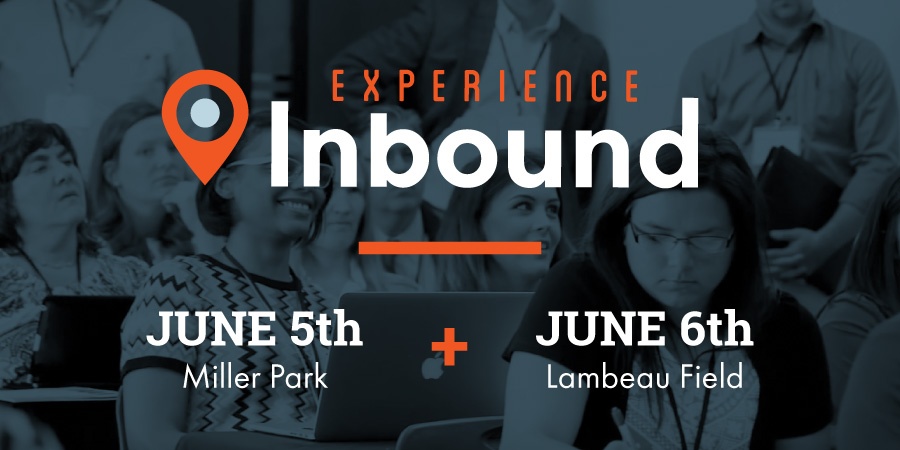 Remember when you signed up for that last marketing convention or workshop? You did your research. The speakers looked so promising. But in the end it was nothing more than a sales pitch with a bunch of intangible takeaways, and the entire experience felt like a waste of time and money.
Or has that only happened to me? I suspect not.
Let me make this easy for you. Experience Inbound is a marketing conference that is worth your time, and you'll come away with relevant, actionable and practical ideas to kick your marketing into high gear. Don't just take my word for it – here's what some past attendees have to say:
"Experience Inbound gave me the shot in the arm I needed to take our inbound efforts to the next level."
"I came not knowing what to expect and was blown away… By the end of the day I had pages of notes about how to improve our current inbound marketing and loads of new ideas to try."
This year is shaping up to be even better. Here's the lowdown.
What, When, Where & How: Experience Inbound 2018 — 5th Edition
Two options to choose from at two historic locations:
June 5 at Miller Park in Milwaukee, WI
June 6 at Lambeau Field, Green Bay, WI
Registration. Early bird registration ends April 8 and is only $195. Because it's so reasonable, it's easy to send several people from your team. That also might be partly why this event has sold out for the past two years, so make sure you secure your tickets early.
Speakers
The day will be jam-packed with speakers from diverse backgrounds representing some of the most recognizable marketing think-tanks in the country. They'll share a lot of actionable items that you can easily implement right after the conference. Just a few to mention include:
Jay Acunzo — Founder of Unthinkable Media
Break the Wheel: Why Best Practices, Conventional Wisdom and Trendy Tactics Hold Us Back From Doing Our Best Work
Joanna Wiebe — Cofounder of Copy Hackers & Airstory
Content That Converts: What if, Instead of "Educating," You "Made Money"?
Nicholas Holland — Director of Labs at HubSpot
Artificial Intelligence: How Machine Learning is Impacting Every Marketer Today
And those are just the keynote speakers! There are a lot of industry experts and thought leaders who'll present breakout sessions on relevant topics, including:
Agile tools and processes to improve marketing speed and effectiveness
Tactics to drive more sales through video personalization
How to leverage your website through continuous improvement and growth driven design
How to send great email and truly communicate, captivate and connect with every subscriber
Marketing tools, tips, tricks and integrations to drive results
How to build scalable SEO-driven content frameworks
The future of social
And more!
Check out the other presenters and the entire schedule here.
"It's rare to find an event like this that is not only engaging and relevant, but sends you home with actual, actionable lessons learned… I got something out of every single session I attended."
Networking
Sometimes I get as much out of talking about what I just learned with other marketing professionals as I do from listening to the speakers. That's why the time in between sessions, the breakfast, lunch and extended happy hour are so valuable. Exchange takeaways, share best practices, what worked, what didn't...it's all part of the learning experience. You can also rub shoulders with the speakers, talk more shop, ask questions related to your business or, admittedly, muse about how cool it is to have the event hosted at one of the most iconic sports venues in the country.
I still stay in touch with some of the people I connected with at last year's event. And if you want to talk about what boosting your marketing efforts with a marketing agency might look like, team members from Weidert Group or Stream Creative (the ones hosting the event) are there to talk, too.
"Experience Inbound was an eye opener for me! The opportunity to garner advice from those that have been successful in similar situations is invaluable. I left with some much needed direction for my company's future marketing plans."
Will I See You There?
I attended Experience Inbound last year for the first time as a relative newbie to inbound methodologies. Funny thing is, I'd been sent to digital marketing conferences before, but I never quite "got it."
Let's just say, I get it now, and that has a lot to do with the insights and wisdom I got from industry experts at Experience Inbound. I'm confident you'll come away feeling the same, and will have lots of actionable ideas you can't wait to start implementing with your team. Remember to get in on early bird pricing by April 8. See you there!