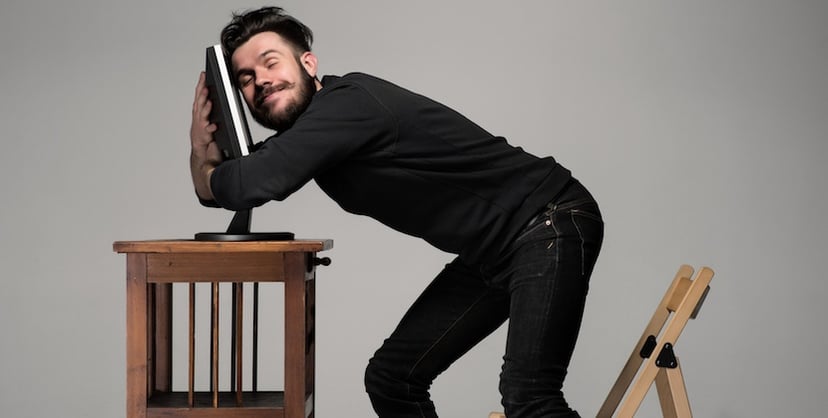 When you think about inbound marketing, what is the first word that comes to mind? The first word that pops into my mind is automation. Yet inbound marketing is way more than just marketing automation: it creates awesome content, tracks leads, optimizes your website, works on SEO, analyzes your actions, promotes on social media and more. The reason why the word automation comes to my mind first is because it's a lifesaver for me. Being able to rely on technology to help me do these tasks — sometimes even doing them for me — has been such a revelation.
Executing marketing tactics can be pretty complex. If you want to compete with the best, you need to master a whole suite of skill sets including website design, SEO, analytics and creative writing. You also have to have the social ability to interact appropriately on different networks and fluently speak coding language… Wait, what? Marketing isn't all about painting a product in pink glitter and sending it over to sales? Well no, and believe me, it takes a lot of time to do it all.
HubSpot is one of today's leading all-in-one inbound marketing platforms. You can use it just as a marketing tool, but HubSpot includes everything marketers and sales teams need to attract, convert and close customers. As I dove in and learned all about HubSpot's software, I found six key takeaways.
No IT Ph.D Required
If you don't host your website on an all-in-one platform like HubSpot, you probably use free platforms such as Wordpress, Wix or Squarespace. These are good platforms to host content, but they require a separate marketing tool to help you manage your website.
HubSpot offers a free version of it called HubSpot Marketing Free. It basically helps you track your leads and forms. The point is to give you an idea of how HubSpot's all-in-one version could help you. It integrates with most website platforms and is easy to use, but you'll need to add software and integrations to create forms and CTAs (then use a tracking code to implement them on your website). Knowing how to use and add these plug-ins can be tricky sometimes and may require the help of an IT professional depending on your level of knowledge.
With HubSpot's full version, you don't need any integrations as you can already perform these actions (and get free SEO advice on your pages while creating them). It is user-friendly and, with the online training they provide, you'll be able to create pages and update them in no time, with no knowledge in coding. If you need more help though, no big deal! The platform offers friendly online and phone assistance to the users.
It Saves Precious Time
HubSpot has the amazing ability to show you what a user has done on your site. For example, I recently wanted to know how to plant my tomatoes, so I decided to check out a blog post from a popular fertilizer brand. I downloaded the tip sheet because I really want to have great tomatoes this summer. I visited their Facebook page to see if others had tips to share with me. By the time I was done, that company's sales manager — without doing anything — has data that exposes everything he needs to know about me: my social media activity, how much time I spent reading their blog posts, where I'm located, my topics of interest, etc. I even received an email 5 days later, offering me new content to read about tomatoes. CREEPY, right?!
But from a marketer's or sales rep's point of view: how amazing? As everything is connected in HubSpot, a contact is automatically updated when they make a move. This saves so much work and drastically shortens marketing and sales cycles thanks to real-time updates on your leads.
Without such automation, salespeople have to manually add contacts and update information in their contact database and email marketing service (such as Mailchimp) when they notice a change. I wanted to know more about this process, so I asked one of my clients (who is not using the all-in-one platform) how they manage their contacts and notify their salespeople. Here's her answer:
"Each of our salespeople has a preexisting list of contacts that we've used as a foundation for our industrial website, and we have contacts that downloaded material and subscribed to our blog. Right now, our plan is to have sales continue to manage their contacts in HubSpot [Marketing Free] and to assign their contacts to either medical or industrial. Then, I'll go through HubSpot and regularly update new customers into MailChimp."
It works just fine, but definitely takes more time than letting the full version platform do it for you.
One Place is THE Place to Be
How annoying would it be to cook a meal if we had to search on Google for a recipe, go on Mozilla to know the list of ingredients and switch to Safari for the proportions and baking instructions? Everything goes fast in today's world and that's why having all the information in one place is essential. With the all-in-one platform, you:
Have your images or items stocked in the file manager
Can add them to your website pages or blogs that you manage
Can add them to emails or schedule multiple social posts
Again, it saves you time instead of opening all the social accounts one by one. Your whole marketing and sales teams can go to one place and access the shared information and tools.
It organizes and harmonizes all the media that broadcast your company's information.
Analyzing Becomes Fun
Just kidding, analyzing is not really the fun part for a pure marketing person...at least that's true for me. But at least it reduces the pain! When your website is hosted on a standard platform, you need a marketing tool to help you analyze. It can be HubSpot Marketing Free which is very helpful, but if you want to dig deeper, you might want to check Google analytics, Moz, etc. which are not always the easiest to understand or interpret.
You generally can't have any information on a contact until they fill in one of your forms, nor can you obtain clear data and insights on social. You can still use your email marketing service reports to analyze all the clicks and emails opened, but again, it is on another platform.
With an all-in-one platform, you can see which of your pages has the most views, which CTA is performing better, where your traffic comes from, how many people are in your workflows, create reports on your number of MQLs and SQLs and more.
Smart, Very Smart
The huge benefit of automation is being able to customize your content according to who is viewing it. You can create these cool "smart" features as smart CTAs or smart forms. Depending on your visitor, the content or text displayed is going to change based on the location of the person, for example, or on the information they already submitted. It avoids asking the same question to the same visitor and receiving information you already have when you could, instead, gather more about them.
Contacts are immediately added to the contacts database and can be organized in lists to help you segment your database. Your contacts' lifecycle status is going to update automatically when a change happens: HubSpot will track your visitors and update them as leads or marketing qualified leads — and so on — when the moment is right. This enables the creation of lists and the integration of these contacts into workflows — automated systems that send pre-defined emails to your contacts according to what pages they've visited, what content they've downloaded... Seriously, how can it get easier?
Ka-ching!
Yes, I'm doing it! I'm talking about the price. Obviously, such an all-in-one platform has a cost that can seem unattractive compared to a free platform. It's like an entire team working to make your work easier!
When we see dollar signs versus free, our reaction is to go to the free option. But we tend to forget the hidden costs. "Free" platforms are indeed free to use, but a live, optimized website has added fees:
Hosting
Security (the basic: SSL)
Plugins and integrations (for forms, CTAs, analytics, etc.)
Themes (mobile optimization)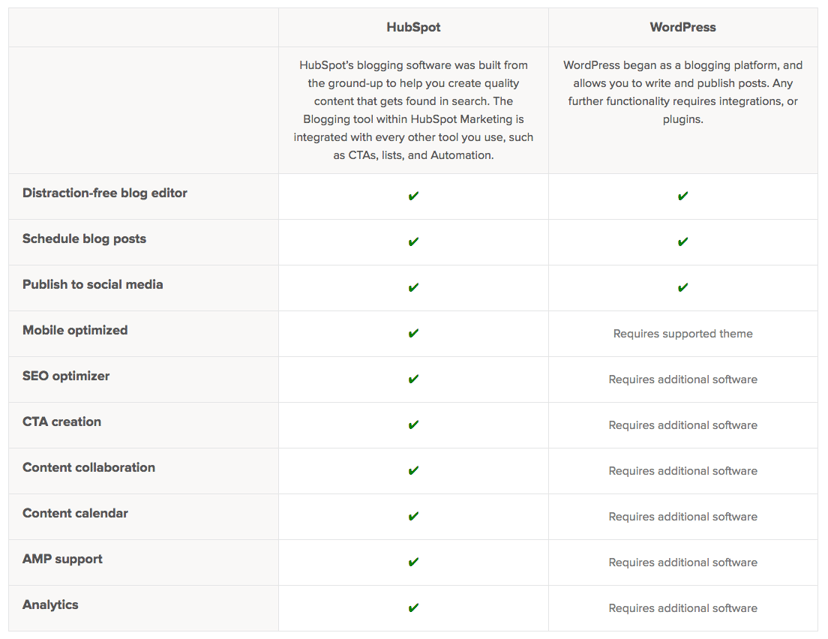 The costs can add up quickly, especially if you're not an IT pro and you require the help of one at some point: the bill might be pretty salty. Plus, you need to evaluate the cost of your time — as the saying goes, "time is money." If you spend twice as much time and effort on a free platform compared to an all-in-one, maybe it's time to consider what your time is worth.
Whatever option you choose, you'll do great if you develop your strategy and stick to it. It's just a matter of how much time and how many headaches you want to save.
Don't hesitate to write a comment to share your positive or constructive feedback on both options.