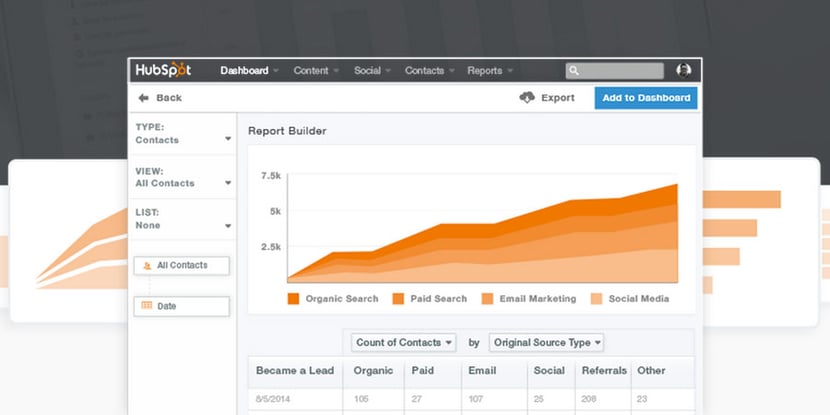 There are many exciting parts of INBOUND, but for most HubSpot users and marketers, today's activities top the rest. Today's the day the real show starts—lights, cameras, and action—the day that Brian Halligan and Dharmesh Shah appear in a crazy intro and present HubSpot's major product releases for the year.
Whether you're in Boston at this awesome event or you're one of folks holding down the fort back at HQ, here's a quick rundown on all of the new things HubSpot just announced this afternoon.
2015 HubSpot Product Releases: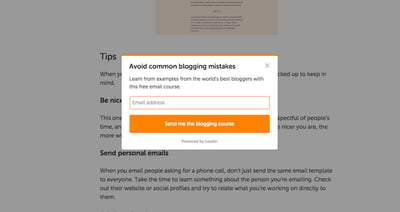 HubSpot has now expanded Leadin's compatibility to include other CMS formats such as Drupal, Joomla, etc. Until now, Leadin has been a free plugin just for WordPress sites. Designed to help bloggers and small businesses get into an inbound strategy, Leadin provides the ability to add simple forms to a site that convert visitors into leads, will tell you what pages that contact has viewed, and automatically augment contact data with intelligence about their company. It also provides detailed performance analytics for your website so you can see where visits are, how many visitors have converted, and helps keep your email tool (e.g., MailChimp) up-to-date by pushing contact information to it without replacing any forms. So even if you're a small operation, there's no reason you can't make things "inboundy."
With 15,000 customers in 90 countries the need to expand the HubSpot platform beyond English has been great, which is why it's now available in five additional languages: Spanish, German, French, Portuguese, and Japanese.
The Easy Initiative
As any software platform grows, it can naturally become more complex as additional features and tools are added. With this in mind, HubSpot spent a lot of time and effort to look at a range of ways to make sure that the platform is as light and easy to use as possible. Hence, the Easy Initiative, which launched updates across the HubSpot platform to many of your favorite apps including:
Inline Editing: The ability to create and edit blogs, landing pages, web pages, and email directly inline with the page.

SEO: Search Engine Optimization suggestions available for blog, landing pages, and website for those who have the website add-on.

Folders: The capability to create folders within the landing page tool to help you manage your pages in a much more organized fashion.

Lists: You can now view a preview of a list as you create it. In additions, lists will run more quickly.

Website: If you have the website add-on, you'll now see a site tree of your entire site as well as how site views are performing over time.

Contact Record: The contact record on the marketing side of the platform has been merged with CRM to eliminate having to switch between the two.

Workflows: If you're on Professional or Enterprise versions, you can now create workflow starting conditions and use full list functionality without ever leaving the tool.
Website Platform Improvements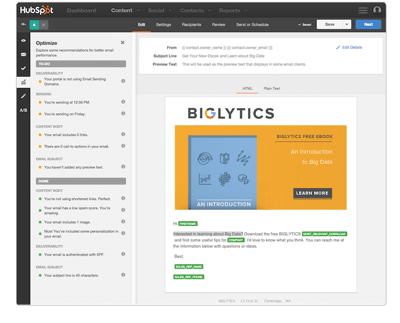 Over the past two years HubSpot has made more than 1,600 updates and enhancements to its website platform. And what a platform it is! Companies that use the HubSpot website platform see visits rise by 40% and landing page submissions increase by 47% just by having everything in the platform. Much better results than when you have pieces hosted among different platforms.
Notable platform enhancements announced at INBOUND 2015 include:
Optimizer: The optimizer feature is now extended to all site pages so you can get a sense of what's working or not working, ways you can rank better, where you could use smart content, and receive recommendations to help make sure each of your site pages is perfect (just like you!).

Preview: Preview has been added in across all pages – not just blogs – so you can get a sense of how your pages will look on various types and sizes of devices.

Staging: You can now easily build and deploy new sites/redesigns in a staging area and then quickly take them live.

SSL Certificate: SSL is now built-in as part of the core HubSpot platform. This is an important feature not only for security but also because Google is starting to factor SSL into its search rankings.
Predictive Lead Scoring
HubSpot's built-in lead scoring has been a great thing to utilize, but in many ways it's a manual process that can take a lot of time to determine how to allocate points to a lead's actions and which actions should carry more weight than others. Now HubSpot has eliminated having to go through these manual processes by launching Predictive Lead Scoring, so you can "stop guessing and start knowing."
The Predictive Lead Scoring algorithm goes through your contacts, compares attributes from engaged and unengaged contacts and pulls together a model that rates contacts' likelihood to convert. It then goes a step further to tell you what it suggests doing with those contacts, e.g., go to sales, nurture further, etc.
The feature is available to Enterprise customers at no extra cost.
Reporting Add-On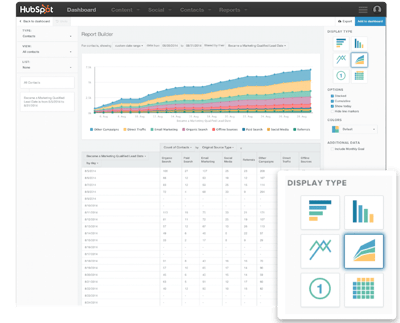 If you've been challenged by knowing what reports you should be pulling and have wanted an at-a-glance way to see the reports you want to see, this add-on tool is definitely for you. For me, two words sum up this new add-on tool: Dashboard, baby!
There are 20 "baked-in" reports that you can drag and drop to a dashboard. You also can tweak these reports to get exactly what you want or build your own report based on what you want to see and in the format you want to see it in (e.g., bar graph). Plus, if you have multiple users on an account, everyone can set up their own custom view. So, to misquote Oprah a bit: "You get a dashboard. And you get a dashboard. Everybody gets their own dashboard!"
The cost for the Reporting Add-on also works with HubSpot CRM, so you can have sales report dashboards, too. It costs $200/month, with a 30-day free trial.
HubSpot Connect
Your customers are interacting with more than just your marketing content. They're paying bills, talking to sales or tech support, signing documents, attending online webinars, and more. Wouldn't it be nice to get a handle on all those interactions? Well, through integrations with partners like Eventbrite, Domo, FreshBooks, GoToWebinar, Perfect Audience, HelloSign, and others, HubSpot Connect brings data from all over your company into one platform to provide you with one connected view of customers. You'll see data points for surveys taken, invoices, help tickets, etc. in addition to marketing events. You can then segment relevant data into reports and then communicate with those customers (e.g., trigger notifications and emails). This tool is available to Professional and Enterprise customers at no extra cost.
Ads Add-on
Whaaat? Ads on an inbound platform? It may feel a bit counterintuitive, but HubSpot has found that the ads most inbound marketers are putting out there (and 53% of customers tried ads this year) are actually "smart" because they either answer a specific question a customer has, help them find something, or promote helpful content within a social network.
To help customers manage the complexities of setting up campaigns and close the loop to more easily verify ad effectiveness, the Ads Add-on tool helps you create campaigns and preview right within HubSpot. The tool will surface content that's doing well in social media that can be used to set a budget and target audience. It will also help you answer inevitable ROI questions, going beyond views and clicks to show how many people converted, turned into MQLs, customers, etc., and show you revenue achieved. The tool is initially launching with LinkedIn ad capabilities and costs $100/month, with a 30-day trial.
Sidekick & HubSpot CRM Updates
Enhancements and updates to Sidekick and HubSpot CRM include:
Prospects Tool: Within the Sidekick for Business Prospects Tool you can now build, subscribe to, and receive a daily email digest of targeted companies to sell to.

Sidekick Connections: This will surface connections between your network and the prospects to whom you are selling that you may not have known existed. These mutual connections will appear in the Sidekick sidebar and in the Prospects application and you'll be able to request an introduction via your mutual connection with a single click so that your conversations will be warm instead of cold.

Sequences: Salespeople can now create simple, highly targeted nurturing campaigns and can enroll prospects to receive sequences of templated emails right from Gmail or HubSpot CRM.

Sidekick for Business + Salesforce: Sidekick users will now have full access to the Sidekick sidebar right inside Salesforce, including the ability to make calls right from the sidebar. Improved activity logging here means email opens and clicks appear in a prospects' activity history.

@Mentions: The availability of @mentions in HubSpot CRM allow you to mention a coworker from any note space in the platform and your colleague will receive an email notification of it.

Gmail: Gmail integration will allow HubSpot CRM users to automatically pull in their full history of interactions, including sent and received messaged into the tool.

Multi-deal pipelines: This will make it possible for teams to set up separate pipelines for different divisions, teams, or products inside HubSpot CRM.
Watch Out for More from #INBOUND15
This is quite a list of introductions and improvements for HubSpot's new product releases. Watch for additional articles this week on the Whole Brain Marketing Blog that will talk about some of these new features in more detail.