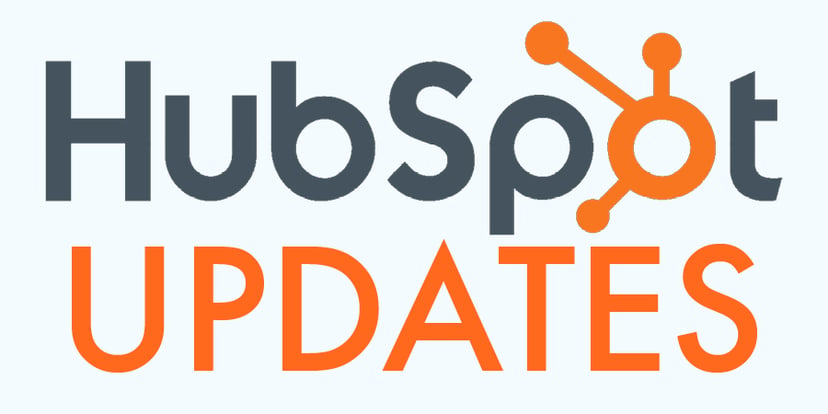 At this year's HubSpot INBOUND conference, many new updates and rollouts were announced, and the team at Weidert Group is extremely jazzed for each of these. If you weren't able to attend the conference, here's a quick list of the latest updates to look out for in the upcoming months (some of which are already in your portal)!
Lead Ads
Lead Ads, which is available for every HubSpot user as a new, free tool, is a great way to get your audience to convert on a content piece in Facebook. Once the Facebook user clicks on the lead ad, they'll see a form that's already auto-filled with basic information they've already shared with Facebook, like name and email. These ads are mobile-friendly and by requiring little effort by prospects to download content, conversions have never been easier. Learn how to set up a lead ad here.
Facebook's Audience Targeting
Based on smart list data already in HubSpot, you can use that same data to retarget, nurture and convert Facebook users in that smart list by using Facebook's Audience Targeting tool. For instance, you can target by region, work title, specific company, whether or not they have downloaded a certain content piece, etc. This is a great way to keep your audiences engaged on a platform in which they likely spend a large amount of time – Facebook.
eCommerce
Using HubShop.ly by Groove, you can seamlessly connect your eCommerce platform to HubSpot. You can segment customers by lifetime revenue, average order value, products purchased, and more. HubShop.ly users can also create emails that will trigger once they've received a new customer, post-purchase followups, product review requests and abandoned cart recovery. This integration is free for customers of both HubShop.ly and HubSpot.
Customer Hub
This update is going to change the way you view the HubSpot platform. Coming in 2018, Customer Hub is everything your team needs to build better relationships with your customers from start to finish. Since acquiring a new customer can be 25 times more expensive than retaining current ones, Customer Hub is all about maintaining customer delight – an essential part of the inbound methodology. Customer Hub will include:
Tools to help customers engage with your team
Tools to collect feedback and gauge customer happiness
Case management tools
Knowledge center
Reporting
Customer Hub will start with a free version and will likely add paid tools over time.
Conversations
A new tool called Conversations is an addition to HubSpot CRM Free that will help teams manage one-to-one communication across multiple platforms including their website pages, Facebook, Slack and other channels. Conversations keeps various conversations from multiple platforms in a shared inbox, which is tied into HubSpot's CRM. This allows multiple team members to have the full context of past interactions, which will give the client a better overall experience from start to finish.
Also, with HubSpot's recent acquisition of Motion AI, chatbots will be used in Conversations to answer simple questions, route chats to the right people and automate other tasks that may not need the help of humans.
In a recent HubSpot survey, 86% of consumers are interested in trying artificial intelligence (AI) and chatbots out. Chatbots offer a great opportunity for businesses to connect with prospects and clients quickly and efficiently, and 47% of those recently surveyed say that they would have no problem buying items from a chatbot. If you're still curious as to how chatbots are the future of marketing, learn more here.
HubSpot Collect
Do you ever have too many tabs open on your browser while doing content research? This Google Chrome extension is here to fix just the challenges that "overload" poses. HubSpot Collect allows users to clip content ideas (quotes, articles or images) and save them directly in HubSpot. Users can also import Google documents into HubSpot with just one click. Content within the Google doc with retain all major formatting and structure, so you no longer have to worry about copy and pasting. This is our Marketing Manager's favorite new feature!
Content Strategy
This new Content Strategy tool has the Weidert Group team buzzing. HubSpot coined the term "Create content for humans, but optimized for search engines" and the Content Strategy tool helps users do that. Since search is no longer just about keywords, your content strategy can't be either. This new Content Strategy tool makes it easier for users to find topics that matter most to your business by crawling your site and suggesting topics based on relevance, competition and popularity. By using this tool to organize your web pages and blog content around each of your core topics, this will in turn give your site better search rankings and higher quality traffic.
If you're interested in learning how these updates and inbound marketing as a whole can help achieve your growth goals, download our guide, "How to Prepare Your Website for Inbound Marketing" to learn more.