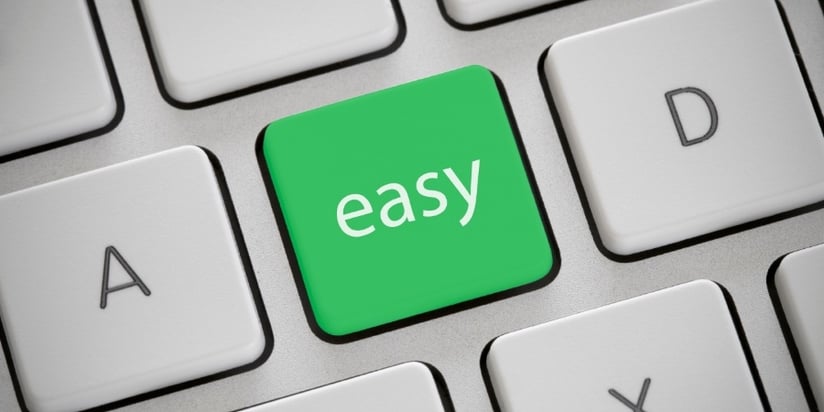 Medium-sized companies can be in an awkward spot. You are big enough to need a significant marketing effort, but not big enough to have an entire internal team devoted to creating it. You probably have a marketing manager, and maybe one or two support staff. With such limited capacity and a broad array of marketing tasks to be complete, it is essential to focus your marketing efforts on the largest areas of impact.
Weidert Group is very familiar with these companies because they often need extra help from an agency like ours to generate marketing materials. One of the areas where we support a lot of medium sized companies with is their website.
Why do you have a website?
If your site is something you have just because every business needs a website, then any platform will do. You can set it up on a free service, Squarespace, or on of the many WordPress hosting services and just forget about it.
However, for a medium-sized company a website is your best marketing tool, and you need to treat it that way. Medium sized companies have unique needs when it comes to their website.
Out of the box, HubSpot is the best website platform for medium businesses because it supports your efforts to generate business with your site. Here are a few of the ways that it makes a marketing manager's life easier.
1. It has HubSpot's back end
The customer journey for medium-sized companies starts with visitors who are converted to leads and then to customers. HubSpot's is built to support this model.
When you use HubSpot's website platform your form submissions and visitor behavior, that data is automatically added to your contact database. You can easily see if your primary traffic is coming from organic Google search results or social media—perfect for seeing if your blogging strategy is working, or if you need to push your sales team to share your content more on LinkedIn.
2. Landing pages that tell you what content is working
HubSpot has landing pages—i.e. web pages with a particular purpose—specifically designed to convert visitors into leads. By breaking these pages out from the rest of the website pages, you can determine what content is generating contacts, leads, and customers.
The landing page tool is very useful in guiding you to create pages that offer content in exchange for you visitors' information. It gives you an easy WISYWIG [what you see is what you get] editor to place your text, images, and identification form. It also makes sure you include other important page elements such as page title, meta description, and page URL for good SEO.
Once you have created those pages, you can also analyze them to determine which ones are working and which ones should either be adjusted or dropped. Campaigns let you group content, and the analyze table lets you see which pages have received the most submissions over specified time periods.
You can also dig into individual landing pages to see which traffic sources lead to the most submissions, and review HubSpot's optimization checklist to make sure your pages have good loading speed and images have alt text for SEO.
3. HubSpot gives you just the right amount of customizability
Two of HubSpot's main website competitors are WordPress and Squarespace, because they too focus on SMBs. I have experience with both platforms. While I might recommend Squarespace to a blogger or WordPress to a very small business, I recommend HubSpot for medium-sized companies because it's much more robust.
SquareSpace has the advantage that the platform is easy to set up, but it lacks proper SEO tools and customization for non-technical users. WordPress gives you all the customization you could want in a website platform, but it's not as user-friendly and can create a ton of headaches when it comes to setup and maintenance.
HubSpot's platform is made for business and strikes the right balance between streamlined development and customizability. In addition to the five free themes that HubSpot offers there's also an excellent marketplace for buying templates packs. Getting a site up and running with these pre-made templates is easy, so you can get to the more important work of content creation and lead nurturing.
4. Great developer tools for when you need to customize your site
HubSpot also has great developer tools if you do want to get technical or hire an agency. Its design can make custom modules and flexible pages that, once developed, you can easily update without outside support.
For instance, if you want a testimonials page you can create a page with a flexible column where you can add predesigned modules with fields for a customer's photo and text. Then when your client gets back to you with that quote they promised you could add it right away.
5. SEO is built in to HubSpot
Do all your pages have H1 tags? How about internal links and meta descriptions?
HubSpot has built-in checklists for all of your website pages so you can make sure Google and the other search engines can crawl your site and determine what the content is. You can also use their keyword tool to see which keywords a particular page is ranking for and if a page has any other pages linking to it.
6. Free SSL setup
Security is becoming a bigger and bigger issue. So much so that Google is now using SSL [Secure Sockets Layer] and TLS [Transport Layer Security] as a ranking factor.
When you host your website on HubSpot, you can activate SSL for free. Even better, HubSpot will set it up for you. Having managed a few SSL installations in the past, this is a sweet relief.
7. Automated 301 Redirects
Don't you hate it when you click on a link and end up on a 404 page, no matter how cute?
While it is annoying for a person browsing the web, it can be deadly for a company. What are you telling your visitors if your links end up at dead ends because you changed a URL?
If you host your content on HubSpot, they can save you from yourself. When you change a page's URL, it automatically puts in a 301 or permanent redirect. This makes it far less likely for your visitors to end up on a 404 page.
8. Content staging for new design rollouts
One of the newer additions to HubSpot's platform is their content staging area.
In the past when you wanted to create a new page or update an existing one you usually created a new live page that could be found before it was ready.
HubSpot's content staging area lets you develop new pages or redesign existing pages without the need to worry about this content being found or interfering with you live site. It also enables you to schedule rollouts so all of your new design changes can happen at once at a low traffic time. Very convenient.
9. 3rd Party Integrations
The HubSpot platform is growing in popularity, and other web service companies are taking notice. With the help of HubSpot's API, 3rd parties have created integrations to expand HubSpot's functionality.
For instance, HotJar is a great web analytics tool that goes beyond HubSpots's built in tools by generating heat maps and polls to collect user behavior data. They have an integration that allows you to have those poll responses appear in a contacts timeline.
New integrations are being added all of the time.
10. Support and training
HubSpot has an extensive library of documentation for their website platform, with everything from basic website editing to API and HubL coding reference pages. They also offer email and phone support. I have to say I have been impressed with some of the issues they have been able to fix when I don't have the time.
11. HubSpot Makes it Easy
This boils down to one thing that is particularly important for medium-sized businesses.
HubSpot's website platform is easy.
That's not to say it does not take a lot of commitment to make inbound marketing work, but HubSpot website platform is by far the easiest to get all of this done so you can spend your precious resources on other important tasks.