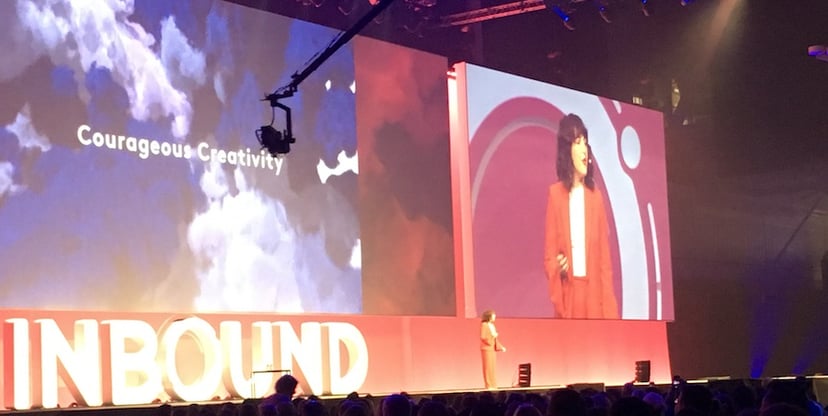 A number of Weidert Group team members are here at INBOUND 2017, taking in the energy-charged atmosphere that's being fueled by thousands of people – experts, thought leaders and users – who've experienced the power of inbound marketing and sales to take their businesses to incredible new levels. There's been so much to think about, and as my mind gets filled with great ideas and valuable insights, I think I should "offload" some of them into a blog post to make room for what's coming today. So here you have it: some of the most notable things we've witnessed thus far.
Valuable Sessions with Great Takeaways
Every session I and my coworkers have attended have been remarkably useful to us as HubSpot and inbound marketing & sales practitioners. Overall, the sessions hit on the latest data and insights and how to use them to develop even more effective inbound programs. Topics covered range from creating more "magnetic" content and tips for leveraging specific HubSpot tools to how to more effectively execute Facebook ads – and everything in between. Our team has been feverishly taking notes during these sessions so we can bring back ideas and action steps to share with our team back home, and our clients! We'll definitely be diving into some of the topics in more detail in later blog posts.
New Product Announcements
Yesterday Dharmesh Shah and Brian Halligan, HubSpot's co-founders, took the stage to give everyone in the room a glimpse of their vision for HubSpot relative to SMBs. A huge piece of that is based on a customer's experience, and they're making it a prominent new feature called the Customer Hub (name still might change, let's be real). They're also rolling out an overhauled Sales portal, which will help bridge the gap for sales professionals who just need a bit more functionality than the free sales tool has had. And they aren't stopping there: a bunch of other tools are being rolled out – again, we'll report in more detail in upcoming posts, and I'm confident you're going to be excited about them.
Keynote Madness
As I write this I am sitting a few feet away from the main stage at INBOUND, anxiously waiting for Michelle Obama to take the stage. Yes, we got here at 6:45; yes I may have lightly jogged to this seat; yes it was probably more like running; sorry not sorry. Mrs. Obama is just one remarkable speaker; Monday night Brené Brown spoke (if you don't know who she is you need to – she's amazing), and yesterday Piera Gelardi, one of the founders of Refinery29, was the morning keynote speaker. We'll recap the messages they had for us in...you guessed it: upcoming posts. Suffice to say we were moved and motivated by all three.
It's an exciting time to work with HubSpot, and a great time to be leveraging inbound marketing and sales. We can't wait to share what we've learned with all of you!