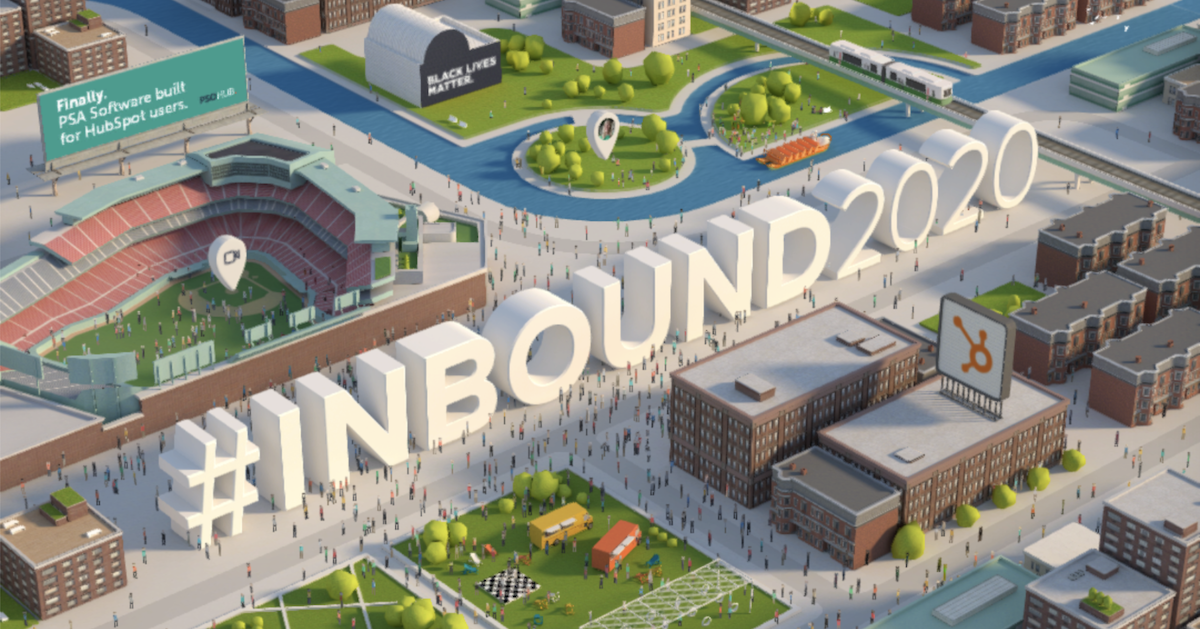 INBOUND 2020, the preeminent global annual gathering of inbound marketing practitioners, went virtual this year, presenting an opportunity for more Weidert Group team members to attend its interactive sessions — without leaving home.
Since that's the way so many of us are working this year, it's no surprise that remote collaboration — and the technologies that streamline and support it — took some prime billing in this year's conference.
But our team's INBOUND 2020 takeaways don't begin and end with technology; rather, presenters returned again and again to the constant yet dynamic factor in our work, and the greatest source of both challenge and satisfaction in all our jobs: people.
From lead nurturing to user experience, and from technological innovations to employee culture, the most important component of our work will always be the human factor.
Here are a few major takeaways that underscore this fact.
Technology Enables Connection, Not Just Productivity
In their keynote conversation, HubSpot co-founders Brian Halligan and Dharmesh Shah, together with chief product officer Chris O'Donnell, reflected on the importance of the context that makes any innovation, technological or social, world-changing.
Halligan pointed to the convergence of crises that has sparked a skyrocketing online collaboration taking place this year. Shah noted that this is "not yet a new normal," and reminded attendees that there will be no going back to old ways of working.
Across the board in a pandemic world, people expect more from tech. "Everyone is relying on technology not only for productivity but for every kind of human connection right now," said O'Donnell.
"More change has happened in the last six months than has in the last 16 years," Halligan said, "and there's no training for this."
ICYMI, you can watch the entire spotlight on HubSpot's YouTube channel:
Company Culture is a Product Built to Serve Employees
New communication and collaboration technologies support the great remote work experiment of 2020, and whole structures are changing as a result. Halligan points out that employees' perspectives on employers and leaders are changing, and "modern companies need to change to match the modern employee."
Remote work has begun to even the field as companies compete nationwide for talent, and corporate culture drives employee experience. "Great companies need to step up their culture game," Halligan said.
"We see too many companies hugging the past too hard," said CTO and co-founder Dharmesh Shah. "We've always built products for our customers. Culture is the product we build for our team."
Healthy Disagreement Beats Stagnation and Apathy
It can be tough in divisive times to appreciate the value of disagreement.
But diverse teams are just that: made up of people from divergent backgrounds, with different perspectives and ways of thinking. And those differences can coalesce into innovation. "Be optimistic about the future and pragmatic about the present," said author Scott Belsky in "Normalizing the Messy Middle."
Belsky suggested that we work harder to get comfortable with discomfort, and free ourselves to be fascinated by people who look, act, and think differently. Innovation, he said, is a matter of noticing the edges that will become the next center.
Inbound Marketing Content Must Be Useful Right Now
From email subject lines to blog post titles, content can take advantage of human cognitive biases to lure prospects into the conversation, but that's not enough to nurture them along the path of the buyer's journey.
In "10 Scientific Secrets That Make Your Content Impossible to Ignore," Nancy Harhut, co-founder of HBT Marketing, characterized cognitive biases that can increase urgency and improve click-through rates. But when it comes to content, an essential factor in conversion is reciprocity.
It's not enough to give just any old thing away. The item needs to deliver value — in-the-moment usefulness — to the recipient. The result of the transaction is an expression of not just your expertise, but also your desire to help. That sense of receiving value can lead to your prospects' "yes" moment — and another human bias: the tendency to continue saying yes.
That same concept extends to UX, according to Lou Cimaglia, senior content strategist at Liberty Mutual. In his session, "Content Strategy for Retention," he pointed to the three pillars of UX: educate, advocate, and reciprocate.
Good user experience, he said, demonstrates a commitment to the customer and a respect for the idea that "the better you understand something, the harder it is to remember how hard it was to learn in the first place." By removing barriers, empowering users, and making it easy to do new things and make good decisions, well-designed UX makes users feel understood, valued, and respected.
HubSpot's AJ Beltis concurred, taking the side for gating in "Debate: Gated vs Un-Gated Content." When HubSpot transitioned gated ebook content to pillar pages, conversion rates took a dive. HubSpot then added fresh, gated downloadable templates and saw monthly average increases in leads (30%) and traffic (54%). But that gated content had to be useful, so they designed tools and templates to help prospects turn new knowledge into action. (See this approach in action on our Annual Marketing Plan Template pillar page.)
Speed Your Flywheel by Removing Friction Everywhere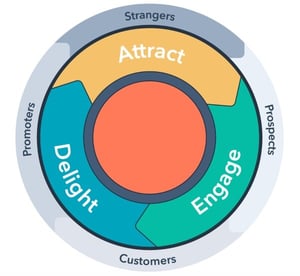 When an organization commits to moving from a sales funnel approach to a flywheel methodology, it's not enough to convert market-facing teams. In "How HubSpot is Powering its Flywheel (and You Can, Too)," HubSpot chief customer officer Yamini Rangan recommends building a "Flywheel Brain Trust" that extends well beyond marketing, sales, and service teams.
"Strategy is a choice," she said, "but alignment eats strategy for lunch."
Only when you align everyone across the organization, led by all department leaders and supported by their decision-making, can you expect your strategy to come to fruition.
Alignment is key to effective lead nurturing across functions, too. In "How to Build a Kick-Ass Lead Nurturing System in HubSpot," customer training specialist Emily Morgan compared lead nurturing to caring for houseplants.
Without alignment, a clear set of expectations, and accountability, plants may be ignored — or worse, overwatered — and die. The same can be said for marketing leads. Too much contact can be as bad as not enough. It's a delicate balance to be achieved with careful attention and well-aligned efforts.
New HubSpot Features Streamline the User Experience
HubSpot rolled out new product features over the course of the two-day online event, and the most recent developments are clearly focused on enabling organization-wide alignment and eliminating draws on time and extra effort that can create friction.
Enterprise-grade CRM now enables the creation of custom objects, allowing companies to store and track nearly any data they deem important, right in HubSpot. That means custom objects can be incorporated into workflows, managed, and reported just like standard objects.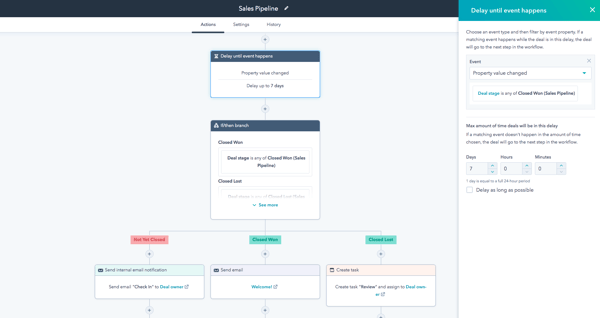 Deeper, more granular control over CRM permissions makes it easier to control access across teams and drive confidence as companies build cross-functional alignment.
Expanded use of AI-powered, time-saving features gives more time back to sales people to do what they do best. Scanning email signatures and filling important data fields could save reps nearly a workday's worth of time each month. Improvements to the mobile app are also intended to streamline work for marketers (no matter where they're working).
New Normal? Not Quite.
It's fair to say that room for improvement remains in building a fully immersive online experience to rival the exhilaration of past, in-person INBOUND conferences. Technical obstacles like bandwidth demands (especially during a pandemic, while so many households are serving as homes, workplaces, and schools) still loom, but change is happening.
As Halligan, Shah, and O'Donnell made clear in the HubSpot Spotlight as they kicked off INBOUND 2020 from an empty Fenway Park, the past six months have been incredibly challenging in unanticipated ways. The future, they insist, looks more like today than it resembles last year. "I'm cautiously optimistic for forward-looking companies that lean into the change," Halligan said.
Even the most successful companies are navigating an unprecedented convergence of crises. The best way forward will mean innovating technologically and culturally, and that means building and strengthening alignment across every team within an organization. You can begin by identifying and eliminating points of friction across your organization. Download our Inbound Flywheel Overview & Workbook and get started today.