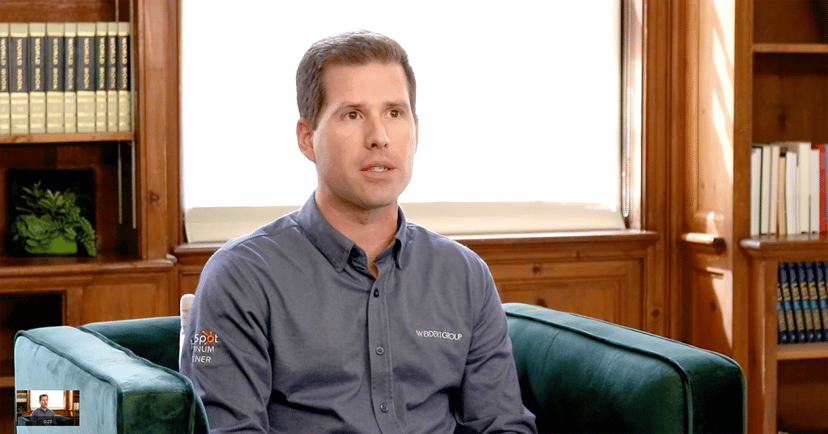 It's one thing to capture people's attention and get them to your website by using all the SEO best practices you can muster; it's another thing to keep them there.
Attracting potential buyers is of little value if you can't keep those visitors engaged and interested in what you have to say.
Engagement is the key to guiding someone on their buyer's journey and is vital if you want to keep that inbound marketing flywheel spinning and increasing in velocity. Not sure what all this flywheel talk is about? Check out part 1 in this video series that highlights how the flywheel can help you grow your business better. Also take a look at part 2 which talks about the Attraction phase of the flywheel.
For now, watch as Inbound Strategist, Frank Isca, shares how force and friction impact your engagement in Part 3 of a four-part video series.
Click to watch Part 3: The Engage Stage below, or scroll to read the transcript.
TRANSCRIPT: The Power of the Flywheel (Part 3) — The Engage Stage
Hi, I'm Frank Isca, Strategist at Weidert Group. This is the third in a four-part series explaining the flywheel and introducing you to a better way to achieve ongoing profitable growth.
In the last video, I talked about the Attraction stage of the flywheel; today I'll focus on the Engage stage, and how force and friction affect your company's success engaging leads and nurturing them toward purchase.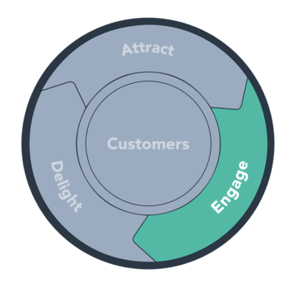 Source: HubSpot
Force are things that power your efforts, and friction are those things that keep you from being as successful as possible.
So what are force and friction in the Engage stage?
Sources of FORCE in the Engage Stage
The Engage stage is all about connecting with and nurturing leads, and here are some examples of force:
Self-service. When you allow visitors to take the next step in their buyer journey – in other words, when you make it possible for them to get what they need without having to reach out to you directly – you're greasing the wheels, so to speak, in their path to purchase.
Two examples are bots and Live Chat: bots can be used to identify what the visitor seems to be interested and directing them to related resources; Live Chat can be used to give visitors the chance to ask a question that might not be answered elsewhere on your site
Free trials. To make it easy for prospects to engage with your product or service, offer them free trials or guided walk-throughs so they can see for themselves how it could benefit their business
Sources of FRICTION in the Engage Stage
Now for some examples of friction that keep you from engaging leads and getting them closer to a purchase:
Difficult conversion paths. How tough is it for someone to get in touch with your company? If your phone number or contact us page isn't prominent on your site, or if you require them to fill out a lengthy form to contact you, you're creating significant friction and could cause them to leave your site.
Slow followup. If your visitors are filling out a contact form, you better be ready to respond quickly. People today want an immediate response, and waiting even 24 hours can turn them off. Make sure your contact forms are being sent to the right person in your organization and that he or she follows up quickly
How's Your Performance?
Now that you've learned a little about the Engage stage of the flywheel, take a look at all the things you're doing — and not doing — to connect with your best prospects. This will help you identify gaps and start improving your performance. HubSpot's got a handy resource called the Flywheel Worksheet and you can download it free by clicking the link!
Keep Building Momentum
Once you've captured your target audience's attention and engaged them to the point of making a purchase, the work's just begun. Now it's time to focus on delighting your customers to keep the momentum of your flywheel going strong.
Be sure to check out parts one, two, and four of this flywheel series if you didn't already watch all the chapters in the video above!
Meanwhile, learn more about the life of a lead and the different phases of the buyer's journey in our visual guide, The Life of a Lead: An Essential Infographic for Lead Generation & Nurturing. Just click the link below.