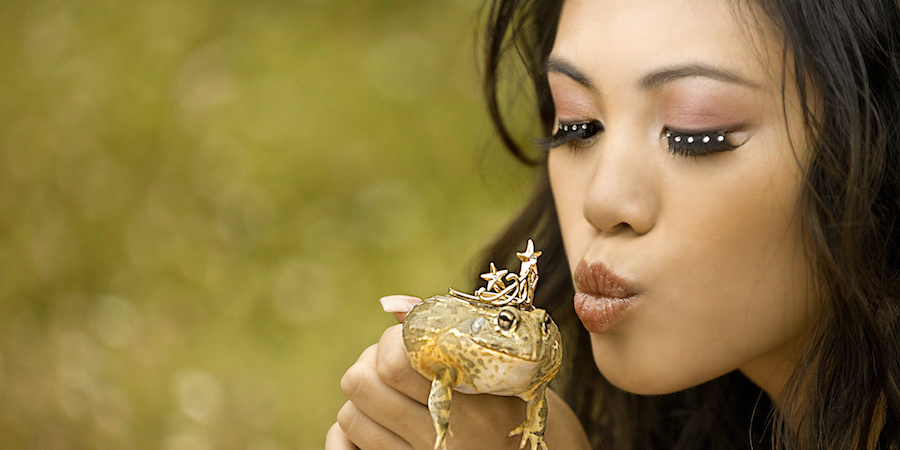 Let me tell you son, sales is a numbers game. Success in sales starts with having a bigger lead list than the guy next to you, and then working that list until it screams "Uncle!" You've just got to put on your game face and get ready to kiss some frogs, because kissing a lot of frogs is what helps you find a few princes. And if you have a problem kissing lots of frogs, maybe you should find a different profession.
If you're old enough to have been selling in the 1980s or 1990s, that's advice you might have heard from a sales pro of that era. Before the web, Google, LinkedIn, D&B online, Hoovers, Jigsaw, or whatever you rely on today for qualifying information, sales people had very little access to information that would have helped them qualify a lead and assign a relative value to it.
The business of business development has come a long way since then. If you're responsible for some aspect of business development in 2015, whether on the lead generation side or actively working to close qualified leads, you know now that the most important thing isn't how many leads you accumulate. It's about how much business you close, and it means creating sales and marketing plans that start with a new business goal, and then working backwards from there based on a deep understanding about how the sales funnel is, or should be, performing.
Of course, if one of your primary lead sources is your online presence—driven by strong inbound marketing efforts—your funnel starts with the number of unique visitors to your site. Your funnel is still very much about hitting the numbers, but with the tools and methodologies we have available today, the pendulum has shifted away from "quantity before quality" to a place on the continuum that acknowledges the need for quantity but balances it with "and quality too!"
Using Lifecycle Stages to Guide Lead Qualification Schemes
Consider a sample sales funnel, turned upside down to start with the new business goal.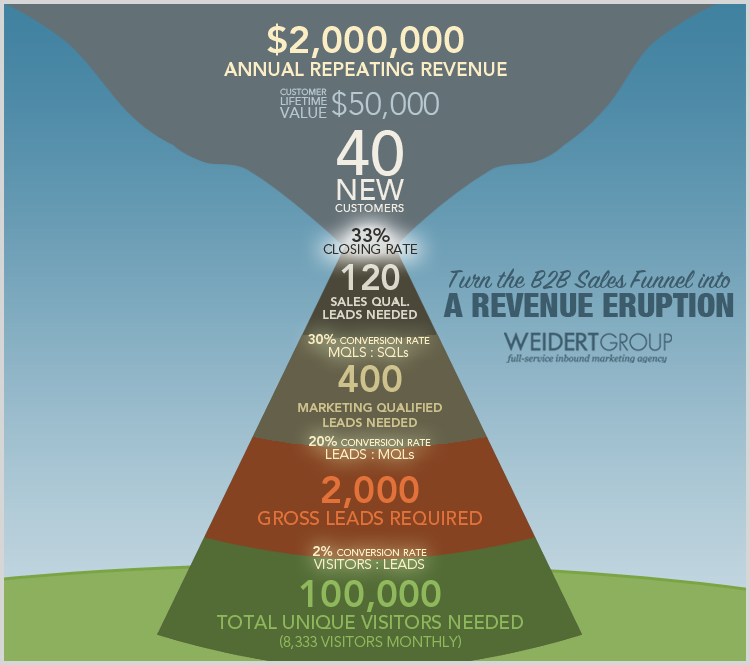 So your sales funnel started with 100,000 visitors, and in the end, it produced 120 valuable prospects who were both MQL and SQL; MQL because they fit all the objective measures of the types of prospects your company wants to work with and has demonstrated the ability to serve well; and SQL because they exhibited behaviors and attitudes that told you they were ready to become a buyer.
In the old world of "a lead is a lead is a lead" your sales team would have been working the original 2,000 gross leads, giving each of them the same basic effort until they either agreed to a meeting or told you to leave them alone or they'll call the police. But in the inbound world we're able to operate in, you can use the tools of inbound to encourage leads to self-qualify and demonstrate their qualifications by the information and behaviors they share, and in this case reduce the number of leads that require direct personal attention by 94%, allowing your sales people to focus on providing a truly consultative sales experience.
Here are some of the qualification dimensions that will help you identify and focus on the princes :
Company info, including revenue, number of employees, specific industry, short and long-term goals

Role or title of contact

Challenges or opportunities they face

Prior experience with your type of solution

Budget authority

Urgency and timing around a needed solution
Qualifying Strong Leads Begins with Attraction
And producing high quality leads isn't just about how you qualify them; that's actually the last step, the end result of a series of actions engineered to attract the best leads, motivate them to openly identify themselves as interested in your solutions, and build their trust so they start seeing you as a potential business partner. Here are some of the fundamental elements necessary to attract high quality leads:
Well constructed target personas demonstrating a deep understanding of your target's needs

Thoughtful editorial plan driven by your target's pain points

Nurturing protocols driven by your target's actual purchase behaviors and buyer cycle

Social media strategies that reflect your target's actual social media use

Linking strategies that identify and build relationships with the important online properties within target industries
Business development in 2015 is still a numbers game, but today the game is about being visible to and engaging the best leads instead of the most. Your sales people will be most effective, they'll be far more satisfied in their jobs, and your bottom line will bear the fruits. And nobody will waste their time puckering up for frogs!