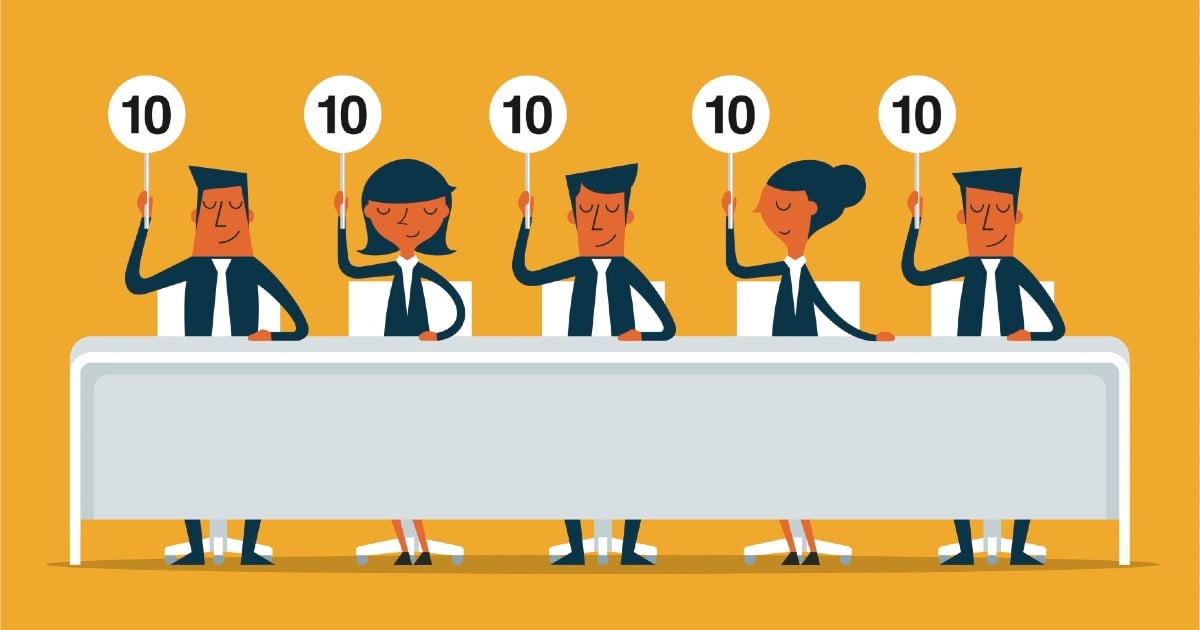 Once you've determined that inbound marketing is the right course of action for your company, choosing a HubSpot partner agency to work with can be a difficult process.
For starters, you'll want to make sure the agency caters to your target audience and industry niche. For example, here at Weidert Group, we're laser-focused on complex B2B industries including manufacturers, technology providers, finance, and other services that typically have longer sales cycles.
Once you've determined that an agency is experienced in inbound marketing for your type of business, how do you pick the right one? Start by taking a cruise through their website and looking for clues (and maybe even some red flags) to help you narrow down your list.
Why an Inbound Agency's Website is So Important
Before meeting with an agency's team, one of the best ways to understand their capabilities, services, and priorities is to critically examine their website. Simply put, if you're going to work with an agency that claims to know the ins and outs of HubSpot and fully grasps the inbound methodology, they better have a website that proves it.
An agency's website should clearly display and execute the principles of inbound marketing to its fullest. Its design and functionality can tell you what an agency's strengths and weaknesses are, as well as what they think is important.
Think of the website as an agency's showroom; take a stroll, kick the tires, and see what's under the hood. It should run smoothly, provide value, and contain sections dedicated to their services and resources. You should be able to get answers to your toughest questions with a healthy display of confidence and authority (but without it feeling like a sleazy sales pitch).
Is the website designed to help you, the potential customer? Does it focus on your industry? Is the "showroom" easy to navigate, or is it a labyrinth with hidden corners and dead ends?
With these considerations in mind, here are a few specifics to look for when reviewing an agency's website.
1. Do you like how their website looks?
Sounds obvious, but first impressions matter. While each agency has its own brand, the way they communicate that brand through their website can say a lot about how capable their designers are at engaging viewers and executing solid design principles. Ask yourself:
Is the design complementary to the types of industries they serve, or is there a disconnect?
Are they keeping up with the latest web design trends, or does it feel lackluster and outdated?
Do they tastefully and strategically feature CTAs, headlines, images, videos, and other elements, or are you underwhelmed?
Another important thing to look for is how responsive their website is. View the agency's website on multiple devices (smartphone, tablet, laptop, desktop, etc.) to see how it looks and responds on each. About half of all online traffic takes place on mobile devices, and that number will likely grow. An agency should be ahead of the game when it comes to responsive design.
2. Does the agency promote their HubSpot partner status?
One primary thing to look for in a HubSpot agency's website is how they promote their status as a certified HubSpot partner. A firm that fully supports and understands HubSpot's platform will promote their status including their level (partner, gold, platinum, diamond, or elite). HubSpot awards these levels based on the number of clients an agency manages as well as the activity in those clients' accounts.
If you're looking for an experienced agency that really understands the platform, you'll want to look for one with a platinum-level tier status or higher.
Also look for whether they've been recognized by HubSpot in any way. Have they won awards for their inbound efforts on behalf of clients? Can they prove their results through case studies, reviews, and testimonials? If an agency doesn't promote its status with HubSpot or its successes as a result of their HubSpot partnership, it should serve as a red flag.
RELATED: How One Company Attributed Nearly $600K to Inbound Marketing in the First 4 Months
3. Does the website guide you and clearly demonstrate who the target audience is?
Prospects appreciate not having to play a guessing game, and simple, straightforward messaging helps guide first-time visitors. An agency's website should help you find what you need and clearly demonstrate what their team can do for you in a way that's focused and values your time.
For example, our homepage tells you exactly what we do and who we do it for in the headline "We Help Complex Industries Grow Using Inbound Marketing." There's no question about what our mission is, and it helps to qualify leads with a first impression.
If an agency's site throws everything at you at once, it could mean that they're trying to be a jack-of-all-trades that just happens to also be a partner. If the agency can't clearly define their audience and help them find what they need, chances are they'll be hard pressed to help your website do the same.
4. Is their website easy to navigate?
An agency's website should be easy to understand and navigate. Is the menu easy to find, and is content laid out in a simple format, or do you need to navigate several layers of menus to find information?
Unique website layouts may be fun to build and nice to look at, but if they don't serve the user, it may be a result of the designers seeing "if they could" instead of "whether they should." Similarly, websites with lots of bells and whistles tend to take longer to load and break on older browsers. This will drive away potential leads and result in high bounce rates and poor SEO.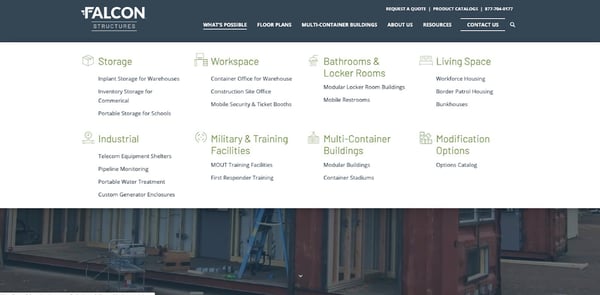 5. Dude, do you even blog?
Because blogging and content creation is such an important part of an inbound marketing strategy, it's important that the agency you work with understands what it takes to create consistent, quality content.
The agency's blog should be regularly updated with fresh, timely content and should demonstrate their expertise and understanding of your industry's challenges and how inbound marketing can address them. Do they dive deep into the various aspects of inbound and show their proficiency in using the HubSpot platform, or does every blog feel like a "beginner's guide?" There should be a healthy balance to address all stages of the buyer's journey.
Just because they're a HubSpot partner doesn't mean they fully understand its capabilities and know how to leverage them. Their blog can indicate their level of expertise. Make sure they cover relevant topics, including:
Weidert Group publishes content multiple times each week. We understand the monumental effort it can be, but we also understand the value that regular blogging provides to our clients and to our own SERP.
6. Do they have pillar pages?
The way that buyers research solutions in today's marketplace has changed from a few years ago. It used to be that content was preferred and presented in short digestible blog posts and web page copy. A blog that once topped out at 300-500 words, for example, may now require three times that length in order for search engines to consider it in their rankings.
That's because buyer behaviors have changed and so have search engine algorithms. Google, for example, specifically looks for web pages that can provide a one-stop-shop of sorts for its users — one that provides as much information on a topic as possible.
Pillar pages built around topic clusters contain internal links to content within that topic umbrella and can direct visitors to the answers they need. In the case of an inbound agency, you may want to look for pillar pages covering topics like growth-driven design (GDD) websites, an explanation of inbound marketing, the importance of SEO and how it works, and more.
VIDEO: How Pillar Pages Helped Us Increase Organic Traffic by 74%
How all this content is organized and laid out is important. Rather than having massive blocks of text, see how the agency presents the information. Is it still digestible and easy to grasp? Is it comprehensive enough to show that they firmly grasp the subject?
7. Do they use multiple conversion tools?
Providing conversion opportunities is a core strategy of inbound marketing, and HubSpot offers numerous ways to engage prospects and move them further along in the sales funnel. Aside from the obligatory contact page, blog subscription forms, and landing page forms, there are numerous conversion tools to consider elsewhere.
For example, chatbot workflows can be established to direct visitors to the content they're looking for or to a real person who'll be happy to help. Strategically placed inline CTAs, sidebars, and exit-intent pop-ups can also serve as ways to capture leads.
Look at how the agency you're considering uses conversion tools — are they intrusive and annoying by insisting on getting your contact information before you even have a chance to get a feel for who they are and what they do, or do they invite and intrigue you to learn more?
8. Does their website feature services you're interested in?
A website should clearly identify their areas of expertise beyond web design and functionality. For example, do they have a video department and in-house copywriters, or do they outsource these critical functions to freelancers and third-party vendors? You may also want to investigate whether they offer HubSpot training, branding services, strategy sessions, consultation, and more. Discover other important elements to look for in an inbound marketing agency in this article.
9. Do they follow SEO best practices?
You can do some sleuthing to determine whether an agency follows through on their own advice when it comes to search engine optimization. External web crawler tools like SEOptimer or HubSpot's own Website Grader can give you lots of insights into the agency's website performance.
When you run their website through an SEO grader tool, look for the following:
Pages should have unique page titles, meta descriptions, and headings
You should easily find their sitemap
Images should have ALT text
Are there lots of broken links? If so, it's a big warning sign that the site isn't being properly maintained
Incorrect image types is another warning sign (e.g., using PNGs where you should use a JPEG, and icons should be SVG)
Here's an example of the kinds of results you should look for. Yep…these are ours: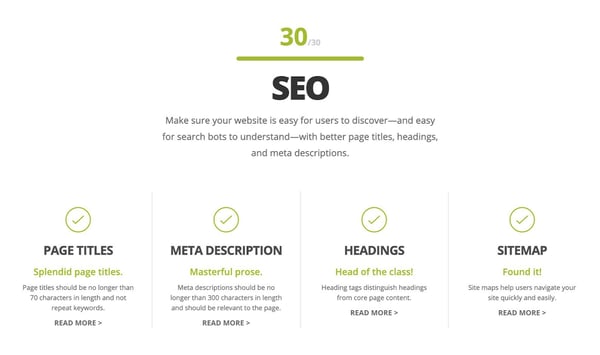 10. Do they practice what they preach?
It's one thing to wow you with how a website looks, it's another to have that website generate leads and guide someone along their buyer's journey. A good inbound website will do both (and a lot more). Assess whether the agency's website attracts, engages, and delights visitors (that would be you) with a frictionless experience. Most of all, evaluate whether it provides value and builds your confidence in their team's capabilities.
Picking the right HubSpot agency partner can be a tough decision, and we'd love to be in the running (assuming we're a fit for your B2B company). I'd be remiss if I didn't take the opportunity to provide a conversion opportunity for you to connect with us. So, head over to our free consultation request page, view our quick video, and fill out the form.
Then, get to work preparing your own website for inbound marketing with our helpful checklist by clicking on the link below. Go ahead. We understand.