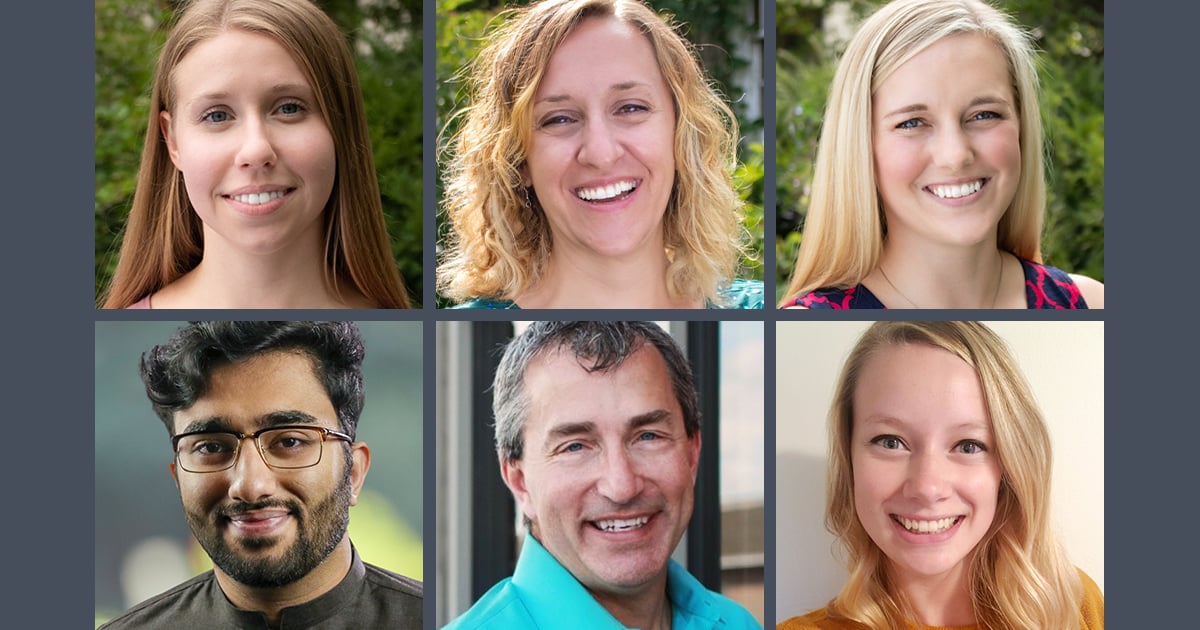 APPLETON, WI, October 2020 – Continuing its growth trajectory while embracing new ways of working in a challenging environment, inbound marketing agency Weidert Group, Inc., is proud to add six new team members to meet increasing demand for its marketing services.
"The challenges of selling in a pandemic are especially difficult for B2B businesses with a complex sales process," said Greg Linnemanstons, Weidert Group President. "We've experienced unprecedented client growth as a result, and the urgent situations our new and existing clients are facing made it essential that we grow our team to meet the need. We've been fortunate to attract these outstanding new team members in our most recent recruitment efforts!"
Abigail Arnoldussen, Accounting/Human Resources Administrative Assistant, assists the Vice President of Administration with Finance and Human Resources functions, as well as promotion and support of Weidert Group's employee ownership culture. She comes to the agency from JETA Corporation.
Katy Compton, Marketing Specialist, brings more than 12 years of experience in nonprofit marketing, communications, and PR. She comes to Weidert Group from the Building for Kids Children's Museum, where she was Director of Marketing & Programs, and over her tenure the nonprofit saw substantial increases in attendance and membership.
Chelsea Drusch, Marketing Consultant, was most recently a product owner at Jewelers Mutual Insurance Group. She spent five years helping the company establish and run its HubSpot-based inbound marketing program. She brings to the team a depth of expertise and experience, entrepreneurial mindset, and creative curiosity.
Hamza Ehsan, Web Developer, comes to Weidert Group with experience building secure and scalable applications and plugins, integrating third-party interfaces, and developing machine-learning algorithms. He worked through several internships and won multiple awards in maker and hackathon competitions while working toward a degree in computer science and philosophy at Lawrence University.
Keith Voss, Strategist, joins the team November 2, adding his 25 years of experience in marketing and sales in nonprofit, consumer, and B2B industries. His achievements include developing and executing content-driven lead generation and integrated marketing campaigns that combined traditional and digital tactics for employers and clients in manufacturing, professional services, and healthcare.
Megan Hansel, Marketing Specialist, joins the team November 2 and was most recently a marketing assistant at Neuroscience Group. She brings experience across a broad range of marketing functions for employers in healthcare, B2B industry, and finance. Her experience includes research, digital and social media marketing, podcasting, graphic design, ecommerce, and customer care.
Each of these six new associates delivers strengths that will further enhance Weidert Group's client service capabilities and team culture, which drive the agency's continued growth as an inbound marketing leader for complex B2B industrial clients.
Weidert Group's ongoing growth means the agency continues its search for prospective team members with a desire to grow their marketing and web development careers. Visit Weidert group's Careers Page for open positions.
About Weidert Group, Inc.
Weidert Group, founded in 1980, is a full-service business-to-business inbound marketing agency that has been a certified HubSpot Agency Partner since 2011, and achieved Diamond status as a top partner in 2020. HubSpot is the global leader in marketing automation software, with over 86,000 customers in more than 120 countries. Weidert Group provides all components of effective inbound marketing, sales, and customer service efforts, including web design, search engine optimization, content strategy, social media strategy and promotion, lead nurturing, voice of the customer programs, marketing and sales training and process design, and overall marketing management. Clients represent primarily business-to-business organizations in complex industries such as industrial manufacturing, distribution, insurance, and financial services.