ABOUT GORDON FLESCH COMPANY
The Gordon Flesch Company is one of the nation's largest office technology providers, with 32 locations spanning seven states. Their services include Managed IT, Managed Print, SaaS, AI solutions, cybersecurity, equipment leasing, and other services to help organizations of all sizes conduct business in a fast-paced, technology-driven economy.

The company began working with Weidert Group, a HubSpot Diamond Partner, in 2016, at which time the Gordon Flesch Company (GFC) launched a new website and began implementing their inbound program.
THE CHALLENGE
Two years into their inbound program and working with Weidert Group, GFC was experiencing significant growth and had already attributed $5 million in revenue directly to their inbound efforts through 2018. The challenge came in that they not only wanted to keep the momentum going; they wanted to amp up and improve what already proved to be impressive results. They also wanted to respond to a shift from the funnel to the Flywheel, and to evolving SEO strategies. The GFC team looked to Weidert Group to:
Reanalyze their overall content strategy to better align with their best prospects' buyers' journeys — with an emphasis on improved lead attraction and conversions by eliminating friction
Perform an exhaustive content audit to identify optimization opportunities for improved SERP results
Conduct an interactive workshop with the client's marketing team to take a closer look at their customers' buyers' journeys, and help identify friction and emergent pain points that needed to be addressed
Leverage HubSpot and other integrated SEO tools to gain key insights into how to attract, engage and delight more MQLs and convert them into SQLs faster
Prove that the client's investment in inbound could move beyond its current outcomes and use a continuous improvement approach to compound results and facilitate additional growth


Connie Dettman, Director of Marketing for Gordon Flesch, was optimistic that the efforts by Weidert Group could improve their online engagement, but the results exceeded her expectations:
THE SOLUTION
Weidert Group conducted a thorough evaluation of GFC's inbound practices to determine how functionalities offered through HubSpot's new tools and integrations could further improve results. Opportunities to improve SERP, decrease friction, and increase the number and quality of lead conversions were identified and implemented.
Website
Improved landing page template designs to create a better user experience
Implemented inline CTAs on top performing blog posts to improve submissions
Created pillar pages for their main services using HubSpot's SEO tools
Updated workflows for each product area they serve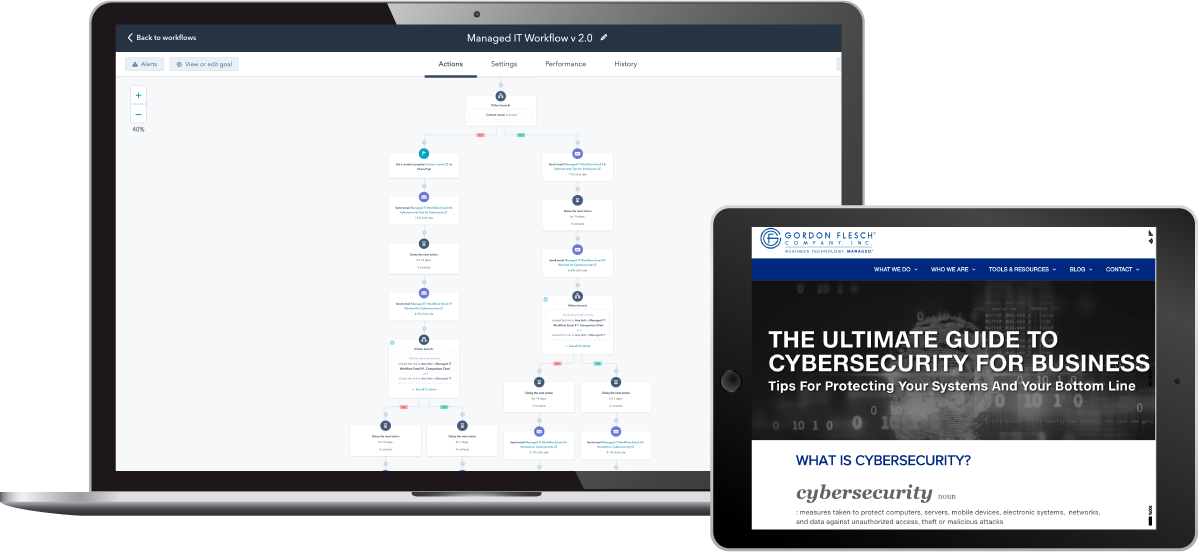 Qualified Leads
Leveraged Databox integration to analyze where people were getting hung up in their lifecycles with the end goal of improving conversion rates for MQLs into SQLs
Conducted heat mapping tests using Lucky Orange to analyze form data and identify where leads were dropping off and improved page formatting accordingly
Implemented Conversations Chatbots to engage prospects, answer common questions and direct them to helpful resources
Optimized Blogs & Content Strategy
Identified blogs that were ideal for SEO improvements based on keyword research, and updated timely content based on current trends
Leveraged Google Search Console to help determine primary keyword opportunities
Used SEMrush to optimize blogs by identifying secondary keywords, ideal word count, tone, etc.
Improved readability for our target audience and significantly improved overall SERP
Updated advanced content offers with a refreshed look and optimized copy
THE RESULTS
Three years after launching their initial inbound program, efforts to further engage prospects by more closely aligning with the flywheel methodology and shifting SEO best practices paid off for the Gordon Flesch Company. They experienced impressive results over the last 12 months:
Increased organic sessions by 101% (93,081 vs. 46,385)
Increased new contacts from organic by 87% (777 vs. 415)


Increased blog views by 163% (66,000 vs. 25,108)

Increased organic traffic for one timely optimized blog post by more than 541,700% (5,418 views vs. 1) in just 5 months, resulting in being ranked #1 on Google for the long tail keyword, "biggest cyberattacks 2019"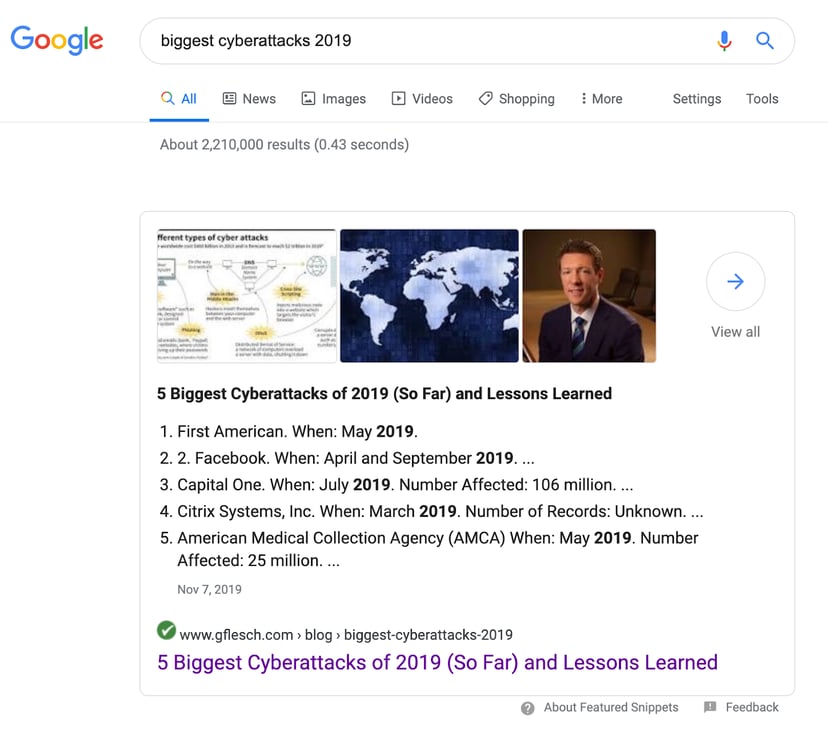 Used HubSpot's SEO tool to assist with topic cluster strategy for main service pillar page development to increase engagement, reduce friction and equip visitors to find the information they need in one place

Cybersecurity page sessions increased 466%
Managed Print page sessions increased 113%
Managed IT page sessions increased 55%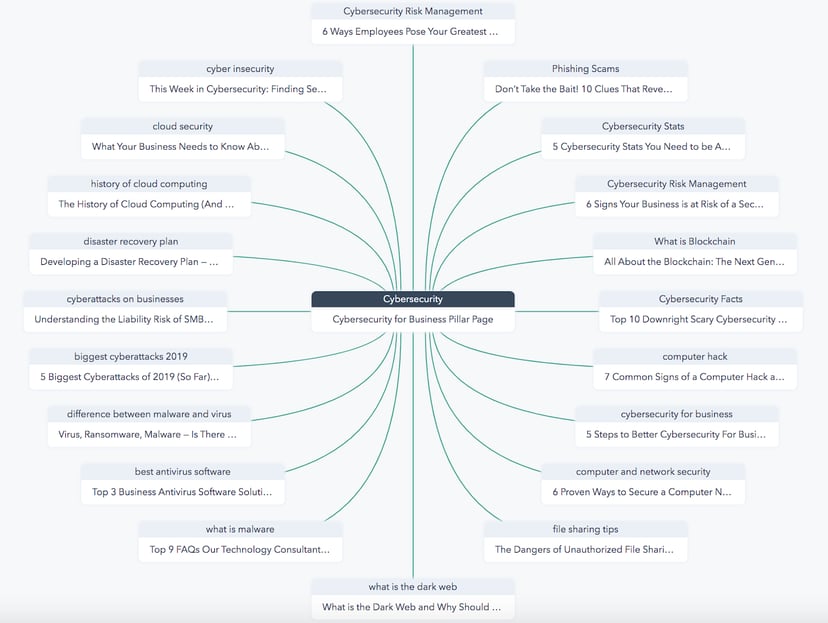 Improved landing page performance with a 298% increase in submissions and a 283% increase in new contacts

BEFORE: 2,679 Views, 294 Submissions, 91 New Contacts
AFTER: 8,114 Views, 1,170 Submissions, 349 New Contacts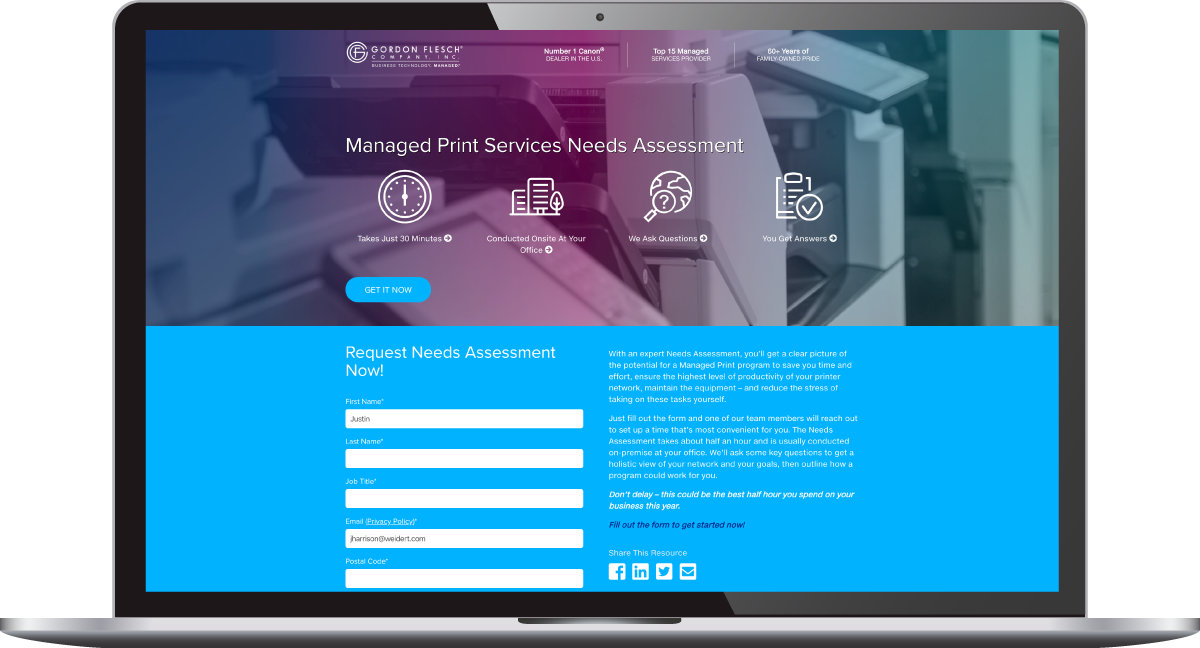 SEO Results
Impressions increased 297% year-over-year
Clicks increased 106% year-over-year
The number of keywords ranking in the top 10 increased by 210% (from 107 to 332)
The number of keywords ranking in the top 100 results increased 253% (from 1,345 to 4,395)
The number of featured snippets increased 1,160% (from 5 to 63)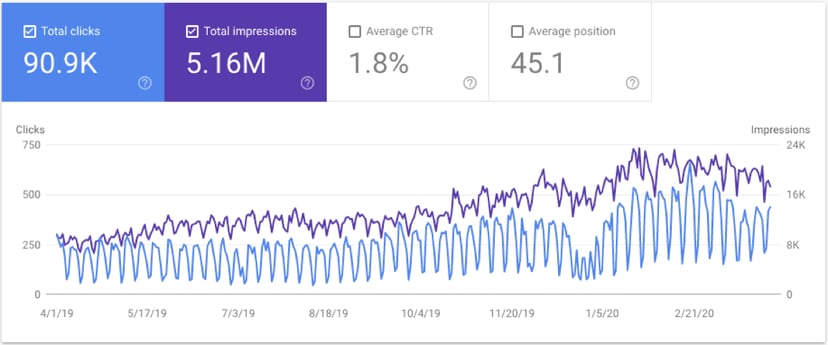 Growth-Driven Design Results
Reduced form abandonment rate by over 70% by changing a previously required "Message" field on the Contact Us form, based on results from Lucky Orange form analytics
Since in-line CTAs were implemented on top-performing blogs:

Landing Page views increased 55% (320 vs. 206)
Submissions increased 140% (103 vs. 43)
New contacts increased by 59% (43 vs. 27)
THE IMPACT
Improvements to the bottom line in the months following a transition to inbound can be impressive, and they certainly were for the Gordon Flesch Company. After several years, it may be assumed that significant gains may no longer be possible. The improvements made using HubSpot's tools and other SEO integrations throughout 2019 proved otherwise.
The number of contacts increased by 47% year-over-year
The company received 749 leads, with a 130% increase in MQLs
219 closed sales resulted directly from the company's inbound program
A total of 81 new customers with a revenue of $1,697,201
Total revenue of $2,518,470 in 2019 directly attributed to inbound

The Weidert Group and GFC teams have worked closely for nearly four years to achieve these results. We continue to partner together to identify new opportunities, leverage emerging inbound methodologies, and seek out the most effective SEO tools and best practices to keep the momentum going.