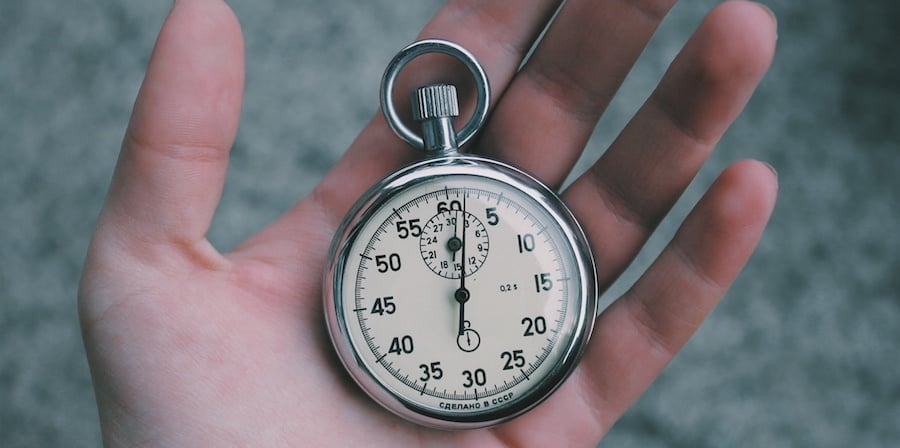 There's no doubt about it, inbound marketing takes a lot of time. Between website maintenance, content creation, and sales nurturing, today's inbound marketers are stretched pretty thin.
Of course, all the time put in also yields very good results. According to HubSpot's most recent State of Inbound report, an organization practicing inbound marketing was almost 10 times more likely to experience increased return-on-investment for their marketing efforts.
The big question is: how should companies budget their time to make sure inbound marketing is effective without letting it take over their lives? In this blog post, we've laid out the 5 inbound activities you'll need to invest your time in week after week along with the minimum amount of time you need to see ROI.
Before diving in, I should note that the use of marketing automation and a website content management system (CMS) is essential for meeting the time constraints in this article. With a high degree of usability, integration of multiple tools, and in-depth reporting, platforms like HubSpot expedite the inbound marketing process, and essentially pay for themselves over time. If you don't yet have a marketing automation platform, then you should adapt the time estimates presented in this article for your own own set of digital tools.
Now without further adieu, here is a carefully budgeted approach to doing inbound marketing well.
1. Website Updates ≈ An
hour per week
In today's B2B marketing arena, your website is the hub of your marketing efforts. Prospects use it to learn about your company and services while you use it to learn about your prospects' interests and needs (by monitoring visit and conversion patterns). Ensuring basic website functionality is critical to meeting any of your marketing goals, and improvements to your website experience may improve the impact of other aspects of your marketing strategy.
Thankfully, after your initial website launch, this aspect of your marketing will not take up too much time. The time you spend working on your site should ebb and flow drastically depending on whether you are in a redesign phase or not. For information on when to redesign, check out Jamie Cartwright's article entitled "Best Practices for Websites: Redesign, don't Relaunch"
The vast majority of the time, you should not be in a redesign period. In this time, we recommend you spend just 10 minutes a day looking through your analytics and identifying weak points throughout your site. Try maintaining a document with thoughts about your site and each page's strengths and weaknesses so you have all your thoughts gathered when you are ready to redesign.
2. Blog publishing ≈ 4 hours per week
The business blog, once seen as a mockable Dilbert-esque joke, is now the standard of B2B marketing. As soon as it's marketing potential was realized, people stopped joking and started writing. With HubSpot reporting that marketers who blog recieve 67% more leads on average than those who do not, you'd have to be crazy not to.
I've already said that blogs attract more leads but they also help to nuture these leads throughout the buyer's journey. The steady increase in indexed pages also helps your whole website's ranking on search engine results pages.
Thankfully, blogs are almost free to produce, all they require is your time (which, albeit, isn't really free).
A good rule-a-thumb in the B2B blogging sphere for most industries is one blog per week. This is enough to maintain an engaged audience as well as earn the SEO benefits without taking up too much time. This one blog, if well-researched and well-written, will likely take in the neighborhood of four hours from start to publish. Definitely a time commitment, but one that can increase your number of leads by 67%, so it's definitely worth it.
Your blog is can earn leads by gathering subscription requests and by funneling visitors to downloadable content to access more in-depth content.
3. Downloadable Content ≈ 3 hours per week
Creating and maintaining a library of downloadable content is both an important asset and a large investment. Once created, your downloadable content will continue to convert your anonymous visitors into trackable leads with no effort on your part.
Producing a quality downloadable eBook for your prospects requires time to plan, research, write, design, and layout. A whole suite of skills are needed, and your attention to detail will be stretched as you perfect every aspect. No matter how difficult it may seem before you publish, I can assure you that as the leads roll in, it will all be worth it.
The production of each publication will probably require 20-25 hours depending on the goal and scope of your content. To ensure you produce new downloadable content every couple months, try to spend at least 3 hours per week on downloadable content production.
4. Social Media ≈ 3 hours per week
Most marketers already see the value in social media marketing these days, but only inbound marketers use it as part of a holistic scheme that meets the needs of buyers during their research journey. As your prospects spend more and more of their time on social media, so should you. Note that different social media services offer different benefits for B2B marketers. LinkedIn allows you to connect with and engage your prospects, while Twitter helps you build an audience for your content. Facebook can help showcase your company culture while Google+ helps to ramp up the social factors in SEO.
However many platforms you choose, be sure to regularly manage every account you own. A neglected presence on social media can give your prospects the impression that your company is either going out of business or that you like to start projects without finishing them—so maintain what you can and delete what you can't.
Maintaining a Twitter account is a valuable way to attract visitors, so be sure to give the time required. We recommend at least 3 tweets a day that promote either your own content or similar industry content. All-in-all, it's safe to budget at least an hour per week to maintain your Twitter account.
Your LinkedIn account is a great way to build connections throughout your industry—connections that can attract prospects and lead to business-building relationships. Your salespeople should be fluent in the ways LinkedIn can drive business, and your team should use both personal accounts and your company profile to attract leads. After initially setting up your company account, we'd recommend spending at least half an hour each week maintaining your LinkedIn presence.
Thankfully, B2B marketers' Facebook and Google+ don't require quite the love and attention of your LinkedIn or Twitter. These sites are great to represent your company's culture, but in most cases, they don't really have the lead building potential of business-oriented social platforms. The focus of your Facebook should be to promote your culture by posting photos and videos from company events as well as awards/recognition you recieve. Keep it fun, thats what Facebook is for. Google+ is great to to keep Google happy, but you shouldn't let it take too much of your time. Check out our guide on how to cash in on Google+ with minimal effort. An half an hour each week split between Facebook and Google+ should be just what you need to get the job done.
With these estimates, your weekly social media time budget comes in at around two and half hours per week.
5. Email Nurturing ≈ 3 Hours per week
Once a visitor becomes a lead, it's your job to keep them engaged. Polite and respectful email offers can be a very effective way to connect with a prospect long after they've left your site. Of course, you'd hate to annoy your prospects so be sure your marketing emails build relationships instead of burning bridges. Check out Frank Isca's post on the five differences between inbound and outbound marketing emails.
These emails will take some time to write and your lists will take some time to manage. Because email runs the risk of annoying the very people you hope to work with, your utmost care and attention is required in email management. Be sure your lists are up-to-date before each email you send (don't you dare send a marketing content offer to a newly on-boarded customer). To conclude the process, check the analytics of every email you send after 24-48 hours so you can see what works for your prospects and what doesn't.
An email or two to your contacts at every stage of the buyer's journey (awareness, consideration, decision) is appropriate for most industries. Given the care you should devote to writing the emails and the time it takes to manage your lists, it's safe to budget around 3 hours for email marketing per week.
Wrap-Up
There all you have it. Inbound marketing for a time-constrained marketing team in just 13 hours per week. That should leave you plenty of time to work on your other business-building projects.
But why stop there? As soon as you see the impact of even the most minimal inbound effort, you should invest further time in amplifying each of these efforts.