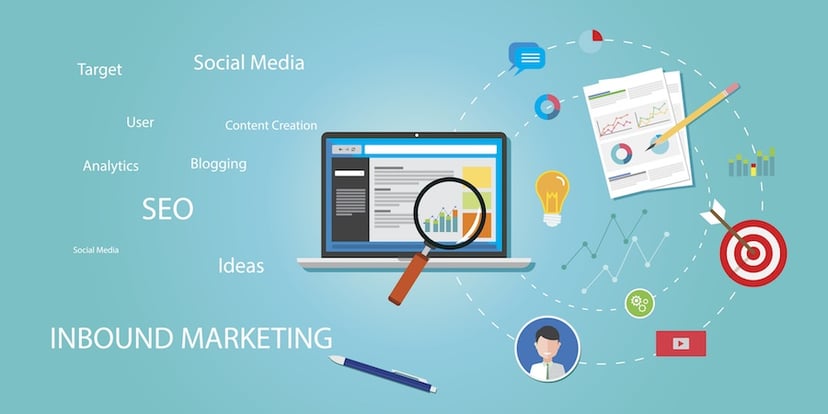 B2B companies sometimes ask us, "Should we focus our efforts on paid advertising or organic search results?" We typically answer with a resounding, "Absolutely!"
A holistic approach to inbound marketing strategically leverages both. Capturing the attention of leads is increasingly competitive, and using paid online advertising in tandem with SEO best practices can kickstart your lead generation efforts and boost your inbound marketing plan.
It's important to grasp the principles of paid advertising as it relates to your inbound marketing strategy. So, before we get started, let's make sure we're all on the same page and understand the foundational principles of inbound marketing because, when it comes down to it, inbound and pay-per-click tactics use a lot of the same elements.
Basic Principles of Inbound Marketing
At its core, marketing's ultimate objectives are lead generation and growing your business. Arguably, those are the same objectives as paid advertising. Inbound marketing is a buyer-centric approach that focuses on building trust by creating quality content and delivering experiences that pull people toward your company and product in a way that helps them achieve their goals.
By publishing, distributing and promoting digital marketing content with your prospects' interests in mind, you'll naturally attract inbound traffic that you can then engage, close, and delight over time. Using paid ads that simply throw everything out there, hoping something will stick and attract prospects, does little to build trust. As is true for inbound, paid ads need to target your ideal buyer persona's buyer's journey and point them toward valuable content.
If you want your inbound strategy and paid ads to succeed, both will require good websites, strong use of landing pages, powerful call-to-action messaging and, of course, the time and energy required for continuous improvement.
Using an Inbound Approach Makes Your Paid Media Strategy More Effective
Your marketing budget will go further when you optimize your mix of paid and organic tactics, and your pay-per-click (PPC) advertising efforts can be made more effective by taking a holistic inbound approach. It all centers on the use of content.
PPC advertising can be expensive and ultra-competitive, so when you do get visitors, you want to make the most of them. You're far more likely to convert visitors if your ad landing pages have highly valuable content that gives visitors a reason to convert. For example, rather than simply pointing those who click on your ad to your home page, consider creating a custom landing page with an eBook or other advanced content piece with a conversion opportunity.
Also consider spending a portion of your ad budget on social ads, such as sponsored posts on LinkedIn, Facebook, or Twitter. By pairing your paid advertising with your content marketing strategy, your budget spend will have a greater return and will further support your company's growth efforts.
You'll also want to make sure you understand common PPC terms and see how other companies like yours are using paid advertising, so talk with your PPC specialist or agency to gain additional perspectives.
RELATED: What an Inbound Marketer Should Look for in a PPC Agency
Best Practices for Making Your Paid Ads "Inboundy"
In complex industries, you need to make sure the traffic you're attracting with PPC ad campaigns is qualified to buy or at least has influence on the purchasing decision. Here are some additional considerations and various types of paid advertising that should be aligned with your inbound marketing strategy.
Use Native Advertising & Sponsored Content
Native advertising is paid media that feels like a natural part of the site's content; where the design of the ad is tailored to complement the site's design and enhance user experiences. When you're implementing this correctly, users barely notice that it's an ad, apart from the "Sponsored Content" tag.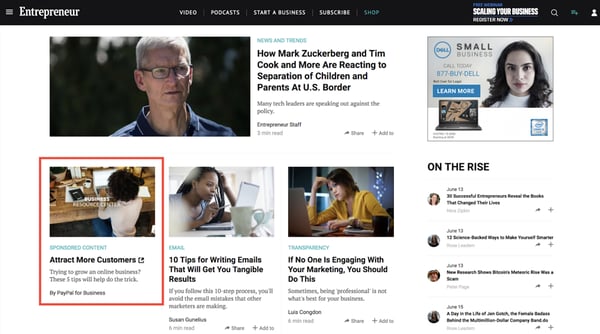 Example of native advertising on a website (source: LinkedIn)
According to research, consumers looked at native ads 53% more than standard display ads. Native ads registered 18% higher lift in purchase intent, too. When focusing on the inbound aspects of native advertising, it's important to create engaging content that aligns with your buyer personas to increase click-through rates. Map out your entire funnel and focus on where the interactions occur and where users convert.
You may also want to reach out to other blogs and companies that have similar personas to inquire about placing calls-to-action and other advertising there, based on the content of their sites. If the content you're producing matches with what the users want, they're even more likely to click through. (Hint: use a free tool like Sparktoro to find the sites your personas are likely visiting.)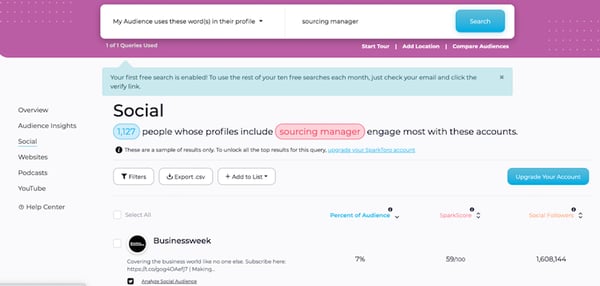 Leverage Paid Social Media Ads
Paid social ads can be a great way to implement digital advertising using inbound. You can do this with various types of sponsored content and ads on the social networks your personas use most often. LinkedIn, Facebook, Twitter, and Instagram do all the legwork to help you determine which users to market to. Be clear and precise about who you want to market to and the searched terms that make the most sense, or you're simply wasting money.
Make sure you match the look and feel of your content to the channel you're posting on, and use graphics that adhere to their size guidelines. More importantly, make sure the channel is relevant to your audience; if you're posting the right content on the wrong platform, your scoring and engagement will be flat. Keep experimenting to learn which channels give you the best ROI and what times of day your primary personas are most engaged.
Optimize PPC Ads for Mobile UX
It's safe to say that, even though it's still important for B2B, the future of desktop advertising is on a downward trend. About half of all website traffic was attributed to mobile devices last year, and 87% of Americans use more than one device when using the internet. Overall, worldwide mobile advertising is expected to exceed $240 billion by 2022.
Best practices for paid advertising still apply, but user experience (UX) is even more important when you design your ads for mobile. It's important to note that social channels are more popular on mobile than they are on desktop. How often do you open Facebook or Twitter while waiting to meet up with a friend or while standing in a check-out line?

One final note about mobile: while ad blockers have been around for a while on desktop, they're starting to gain more traction on mobile devices. Most browsers have ad blockers by default, with the exception of Google Chrome, and users can download various apps to block ads, too. This presents a challenge for traditional outbound advertising – all the more reason to use as many inbound tactics as possible in conjunction with your PPC campaign to make sure the content you deliver is relevant and reaches your intended audience.
Avoid Common Mistakes
Sometimes understanding paid advertising best practices is as much about knowing what not to do as it is knowing what you should do. Here are some common mistakes to avoid when implementing digital advertising using inbound concepts:
Promoting your product or service too early in the content funnel. Provide helpful, relevant content rather than pushing specific products or services to the user when they're at the top of the funnel in their buyer's journey
Having too large an audience. You can't target everyone, at least not with success. Focus on who you want to serve and what matters to them
Not testing enough. Review your metrics, custom audiences, and relevancy scoring. Is there a better time to push sponsored content to get more likes and conversions? Are your primary personas interacting in the ways you thought they would? If not, change something and keep working until you meet your goals
Not looking at keyword optimization to approach ad content. Review which keywords are relevant to your business and focus your advertising content around those searched terms. If your ideal customer is searching for something specific, target your ads around those queries
Even though paid advertising is inherently outbound in nature, there are a lot of tactics you can use to skew them toward the inbound methodology. So, before you delve into the world of PPC, make sure your inbound program is solid by using our toolkit, How to Improve Your Inbound Program. The main point in any of your marketing efforts should be the focus on creating excellent content for your buyer personas. If you maintain that focus, you'll be rewarded with more (and better) leads.