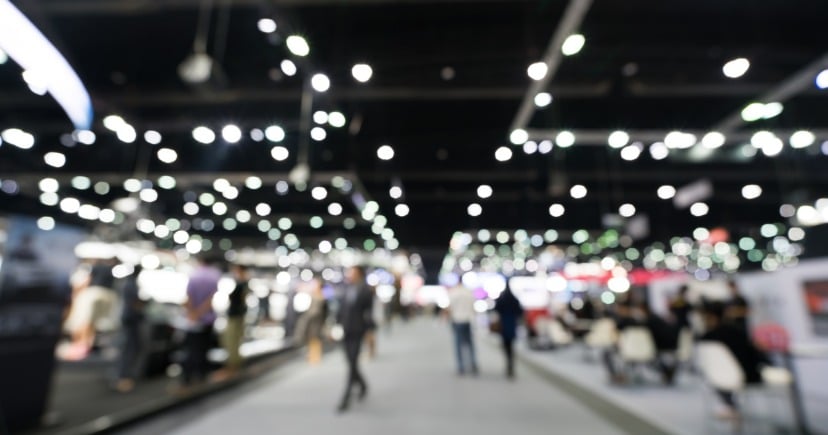 Trade shows and exhibitions are an important part of many companies' marketing plans. Even though inbound lead generation tactics are arguably the most effective way to market your brand, product or service, participation in traditional tactics like trade shows can still be valuable in many sectors.
Trade show marketing today, however, requires more than just sending a few salespeople to sit at a booth and hope the right people stop by for a free pen. Instead, your events need to be integrated into a broader annual marketing plan that includes inbound tactics working alongside your outbound (traditional) activities. Taking an inbound approach to your trade shows means utilizing digital tactics to first attract show visitors to your booth and then nurture the resulting leads using a variety of methods. Increase the ROI of your trade show efforts with these inbound marketing tactics.
Build an Inbound Promotional Plan
Planning for a successful trade show starts months before you set up your booth. First, determine how many leads need to be generated to deliver a high return on investment from the show, and who those ideal leads are. This stresses the importance of developing your ideal target persona. This helps assign a dollar value to your goal and gives your show team something to aim for. To monetize your lead generation goal and track your progress you'll need to gather metrics like customer lifetime value, lead-to-customer closing rate, etc.
Then, start planning out exactly "how" you'll get the leads to the show and "what" you want those leads to do. Do you want them to engage on social, fill out a form, or book a meeting? Primary and secondary goals can vary widely, so be specific. Allow enough lead time to establish a presence and deliver on the intended messaging associated with the trade show. Your inbound efforts will help generate buzz around your appearance and you can track your progress using data available from your marketing automation and CRM platform.
The Who and How
Pre-show — Who to Target
At this point, you're looking to set the stage and draw in the right kinds of leads. You'll mostly want to focus on getting people who are already attending or considering the event to stop by your booth. To do that, you'll need to create pre-show content that strategically appeals to show goers who will likely search online for information prior to attending.
Before you craft your content, you'll need to identify prospective targets, including:
Previous attendees. If you attended the same show last year, compile the list of contacts you gathered and include them in your campaign. Segment them according to their roles, lead quality and other factors you deem appropriate.

Existing customers and leads. Your current clientele or prospective clients could be some of your best advocates and promoters, so be sure to include them.

Pre-registered attendees. Show organizers sometimes offer a list of registered attendees, but many no longer give this list away. You may, however, be able to glean potential contact information from the show's website based on other exhibit booths, sponsors, speakers, and social media.

Trade show marketing options. Organizers may offer their own marketing options, such as sponsorships or sending emails on your behalf. Be cautious, however, as many of these options can seem like an inbound opportunity, but often are not.
Pre-show — How to Get the Message Out
Once you've identified the "who," you'll need to develop the "what" and "how." Consider the following ideas for creating content that attracts show goers.
Show-related website content. Create a specific landing page on your website dedicated to the show and list some of the highlights. Feature your booth number and share reasons why prospects should stop by. Also, have a banner on your home page and consider a pop-up message on your site with an enticing offer to capture visitors' attention, such as an offer to book a meeting with a specialist at your booth.

Show-specific content. Provide something that prospects will find useful while attending the show, such as a trade show survival guide or "best of" list. Many trade shows may already produce something like this, but you can go a step further by creating a guide with your own insights, or list top area restaurants, pizza joints, craft breweries, best "after-show" places to network, etc. Consider gating this content behind a simple form so you can get their contact information.

Blog. Be more targeted in your blog content leading up to the show by focusing on industry topics that specifically appeal to the people who are most likely to attend. For example, if you produce parts for a wide range of industries, but the show you're attending is for medical devices, be sure to ramp up your efforts to speak directly to the pain points/challenges of that industry. Also, write blog posts specifically promoting the event.

Video. Don't just tell people why they should come, show them. A simple video invitation from someone on your team who's attending the show creates a personal touch and creates familiarity. When someone who's seen the video walks past your booth and recognizes the person from the video, there's a greater likelihood they'll stop to say hi and continue the conversation. Use video on your website, social channels and in emails.

Email. Create email campaigns for your target audience. Include enticing headlines and give your audience a reason to open and read the email. Perhaps it's an insider insight into the event, an offer or reason they should stop by your booth. Direct them to your landing page or other relevant content and track their engagement using marketing automation tools. Be specific about who receives these emails. If you're a food manufacturer, in general, don't send emails about a trade show for the beverage industry to your contacts in the meat and poultry business. Or, if both industries may benefit from the event, create separate content that speaks to each.

Social media. Social promotion plays a big role in your trade show inbound efforts, so continue to build your social audience and target them using hashtags and by linking, tagging, and sharing show information. Build excitement for your presence and let people know what they can expect when they visit your booth. You may even want to consider a paid social campaign that targets any followers of the show's page, relevant industry pages or specific companies you want to do business with that are likely to have representatives in attendance.
On-site Show Marketing
Of course, if you want prospects to show up at your booth, you'll need to give them a reason. Traditionally, branded items are up for grabs or a chance to win a larger prize. While free swag certainly has its place and can serve as a conversation starter, it often attracts a wide range of people who aren't your ideal prospects. Provide your target personas with something more exclusive, unique or fun:
A show within a show. Think of ways to create your own show within a show, such as product demos, assessments, briefs or other attractions. You might even consider hosting a live podcast from your booth or having a competitive challenge. Think outside the box. By doing this, you'll be able to quickly uncover more serious prospects. While your number of leads overall may not increase, your number of qualified leads will.

Leverage analytics to provide value. Based on metrics from your pre-show efforts, incorporate elements into your trade show booth. For example, did a demonstration video attract leads to your website? If so, it will have the potential to do so at your booth as well.

Make it easy to capture more leads. Have a tablet or laptop set up for people to sign up for your blog or e-newsletters. Have landing pages loaded and ready to go and signage with vanity URLs that go straight to your subscription page.

Offer free stuff, sort of. Consider requiring people to provide an email address and basic contact and qualifying information in exchange for your swag items. Of course, you'll need to invest in more than a pen or candy for people to give up their information, but the ROI could pay off. Also, don't feel like you are required to have physical swag that people have to carry around — they may find more value in your content than a pen, so feel free to skip it if you have signage around your digital sign-up/offer, mentioned above.

Train booth staff. Also equip your booth workers with tablets so they can share content directly with prospects during conversations or to personally capture their contact information, set up an appointment or send more information. Make sure your booth staff understands the expectations, is well trained on the technology and offers and is comfortable engaging with prospects.

Share in real time on social. Continue leveraging social media during the show to engage with attendees in real time, and instruct your team to connect with prospects on social channels. Promote any contests or promotions you have going on during the show such as "First 50 to sign up at our booth get a prize" or "Live product demo at 10 a.m." Assign someone who's familiar and comfortable with social media to share lots of photos and live videos of what's happening at your booth and elsewhere at the event and, when possible, ask to tag participants and/or their companies. Use hashtags for the event and get creative with your social promotion. Consider live blogging to share more in-depth updates and insights during the show. The importance of social engagement during the event can't be overstated.
Post-Show Marketing
Many times, post-show follow-up ends being an afterthought for marketers. Yet, it's arguably the most important step to a solid inbound marketing strategy for trade shows.
Make sure you have a plan for follow up calls and connect attempts after the show. Work with sales to segment the leads and create workflows for each segment. Hot leads will obviously be followed up with differently than someone who just stopped by. The better segmentation you have the more successful the outreach will be. Also, have a plan for rolling them into other lead nurturing campaigns once the post-show campaigns are complete.
Follow-up emails can include additional educational content for prospects. These emails are trackable, and you'll be able to measure your success easily. Leverage what your team learned by posting a recap blog that includes highlights, photos or recorded videos. You could also produce a white paper or eBook that offers a more in-depth summary of the event and takeaways. This gives you yet another reason to follow up with attendees to share this content.
There are more moving parts to an inbound approach for trade shows, but it's worth it for the greater return on investment. Don't forget to track and report on your results to your goals after the show. That way you can continue to improve upon your efforts at future events and see which tactics worked best. By gathering data, you'll be able to better structure your trade show calendar for next year and make stronger marketing plans all-around. Want more inbound marketing ideas? Check out our guide below!