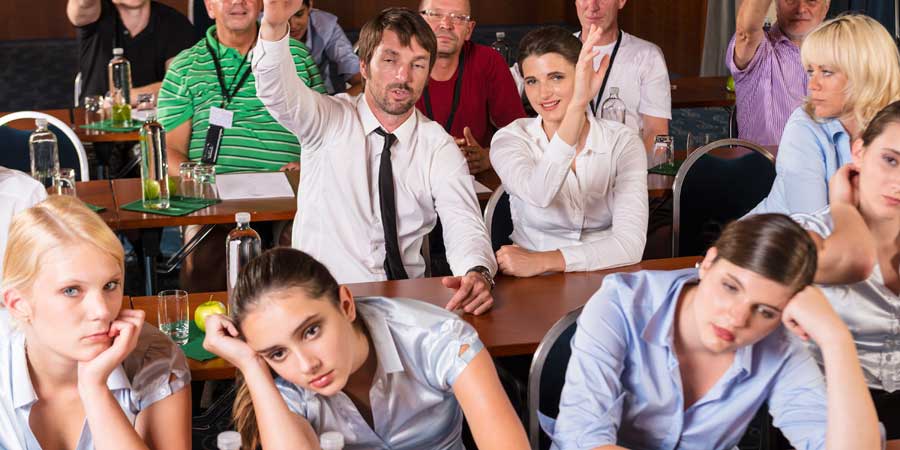 We've all been to lame conferences. Whether it's for work or personal interest, professional events—especially when they're at bland hotels—have a way of under-performing and being uninspiring. What I've noticed is that event planners put in a ton of work creating elaborate agendas and full plans-of-action, but something usually goes flat—whether it's poor speaker choices, technical difficulties, or bad food.
So What Makes Some Conferences Exceptional?
In my experience, exceptional business conferences are built on exceptional ideas—business models that drive innovation, practices backed by real results, or methodologies that are changing entire industries. If you want to really be inspired, look for a professional event centered on a central idea that's making waves across your industry.
In marketing and sales, you can find a plethora of events each year covering popular trends like "advances in social media" or "integrated marketing." There's a reason why attendees at these events walk away bored and unexcited: they might have learned something new, but the ideas are so disconnected that they don't spark any kind of mental game plan.
The best conferences offer a curriculum that makes attendees start thinking. An event should be focused enough to challenge people to action, but diverse enough for the audience to find specific stories that inspire them.
If a conference is going to take an attendee away from her desk for the day, it should provide her the opportunity to reexamine and rethink why her sales and marketing efforts are failing or finding success. It should provide context for how the marketplace has changed, and what the consensus new solutions are for producing better results. The conference should include plenty of perspectives, but it should be tied a central thesis that nobody attending can miss.
A Conference Worth Attending
This June, Weidert Group and Stream Creative—the two premier inbound marketing agencies in Wisconsin—are testing out this idea of an exceptionally exciting marketing conference by putting on "Inbound Wisconsin," the first statewide conference devoted to giving every attendee the mindset and tools to take an inbound approach to marketing.
Knowing full-well that speakers often disappoint their audiences, we've built a lineup from the best marketing companies in America. HubSpot, Google, Wistia, and Relevance.com will all be represented (see the speaker line-up here). Then on top of that, Inbound Wisconsin will be put on twice, back-to-back, at the homes of the biggest brands in Wisconsin: the Milwaukee Brewers (Miller Park) and the Green Bay Packers (Lambeau Field).
The difference with Inbound Wisconsin is that all of these exciting elements aren't just going on display—they'll be carefully positioned to teach attendees how to make an "inbound approach" work for their company. Experts giving their expertise isn't useful to an audience without a way of understanding and turning ideas into actionable plans.
During Inbound Wisconsin, attendees will have the chance to get advice from inbound marketing consultants, to hear stories and case studies of inbound success in a variety of industries, and to exchange new ideas with other like-minded individuals, sparking the momentum needed to make a difference in your workplace.
Register Now for Inbound Wisconsin on June 3 in Milwaukee or June 4 in Green Bay
To learn more about why Stream Creative and Weidert Group are putting on Inbound Wisconsin, or to see the full lineup of inbound marketing experts, visit our registration page here.