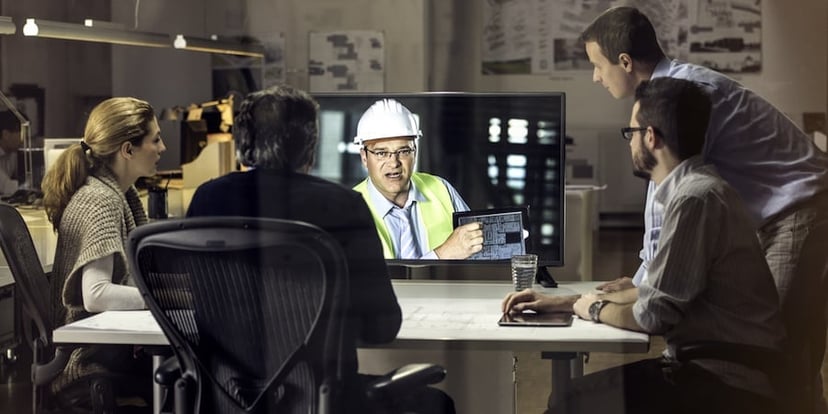 Here's a game-changer: nearly 60% of today's B2B buyers make purchase decisions before ever reaching out to a salesperson. Between diligent independent online research and the confidence they place in third-party review sites, peer-to-peer recommendations, and word-of-mouth — 81% trust the advice of family, friends, and colleagues while 55% report having little faith in companies they buy from — B2B buyers simply don't need you until they decide they need you.
Industrial B2B buyers are influenced in much the same way, although their buyers' journeys are generally more complicated. They may take years researching a purchase, or they can just as easily hop online and make a decision within a few weeks if the situation warrants. Not every purchase is going to be a high-risk, highly researched order for something like new production machinery. There are also many shorter, transactional purchases that industrial buyers frequently make that only take a few minutes to complete, like putting in a new order for a replacement part. Regardless, these buyers operate on their own terms — and salespeople need to adjust.
Shifting from Funnel to Flywheel
Pursuing industrial B2B customers is no longer a matter of nurturing prospects within the traditional sales funnel and hoping they buy.
Well-informed industrial B2B prospects now hold significantly more power in the buying process, putting them in the middle of a sales "flywheel" with key opportunities for you to attract, engage, and delight potential purchasers.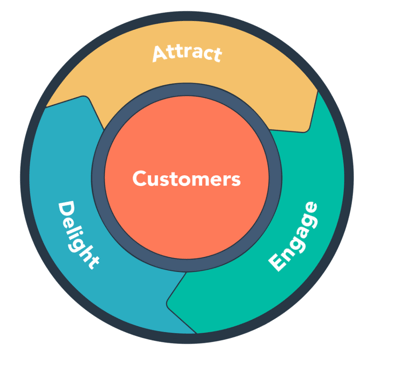 Source: HubSpot, The Flywheel
Savvy teams leverage the momentum the flywheel gains during the process and reduce speed-killing friction throughout marketing, sales, and service so their inbound efforts are aligned with these important nuances of the industrial B2B industrial buyer's journey:
Size of Purchase (Big Purchases vs. Smaller Transactions)
Whether the industrial transactions your company deals with are seven-figure heavy equipment purchases or based on everyday needs like machinery replacement parts and fluids, you need to have your website, content, sales and nurturing strategies optimized to maximize your relevancy. This means having product inventory pages that are easy to search and navigate, and a clear, simple process for order placement; a nurturing strategy that encourages repeat purchases from your current buyers and/or helps you remain in constant contact throughout the long sales cycle for prospects considering larger purchases.
Research (Large Purchase/New Supplier vs. Repeated Purchases)
Industrial B2B buyers are diligent researchers. The purchases they make and the vendors with whom they cultivate relationships have a far-reaching impact — especially when it comes to large capital investments and anticipated ROI, like machinery that's expected to last and perform for at least 15 years. Generally, no stone is left unturned because of the number of company requirements to fulfill, industry regulations to comply with, and quality benchmarks to meet for large purchases.
However, that doesn't mean industrial B2B buyers slough-off lesser purchase decisions.
Many industrial B2B buyers maintain relationships with their suppliers and repeatedly purchase common or lower ticket items from them throughout the year. It's here that using the customer-centric flywheel methodology really shines. Putting customers first — by interacting with them how and when they want and listening to their feedback — demonstrates you value the relationship, not just the business.
Think of this high-touch customer experience as applying force to the flywheel in areas that create the most momentum and eliminate the friction that might otherwise slow things down. It's a win-win. Customers become your avid promoters to influence strangers and prospects that come your way in the future. And the flywheel keeps spinning.
Technology and Delayed Implementation
While it's important for any business to stay at the forefront of the new technology in its industry, industrial B2B buyers aren't always as eager or able to implement it right away. Let's say a new production machine hits the market that uses a brand new technology to decrease assembly time by 25%. While it sounds exciting, it could take years to verify that the claim is true and the technology is an industry must-have. Likewise, if the equipment is newer or not in line for replacement, the near-term implementation of technology isn't feasible. Rest assured, industrial B2B buyers are always looking for new ways to improve their production and generally embrace technology, but there are certain realities your sales strategy needs to address for those buyers who can't make changes right away.
Inbound and the Nuanced Industrial B2B Buyer's Journey
For industrial manufacturers, inbound marketing is the modern solution to dealing with today's independent, well-informed industrial B2B buyers who are able to — and often do — spend months online researching at-will. Inbound marketing helps your website get found by prospects through search, and can also help you remain top-of-mind throughout those long purchase decisions with tools like integrated marketing automation and CRM systems that allow you to deliver personalized, relevant content at scale.
In short, buyers turn to the internet with specific questions, and the robust website and persona-driven content you provide through inbound efforts answer them — plus increases the volume of Sales Qualified Leads (SQLs) by 45%.
By understanding the nuanced challenges of the industrial B2B buyer's journey, you can construct an inbound marketing strategy that speaks to their pain points and offers real solutions that convert internet researchers to prospects, prospects to customers, and customers to enthusiastic promoters.
Need help constructing your own buyer's journey? Click the button below to access your copy of our valuable Buyer's Journey Worksheet!