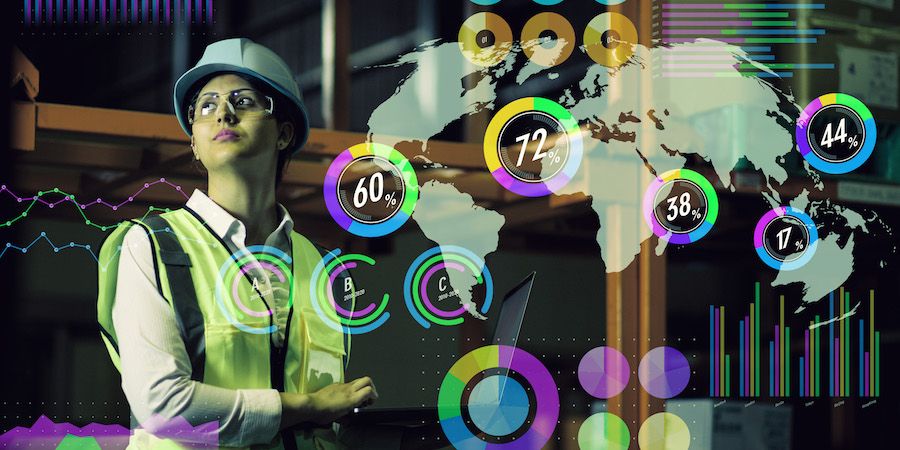 Q1 is in the books and so far, there's been a lot for industrials to talk about in 2018. It's been a relatively positive start for the U.S. manufacturing economy this year, although looming foreign trade policies and tariffs stand to shake things up. In addition to those headlines, however, today's industrial marketers have plenty of other concerns on their minds, as the online marketplace gets more competitive. According to Engineering.com's 2018 Budget Trends in Industrial & Technology Marketing Survey, 45% of industrials plan to increase their marketing budgets this year, with content marketing and lead generation being a key focus for most organizations.
To help highlight some of the trends and challenges that today's industrial marketers are faced with, here's a quick rundown of the 6 biggest industrial marketing challenges of 2018 (thus far):
Generating Leads
With most purchase research being conducted online these days, companies have been looking to maximize their online lead generation for several years now. After years of marketing to the same audience online, the once bursting Internet lead pipeline has slowed to a more steady flow—with only a given amount of new buyers entering the market each year for niche industries.
On a positive note, today's leads can be closely tracked and filtered to determine their quality, with marketing automation and CRM platforms like HubSpot helping keep track of important lead information, such as previous website interactions and sales conversations. In order to truly generate more leads today it's important that today's industrial marketers create better, more engaging content that stands out to their prospects, as the bar gets raised higher and higher due to competition.
Making A First Impression Count
One way industrials can improve their first impression online in 2018 is by updating their websites. If someone is learning about your industrial company for the first time, your website is crucial for making a good first impression. If it's outdated, poorly constructed, and takes a long time to load, it'll be an uphill battle convincing prospects that your manufacturing equipment and procedures are in fact new, top-of-the-line, and can meet their requirements. A website revamp can even show old prospects that you're ahead of the curve, and make them reconsider your services. Take a look at our own website traffic before and after our latest website redesign—which launched September 2017:

Creating Engaging Video Content
Speaking of creating engaging content, video has become a top priority for many industrials this past year. More than 80% of online marketers are using video as a marketing tool in 2018, up from 60% in 2017. Now more than ever, it's important that industrials are able to create high-quality video content that showcases their capabilities and advantages. In a world in which anyone can write anything online, video can provide a strong "seeing is believing" effect, and help make industrials' messages more human and authentic. This explains why video is the preferred content medium for industrial prospects, with 72% of people saying they'd rather use video to learn about a product or service when both text and video are available on the same page.
Talent Development & Retention
The skilled labor shortage has been a major concern for industrials for some time now, and will continue to be a problem in 2018 and beyond. Most STEM companies find themselves at a disadvantage when it comes to hiring and retaining talent, and for today's industrial marketers, this means devoting more resources to talent acquisition campaigns, as well as working with HR to run internal campaigns that keep your current workforce happy. Here are just a few ways industrials can improve their talent development and retention campaigns:
Promote online job postings via social media and other campaigns
Update the interview process to be more than just Question & Answer
Create a recruiting video that showcases company culture and workplace environment
Offer more progressive employee benefits (i.e., employee rewards, career development & advanced learning opportunities, etc.)
Leveraging Analytics
With almost everything moving online these days and having a "smart" connection, industrials have access to a wealth of new technology and services that can help them closely monitor and improve their processes and equipment. Whether it's a system that alerts them when their machines need maintenance, or a sensor that helps improve their machines' accuracy and consistency, there are plenty of new ways industrials can leverage technology and data to increase their output and efficiency. Knowing how to take advantage of that data is often the biggest challenge for any company just diving into new technology. By taking the time to learn how to integrate the data and bundle certain services that are assisted by the connectivity and data you can improve customer retention and financial return on your projects.
Innovative Pricing
With most buyer research moving online these days, many prospects want their pricing questions answered online, too. For industrials, this can be complicated given the different pricing model they might use or "sticker shock" associated with their equipment and services. Today, industrials need to use innovative pricing tools on their websites to help answer their prospects' questions, articulate value, remove the complexity, and help provide accurate estimates without hassle. It doesn't have to be uncomfortable, and today's industrial prospects don't expect it to be.
For industrials, marketing always seems to be a little harder, and it's no different in 2018. By creating high-quality content that stands out from the crowd you can put yourself in a position to stand above your competition.