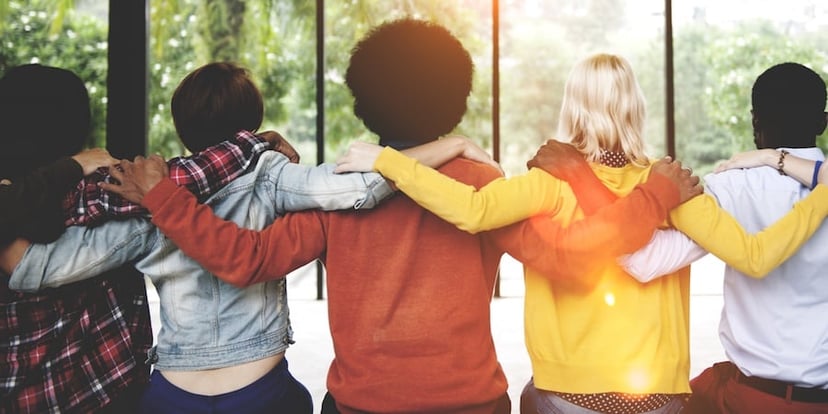 Remember when the home page and main navigation used to be the most important parts of a website? If you're thinking, "Aren't they still?" then you're in the right place. Get ready to be disrupted.
With the rise of customer-centric inbound marketing and search engine algorithms that have increasingly prioritized natural user experience (UX), it's your blog that presents the biggest opportunity for attracting potential buyers. No longer is the home page the front door to your website; today, blogs symbolize the front door, the veranda, the parlor, and even the coat closet.
Think about it: People are searching the Internet for helpful content that answers their questions and addresses their pain points. They are much more likely to discover you by clicking on an article link that leads to your blog than by typing your company name into the web address bar. In fact, they might not know a thing about you before reading your content.
Because of how inbound marketing positions content at the forefront of your online presence, today, I'd like to discuss the increasing value of internal linking, which provides natural pathways for visitors to stay on page and see additional blog content and conversion opportunities on your site.
Today Buyer's Journey Disrupts Traditional Navigation
Since much of your website traffic will be in the awareness stage of the buyer's journey, there's no need for a sales or product/service tie-in, making your blog a much more effective tool for attracting leads than the homepage. The ideal navigation of your site visitors would look something like this:

Visitors are reading your blog articles and finding the content compelling enough to click on a CTA for an advanced content piece (e.g., whitepaper). From there, they will fill out their contact information on a landing page form before finally coming to the thank you page.
This path sends visitors to the deeper pages of your website that can't be found through the main navigation, making this a win-win for UX as well as SEO (search engines see these pages as more "organic"). However, while placing a CTA in your blog article is a top priority, linking to related blog content within an article is even more beneficial for SEO purposes.
Take a look at this example from a recent article on HubSpot's Marketing Blog: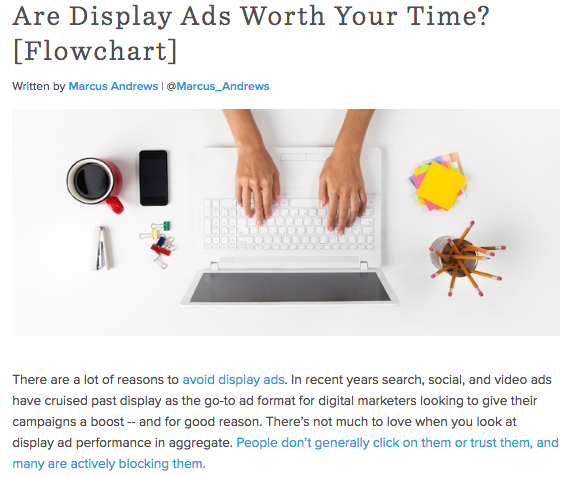 HubSpot almost immediately links to another one of their related articles titled, "20 Display Advertising Stats That Demonstrate Digital Advertising's Evolution," which current readers will also find relevant and helpful. If visitors don't convert on the first page, a second helpful article could make all the difference.
As you produce more content, be sure to internally link to related articles you think readers will find helpful. You can even list related titles in your blog's sidebar, which can also prompt conversions. Regardless of the method, internal linking is an organic and effective way to engage site visitors and assist them at the awareness stage of the buyer's journey.
How Internal Linking is Done Correctly
While linking to appropriate content becomes easier over time, there are some technicalities that come along with it:
1. Use a relative link
A relative link condenses the URL (since the current and target domain both match) and also helps if you're transitioning your website out of beta, as relative links prevent broken links once the new site goes live. Here is what relative linking looks like: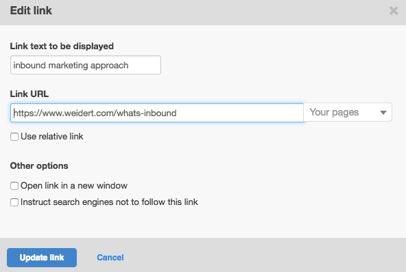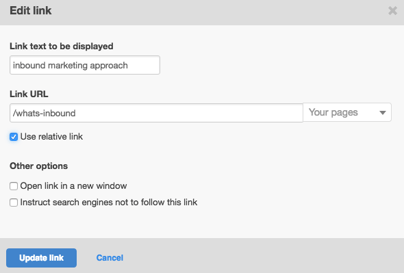 2. Open the link in a new window
This is a very simple, yet often neglected step. Directing visitors to another window is not only convenient for readers, but also increases the chance that visitors will read both the original and internally linked content.
3. Mark the link as "nofollow"
You want to avoid instructing search engines to follow internal links, as Google sees this as a spammy practice. You might be linking to high-quality content, but you'll still be penalized by Google!
By keeping these three best practices in mind, you'll ensure a quality user experience on your blog, while also reaping the SEO benefits by sending visitors to your "deep" site pages.
Treat Every Article as an Asset, Not a Finished Product
As you begin to build out your blog, start finding places to link to previous articles, and vice versa—go back and update older content by linking to related new articles. Your content will constantly evolve, and your visitors won't have to dig for related content that addresses their pain points. The improved user navigation experience, SEO benefits and assistance in the buyer's journey will ultimately increase your blog's visibility along with its lead generating capabilites.