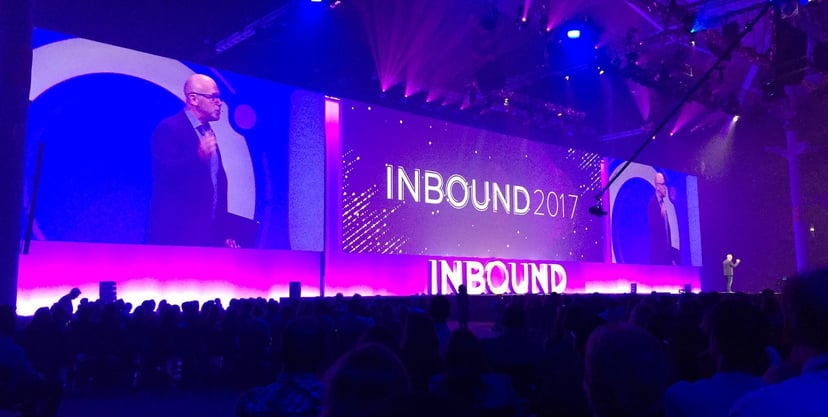 Last week I had the privilege of attending my 5th INBOUND conference in Boston, and my head is still swimming with new ideas and inspiration. What a week! On my flight back home I did a brain dump to start organizing my thoughts, and now that I've had the weekend to let it marinade, here's a high level (not exhaustive) rundown of the main themes and key takeaways that stood out to me.
If you also attended INBOUND 2017 please share your key takeaways in the comments section below.
1. Bots are Here to Stay
The new era of marketing automation is the rise of bots. Not physical robots, but chatbots that can help automate the customer and prospect support experience. You may have already experienced this on some websites or with a company through Facebook messenger. HubSpot is now experimenting with many of these since they acquired Motion AI, a leading visual chatbot builder.
HubSpot stressed that chatbots don't eliminate human interaction but they allow prospects and customers to get answers and support when they need it, 24/7. And with 1.3 billion Facebook Messenger users, it's a channel that's often overlooked.
B2C companies have been quick to leverage this technology and B2B companies should give it some serious consideration, too. The longer you ignore it the more likely you are to fall behind your competition.
2. Quality Over Quantity
The future of content is less frequency, longer form.
Reduced blog frequency is proving to work for many companies, including HubSpot, when frequency is replaced with longer form content – 2,000+ words. This doesn't mean you can necessarily spend less time writing, since it requires being much more detailed and robust with your articles, but it does reduce the number of articles you publish overall.
This directly correlates with a new approach to SEO called Content Pillars and Topic Clusters. These articles here do a nice job explaining these concepts and why they work:
Topic Clusters: The Next Evolution of SEO
How to Create a Pillar Page
This really comes back to a theme we've been stressing for a while: If you want to outrank your competition, you can't fake it with your content. Find what content outranks yours and write something that is 3x better and more engaging.
3. Finding Your Unique Voice is More Important Than Ever
We've reached an all-time saturation level of online content. This makes it harder to stand out and attract a true audience with your own content, so it's important to find your content blue ocean that hasn't been tapped yet by others in your industry, and that you can truly own. It's then up to you to find your brand's unique voice to stand out among the noise. This is how you'll create an audience.
4. Search is Quickly Changing
Search as we know it is changing at a rapid pace. Voice Search, Google and other search engines are getting smarter at understanding more contextual relevancy. And with mobile search surpassing desktop, contextual search can now deliver results based on your location, time of day, device type, etc.
Even though Google is the search giant we focus our energy on, we can't ignore Bing, since they've quietly secured their position as the source of voice search results when people use Siri or Amazon's Alexa. Crazy, right?
5. It's Time to Redefine Growth
Sure, website traffic, lead conversions and increased revenue will always be key indicators of marketing success, but we need to also move beyond monetary KPIs as an indication of marketing success and business growth. What about growth that comes from improving our product/service or how we support customers?
This video, which was shown during the INBOUND keynote from Brian Halligan and Dharmesh Shah, sums this up beautifully.
6. The Best Storytellers Find Their Own Channels
In today's online content landscape, everyone from startups and filmmakers are finding their own channels to share stories.
Film directors are no longer reliant on networks to pick up their ideas for a new series. Instead, they're using channels such as YouTube and Facebook to build their audience and prove their concepts – and are then getting picked up by Netflix, Amazon or HBO.
This has resulted in the explosion of Online TV series and short films that are quickly outpacing traditional films as the type of preferred media among a huge age range, and has created the era of binge watching.
7. Alignment is the Key Ingredient to Growth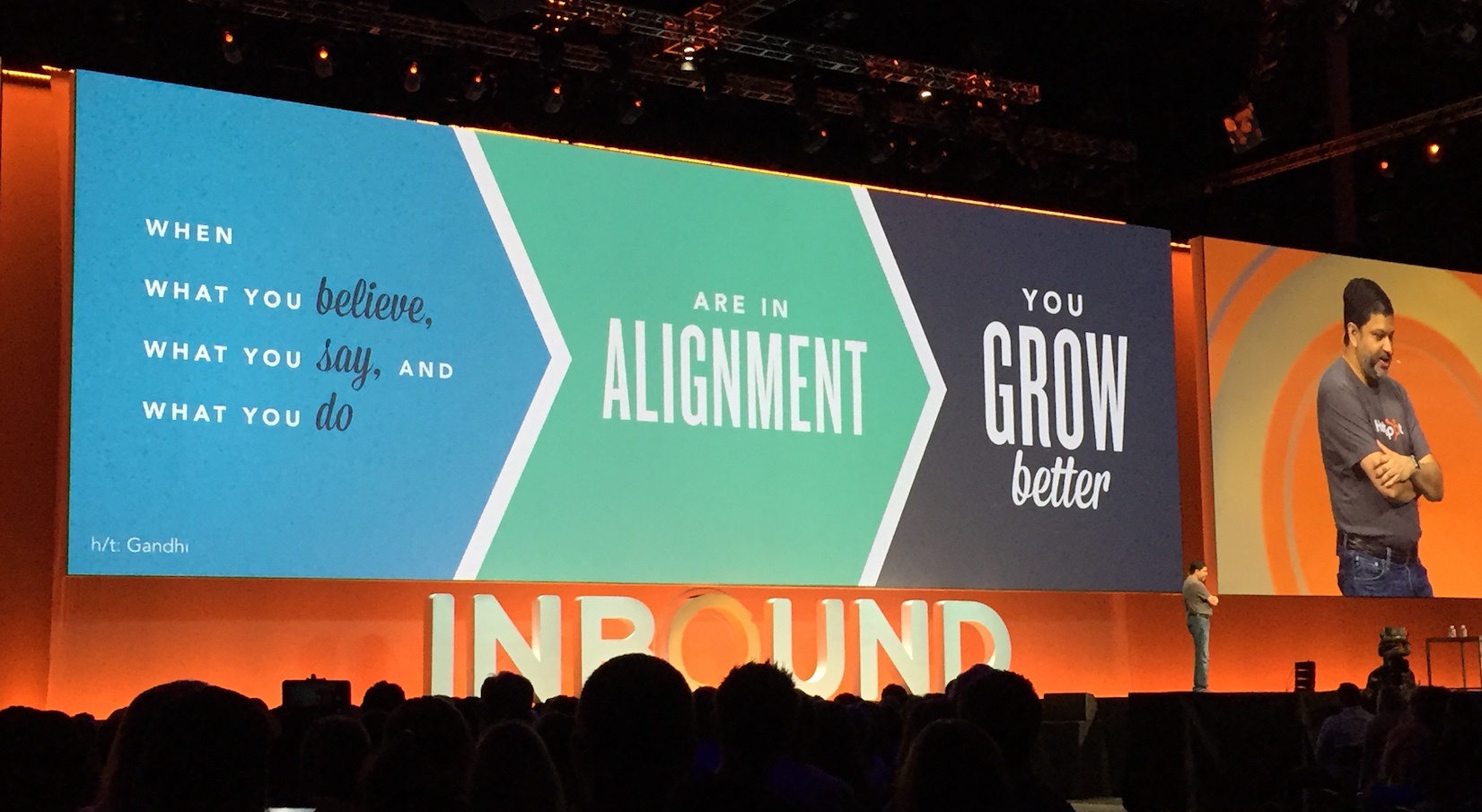 As stated by the brilliant Dharmesh Shah, co-founder of HubSpot, when what you believe, what you say, and what you do are in alignment, you grow better!
By having your entire team aligned in the same mission, working in the same direction with passion, you can achieve incredible things!
8. 21,000+ Marketers in One Room is Like Riding a Lightning Bolt
There's part of me that misses the days of the early INBOUND conferences. In my first year (2011), 2,800 people attended; this year it was more than 21,000! But with greater numbers comes even more energy – it was absolutely infectious! This all started during the opening keynote, when Brené Brown had us all sing and dance together to the song "Shut Up And Dance." What a moment!
Another memorable moment was when we raced to our seats to hear Michelle Obama...then as they finally opened the curtains for the Main Stage, and as she took the stage.
Thank you to HubSpot for continuing to help foster a community of marketers on a mission to make marketing loveable again, and helping unify inbound marketers from around the globe. Register for our next NEW HUG meeting where we will cover some of our key takeaways more indepth!