Nationally Recognized Expert Wayne Breitbarth Will Demonstrate Tips and Techniques for Corporations During A Special Lunchtime Edition of New North Social Media Breakfast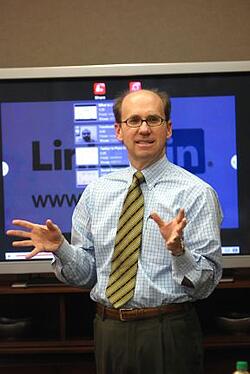 LinkedIn expert Wayne Breitbarth will explain how corporations can reap marketing benefits by investing in a LinkedIn presence during an April 18 lunchtime session of the New North Social Media Breakfast.
Breitbarth—a nationally recognized speaker, author, and consultant on the use of LinkedIn for business success—will conduct a seminar tailored specifically for company owners and executives responsible for sales, marketing, and branding initiatives. During the 90-minute session, Breitbarth will demonstrate tips and techniques you can quickly and easily implement on your company page.
Those attending the session will also receive a copy of Breitbarth's book "The Power Formula for LinkedIn Success," which has been the top LinkedIn book at Amazon for more than 40 weeks.
"Wayne is the foremost expert on LinkedIn and I have followed him and referred to his work since my earliest days on LinkedIn," Greg Linnemanstons, president of event co-sponsor Weidert Group, said. "I am really pleased that we are able to arrange this opportunity to learn from his expertise."
This special session of the NNSMB will take place at The Grand Meridian, 2621 N. Oneida St. Networking begins at 11:30 a.m. and Breitbarth's presentation starts at Noon. The cost of the event is $35, which includes lunch and the book. Seating is limited and early registration is recommended.
About NNSMB
The New North Social Media Breakfast was founded in 2009 by Dana VanDenHeuvel of Marketing Savant in partnership with Weidert Group, Inc. and Element Creative. The group of local professionals meet monthly, rotating between Green Bay and Appleton locations, to discuss the role and effect of social media on their businesses. More information can be found on the New North Social Media Breakfast website.
About Wayne Breitbarth
"LinkedIn Guru" Wayne Breitbarth shares his passion for social media with others through private business consulting as well as dynamic presentations to local and national audiences. He is the author of "The Power Formula for LinkedIn Success: Kick-start Your Business, Brand, and Job Search", published by Greenleaf Book Group, is a CPA and holds an MBA from Marquette University.