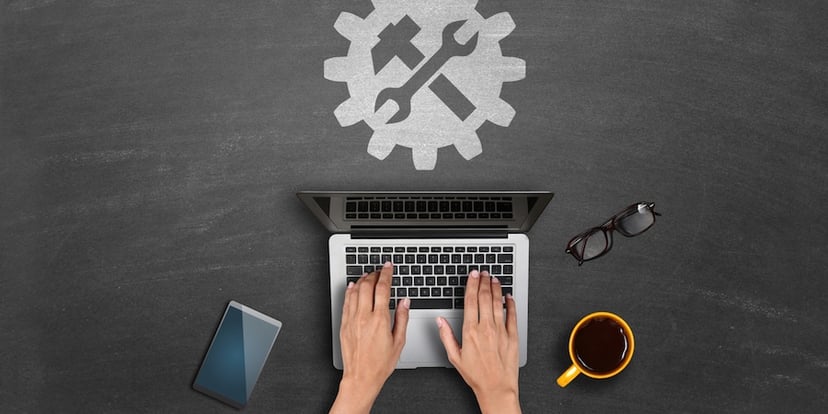 Do you have a website that's 2 years old? Older? If so, you're not doing your business any favors. But, the truth is that we aren't ones to talk: Weidert Group was selling lemonade on the corner but not drinking it. Our previous Weidert.com site was outdated and not only needed a fresh look, but a fair amount of revised content.

When we started discussing the idea of creating a new site, we knew we wanted to use the Growth-Driven Design (GDD) methodology. GDD is a combination of lean, agile, UX and data-driven principles.

We wanted to implement a GDD methodology for a number of reasons:
We wanted the best possible experience for our website users, specifically our target personas
We wanted to base improvements to our site on data, not just our gut
We didn't want to build a new site and let it sit for a few years, making slight modifications over time
So we did, and we recently unveiled the new site. And in the process, we learned a lot; we stumbled, fell, got up, dusted ourselves off and pushed harder. Read our cheers and jeers below on the whole project.
Strategy
As a relative newbie at Weidert Group and the guy who's supposed to know something about websites (the files are inside the computer!), I was nervous. I'm allowed to say that, right? The discussion of a new site started in June and, to be honest, we stumbled getting through the strategy phase – the most critical phase of the entire GDD process. Our Marketing Manager, Jess, will be the first to tell you that we needed to cement our personas, our content and SEO strategies, and our overall goals.
At first, we had difficulty getting our goals aligned. We've helped clients through this process before all the time, but we hadn't discussed our own goals in a while. This was a challenge because with new stakeholders added to the conversation, new and different ideas about what our goals should be started floating around. We started to focus and realized that, despite healthy traffic growth, we weren't getting the right traffic to our site. This was reflected in our previous marketing-qualified lead (MQL) and sales-qualified lead (SQL) numbers.
We also needed to revamp our buyer personas to target our revised strategy — a focus on industrial manufacturers and the companies that serve them. By revamping our personas we were able to develop an understanding of what pain points our personas are experiencing and what kind of content we should be creating to attract them to our new site. This will help us increase month-over-month MQL and SQL numbers, which is how we'll measure success.
We also audited our entire site. What content did we have now? What did we need to develop to implement a content pillar strategy? What did we hate about the current site? What did we like (not much)? We put all of this together into a list of action items we wanted to implement; a wish list. From there we decided what 20% of the items make up 80% of the impact — what had to be done for the site launch. Those are the items that made it into the launch pad.
We cannot stress enough how important the strategy phase of the GDD methodology is. Without this we would have had no direction, no focus. The strategy phase should take about 3 weeks. We spent considerably more time on this phase and didn't kick off design until the end of July. Now you know why I was nervous.
Rocket Man — the Launch Pad
"Hey, it's August; do you think you can have this site done by mid-September?" This is the stock price of Unilever. Notice that upward trend? This may or may not be the result of bulk purchases of Degree antiperspirant.
Due to the truncated timeline, we had to develop content and design side-by-side. We started with a couple of new pages (Expertise and a revised About Us), that the talented Meg Hoppe wrote first so I could start to implement design. Those pages were built first while content was being written for our pillar pages on Inbound Marketing and Inbound Sales for Industrial Manufacturers. Because these pages had a lot of content, they were developed last to allow enough time to thoroughly write and review the content.
Meanwhile, wunderkinds Jessica Janda and Alexandria Abel were behind the scenes, developing the plan and strategy (Jess) and video content (Alex). We designed page after page based on the architecture we outlined in the strategy phase. Some pages were all new and some pages had content left the same, but with a fresh coat of paint.
Fun fact: We had a request to change the architecture mid-way through the launch pad phase (my head almost exploded). You would think my response would be yes, but it wasn't. The key with GDD is to pull the trigger. You may not have had everything perfect, but it's not about being picky about font style or uppercase versus title case headings. It's about getting it out there and learning about what does or doesn't work.
The biggest takeaway we can give you is that when taking a GDD approach, you must move quickly: Speed over process. You won't be perfect. You will make assumptions. Some will be right, many will be wrong. The goal is to get a new site up and running that's better than your old site, with goals and metrics software in place to learn along the way so you can implement changes in the continuous improvement cycle.
What's that smell? It's the smell of success.
Blast off
We're done, right? The continuous improvement cycle
Ahhh, time for pouring a drink putting our feet up! Nope – it will never end! The whole point of GDD is to continuously improve your site month-over-month. FOR-EV-ER. It will take some time for your metrics to come in but you can start gathering some data about a month in. We have already reviewed Hotjar data on a few of our pages and are implementing design changes to address UX issues.
This is the whole point: To review data to see what users are attracted to or having issues with and addressing them. We implement weekly sprints here at Weidert Group and will meet once a month to address the website metrics, where we are with meeting our goals, and what changes we need to implement to get us there. Each month we'll review our wish list and what action items will affect our goals. Some changes won't affect those goals but are items that didn't make it into the launch pad. The priority of those items in the wish list will shift up and down depending on goals as well as business needs.
All this being said, we'll never have to "launch" another site again, because we'll constantly be making updates along the way. Keep an eye out – there will always be something changing on the weidert.com site! Want to learn more about the Growth Driven Design methodology? Download our GDD eBook.