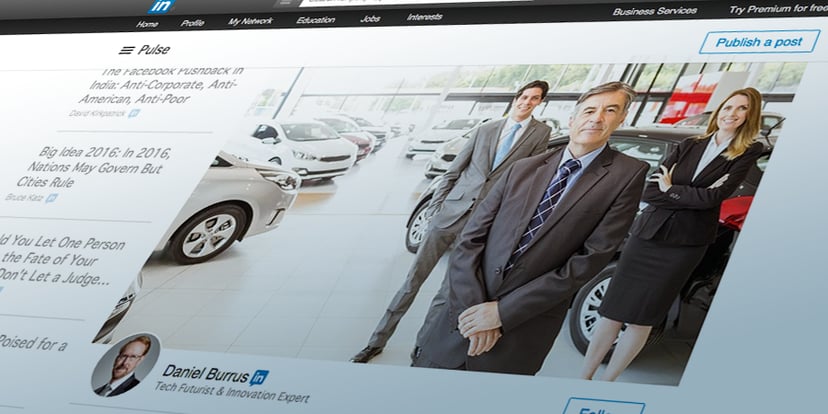 My dad reads my blog posts.
I know what you're thinking, what a supportive dad—and he is. Except, he isn't just reading my blog posts because I wrote them; he's reading them because he's starting to do inbound marketing. In fact, he reads a lot of our agency's posts I share on LinkedIn, and I've noticed he's been using LinkedIn a lot more often. He's even started publishing long-form posts syndicated from his company's blog. After all these years of going to him for advice, it's nice to get the chance to share some of my expertise and watch his progress in a B2B industry (healthcare consulting).
Though my dad has been a bit late to the LinkedIn long-form publishing party, he seems to be enjoying the results so far. He made his first post in March 2015, and has been publishing about twice a week consistently for the past month. He hasn't amassed a huge following by any means, but his posts usually get between 50-100 views, along with a few comments and likes. When I asked him over Christmas if he thought it's been effective so far, he said he liked the interaction and discussion with the doctors and professionals in his industry, and is eager to do more. He couldn't even help but publish on Christmas Eve.
The Power of Long-Form Posts
With 94% of B2B marketers using LinkedIn to distribute content, LinkedIn is an incredibly valuable social platform for any professional looking to make connections and generate leads in their industry. From healthcare consulting to custom manufacturing, just about every industry has a strong presence on LinkedIn these days, and long-form publishing can help you become an influencer in your niche. Though the top channels revolve around more general subjects like Leadership & Management, Big Ideas & Innovation, Technology, and Entrepreneurship, you shouldn't be discouraged from sharing niche industry content. Looking at some of the top channels below, for example, you can see that there are large audiences looking for content in a variety of B2B industries, and thousands of connections to be made within them.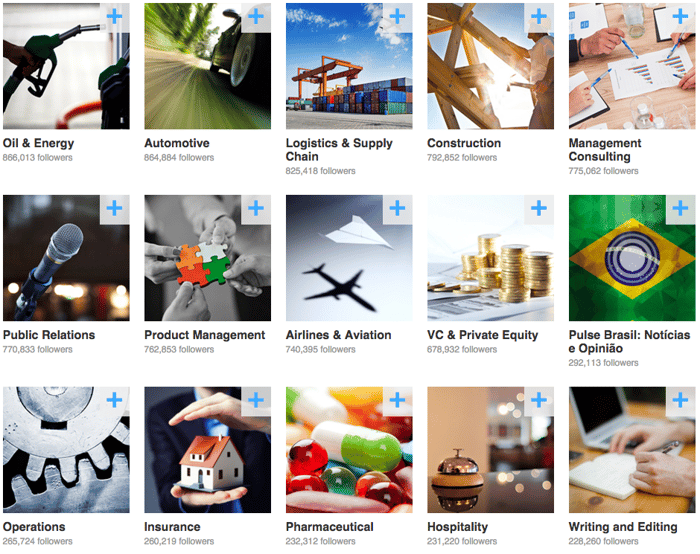 LinkedIn Influencers garner the most attention with their articles due to their Influencer status, but I've also witnessed non-influencer users gaining a large following in a niche industry. The people who have been publishing the longest have had the advantage of being an early leader, but I've still seen impressive results from those who've started within the past year or so.
Ricky Smith, President & CEO at Maintenance and Reliability Best Practices, LLC, made his first post in late October 2014 with 287 views, and 48 posts later, now averages more than 1,500 views for his most recent articles. His posts include headlines such as, "Top Three Reasons Why Companies Don't Measure Asset and Process Reliability", "Day in the Life of a Proactive Maintenance Technician", and "Evolution from Lean Manufacturing to Lean Reliability"; and he's amassed more than 10,000 followers. It's only taken him slightly over a year to grow from hundreds of views per post to thousands—and he's doing it publishing roughly once a week.
While this is just one example, it's a clear indication that LinkedIn's long-form posts are highly effective for B2Bs looking to increase views on their content, and it can be as simple as reformatting one of your company's blog articles in 10 minutes. While you can't expect every publisher to have the same success (Smith has accomplished a lot in his career, on top of being an experienced LinkedIn user with many connections), his long-form publishing strategy is a great example of what you should emulate and aim for with your own posts.
To help increase the success of your long-form posts, make sure you follow these 5 tips:
Publish regularly. The best way to grow an audience on any publishing platform is to publish on a consistent basis. Most niche industries don't have the demand for you to publish something every day (too much can lead to saturation and disinterest), but try publishing at least once every other week to keep your name in the mix.
Use pictures in your posts. Just as you use pictures in a blog article to support your text and make it more readable, pictures accomplish the same thing in long-form posts. They can also be used to increase interest in your headline. Use them to your advantage.
Credit your blog when syndicating content. Because Google is known to penalize for duplicate content, make sure you give credit to the original source so it knows which to prioritize and index for search.
Post during normal business hours. In order to maximize the views on your posts, you'll want to post during peak LinkedIn traffic time. The best time to do this is between 8am-5pm, with evenings and weekends being lower traffic periods. Your content will appear in peoples' feeds throughout the day as it gets liked, commented on, and shared, but it's important that you publish during the day so that it gets a strong initial push. This will also increase your chances of appearing in the Pulse, which can significantly boost your views and interactions.
Don't be sales-y. People read LinkedIn posts for advise, news, and industry insights. They aren't there to buy anything. Make sure you include a CTA at the end of your post, but save the product pitches and offers for your website.
If your company is creating enough blog content to maintain a regular publishing schedule, you're certainly creating enough content to syndicate it in long-form posts. Use LinkedIn's long-form publishing tool in combination with your blog to maximize your reach, and you'll be amazed at the number of connections you can make. Just ask my dad.