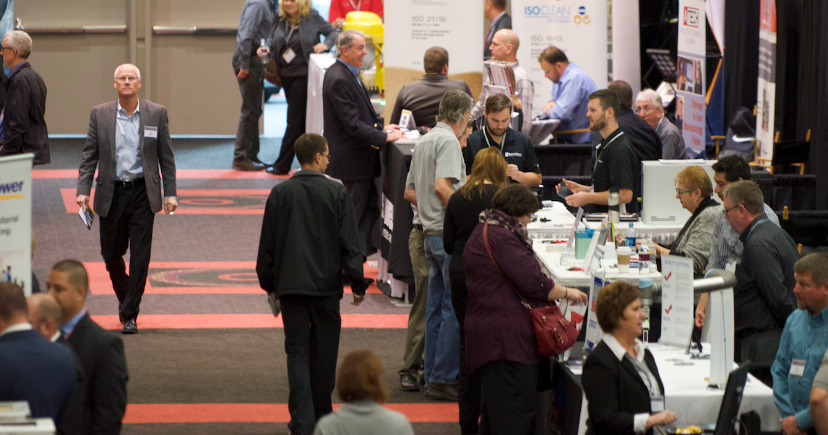 Sometimes it's just nice to know you're not alone. That was one overall feeling of the Manufacturing First Expo & Conference last week in Green Bay, Wisconsin. Over 1,300 attendees from manufacturers all around the state came together for the event to hear from keynote speaker Bob Chapman (CEO of global manufacturing and technology company Barry-Wehmiller) on Truly Human Leadership and share ideas for the top challenges affecting industrials today, from talent attraction to business development to productivity.
No strangers to the complexities of manufacturing and the competitive landscape they face, our team wasn't surprised at the themes of the day, but what was surprising was how intertwined they were. Our world is more connected than ever, which means the days of operating your business in silos are gone — HR, marketing, sales, and operations must work together more than ever to achieve sustainable growth. Read on for the top takeaways from our team:
1. Treating your team like they matter is good for your productivity
In his keynote, Bob Chapman addressed an often pervasive issue in manufacturing: a corporate culture that values product over people. Output and lead times are the most important things and the result is a poor work environment and high turnover.
This is in direct contrast to the McKinsey Global Institute's finding that the biggest driver of happiness in life is meaningful work with people you care about. Bob challenged manufacturing leadership to stop focusing so much on the numbers and start seeing the responsibility of leadership as being a good steward of the lives entrusted to them. Sending employees home feeling valued is how we change the world. It's also the key to productivity and sustainability because it leads to employees who care about what they're doing for your business.

A few other nuggets from Bob Chapman to get you thinking about your culture:
Doing good starts by doing less harm.
You can't afford not to treat people like humans because our product IS your people who are making it.
Replace the words "manager, boss, and supervisor" with "mentor, leader, and coach."
For more leadership takeaways, see our recap of the 2019 Manufacturing First Expo
2. Everyone is competing for talent
The competition is fierce and it's starting in the high schools. Companies like Fabio Perini are setting up apprenticeship programs with high schools to help students identify areas they want to become skilled in and then works with the students to earn the appropriate technical degree.
Over 600 high school students attended the expo to walk the floor and connect with manufacturers and be exposed to skilled labor opportunities.
3. Culture over brand: Authenticity is key
Your culture has to be authentic in order for it to be part of your brand messaging. In other words, if you have a culture problem, you'd better deal with it before you try to showcase it in your marketing. This was a key lesson from Oshkosh Corporation CMO, Bryan Brandt's talk on people-first culture.
In addition, this means...
4. Marketing and Human Resources alignment is crucial to workforce development
Marketers in manufacturing need to work together with HR to know what types of positions and people need recruiting, develop appropriate messaging and promote positions in places that the target talent is likely to be. Using inbound marketing tactics for recruiting can help manufacturers address these talent gaps.
5. The standard PowerPoint for business communication is dead
Storytelling and media-rich presentations are expected and required to engage your audience. All of the presenters I saw had stellar decks, full of images and very little text.
If your sales presentation deck is all about you and is a list of bullets and some product photos, you're at a competitive disadvantage. Use statistics, visuals, and video to engage your targets and demonstrate how you can help solve their challenges.
6. The talent shortage is impacting business development and growth
Everybody's looking to grow, but growth is a bit of a double-edged sword for manufacturers today — they're constrained by balancing growth with the struggle of attracting and retaining the staff to service that growth well.
7. Marketing and sales alignment still matters
Weidert Group President, Greg Linnemanstons spoke on steps to improve business development results. The room was a mix of marketing and sales professionals who were all singing similar tunes — how do I efficiently generate quality leads that are ready to buy and focus my efforts on what's most effective? This underscores the importance of having a service level agreement that defines a marketing qualified lead, sales qualified lead, and what each team is committing to do for the other to achieve business growth goals.
Also check out this article for a full recap of Greg's talk and the results of our 2018 manufacturing marketing and business development performance survey.
Wisconsin has always had a rich manufacturing industry and it's an exciting, energizing time to be a service partner to these complex B2B companies. If you're a manufacturer looking to improve your business development results or put together an inbound marketing plan that'll help turn your website into your best salesperson, reach out to us!