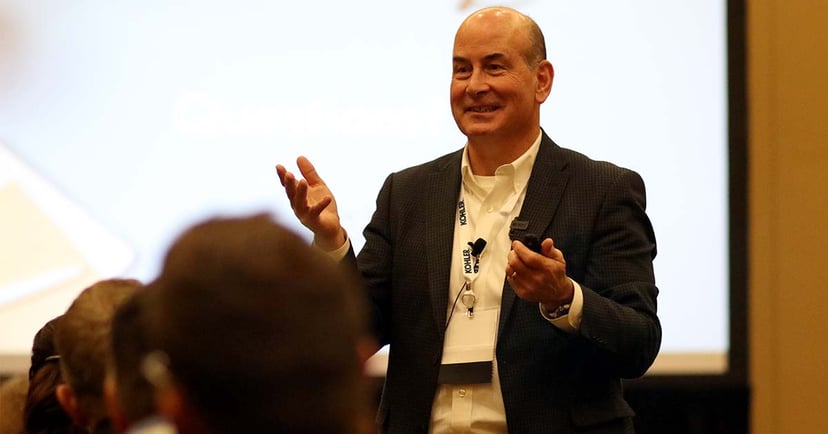 What does it take to be an effective leader capable of inspiring and nurturing growth – in both company revenue and its own employees?
Members of the Weidert Group team recently attended the 9th annual Manufacturing First Expo & Conference, an event focused on the interests and needs of manufacturers throughout northeast Wisconsin. The topics presented by the event's speakers (which included our very own Greg Linnemanstons) were far-ranging — from employment law, financing, and Industry 4.0 to disaster preparedness, safety, recruiting and automation (just to name a few). The recurring theme in nearly every presentation? Leadership.
For those of you unable to attend, we've outlined some of the more actionable insights from two of the speakers:
Manufacturing First's keynote speaker, Mike Staver, author of "Leadership Isn't for Cowards," challenged management-level people in the room to think about three common obstacles most all leaders need to overcome in order to be successful:
Their need to be right
Their need to be in control
Their need to be all things to all people
The solutions, he said, are simple (at least in theory):
let go of the need to be right by asking questions of people in order to learn more about (and adopt) their ideas and needs;
rather than feeling the need to control, let some of the "unimportant" stuff go (and let others take the reins); and
instead of trying to be all things to all people, draw clear boundaries about the roles and responsibilities you'll own – and stick to them.
Staver also recommended six actions to take to transform yourself into a better leader:
Accept circumstances
Take responsibility – and identify what to fix, not who to fix
Take action
Acknowledge progress as its being made
Commit to practicing gratitude
Develop new relationships, encourage a stronger culture, and develop people
Dean Stewart, Executive Director of St. Norbert College's Center for Exceptional Leadership spoke about the need for adaptive leadership — something that allows companies to change and better position their organizations for sustainable success. Here are some of his key points:
Some leaders give direction by defining problems and giving solutions. An adaptive leader gives direction by identifying issues and framing key questions
Leaders may feel compelled to protect their organizations, but an adaptive leader is willing to disclose threats to their teams to engage the team in addressing them
While some leaders focus on maintaining norms and keeping order, an adaptive leader questions norms and allows them to be challenged
Another issue that seemed front and center at the event was the continuing, yet urgent need to improve talent recruitment practices and results. Every manufacturer we talk to these days, including those we heard from at Manufacturing First, is impacted by the tight labor market, and it's potentially affecting their ability to continue growing. Anecdotally, it seems as if those companies in the best position to attract talent are those who have consistently reinforced the importance of a strong, positive work culture, and taken very intentional steps to let the world know what they're all about. Sounds to me like recruitment with an inbound twist!
For more ideas on improving your recruitment results by employing inbound methodologies, check out these articles and our ebook below: