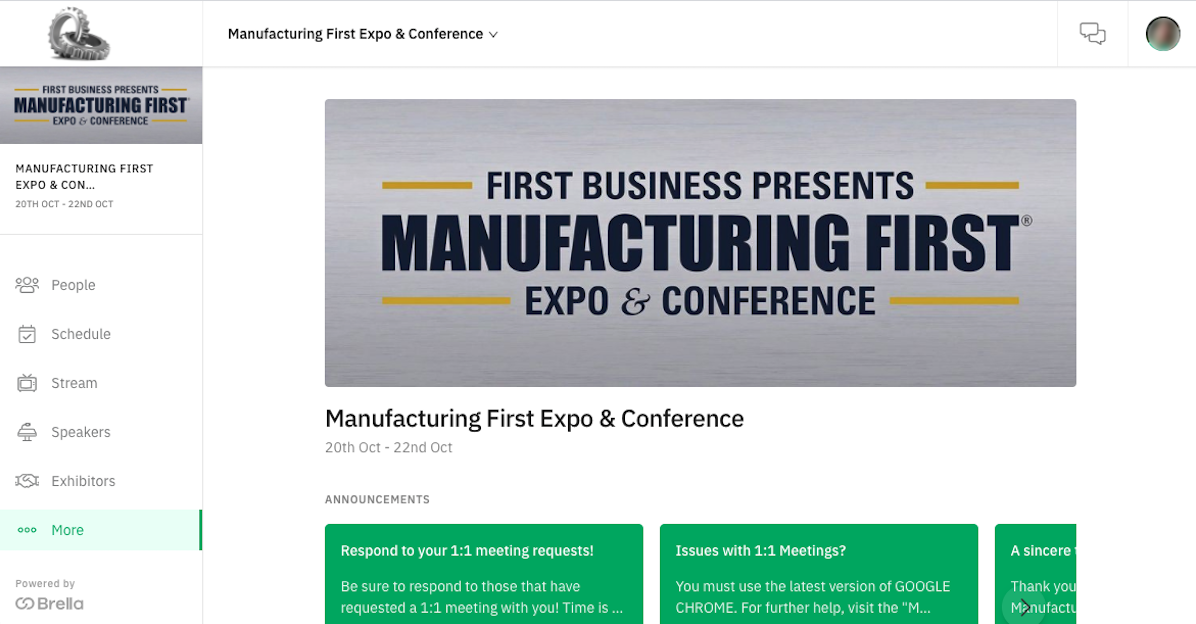 In its 10th year, Manufacturing First Expo & Conference 2020 was a virtual event that spanned three days, October 20-22.
This year's event featured virtual exhibitors, one-on-one networking, keynote presentations, a CEO roundtable, and educational webinars across topics in management, technology, manufacturing marketing and sales, supply chain, and more.
Weidert Group was a Gold Sponsor of the gathering, which draws manufacturing and business leaders from Northeast Wisconsin and beyond.
This year, our team's takeaways resonated with a theme of facing future manufacturing challenges with data-informed, creative problem-solving and strategic, intentional networking.
These concepts of interconnection, constant change, data-driven solutions, and strategic planning touched on business focus areas ranging from marketing and sales lead generation to supply chain management and Industry 4.0.
1. Today's Actions Determine Tomorrow's Success or Failure
Futurist Daniel Burrus, author of The Anticipatory Leader: A Proven Model to Predict Change and Create Extraordinary Results, stressed that while we can't go backward in time to reverse errors we may see in hindsight, it's much more important that we commit to making necessary behavior changes as we navigate the road ahead.
When strategizing for an unknown future, Burrus noted, it's key to identify hard and soft trends. Hard trends are based on certainties — for example, demographics now point to four generations all in the workplace at the same time, which can introduce points of conflict.
But by ensuring representation for all and valuing the vast range of experience and talents across generations, manufacturers can build positive workplace cultures that promote shared problem-solving. Business leaders can use the certainty of hard trends to build urgency toward action.
Soft trends, on the other hand, are based on changeable assumptions — for example, we may not have been able to prevent the outbreak of coronavirus, but we can influence its spread, and its toll on economic conditions, by wearing masks and social distancing.
2. Go From Funnel to Flywheel and Maximize Business Growth
Greg Linnemanstons, Weidert Group President, advocated a flywheel approach in marketing, sales, and service for manufacturers. Many sales and marketing professionals use a sales funnel approach, focused on filling a funnel with prospects and converting them into new customers. But the funnel can leave gaps by failing to nurture customer relationships after the sale.
Customer delight, after all, is key to business growth. While selling to new customers has a success rate between 5% and 20%, increasing sales with current customers has a 60-70% success rate. The flywheel concept can help users identify opportunities where marketing and sales efforts will have the greatest impact — and the greatest potential ROI.
By identifying points of force and friction throughout marketing, sales, and customer service in a business, all the teams can work in alignment to more efficiently attract, engage, and delight customers throughout the entire buying journey.
3. Industry 4.0 is Here. Ignore at Your Own Risk.
In his presentation, Four IoT Technology Trends that Will Impact Small to Mid-sized Manufacturers, W. Kent Lorenz pointed to an enormous, assured increase in the uses of technology in all areas related to manufacturing and solving problems in the industrial sector.
Lorenz, retired Chairman and CEO of Acieta LLC, a robotics systems integration company, pointed out that while the U.S. currently has 189 robots per 10,000 manufacturing workers, Korea leads the world with 631 to 10,000 ratio.
And in spite of anxieties about jobs, many businesses grow their workforces as they increase automation. The cobot, a machine that works beside a human in a manufacturing environment, is on the rise. And augmented reality is creating efficient, effective ways to train workers using virtual reality headsets for jobs they'll do on a production floor.
As digital ecosystems proliferate and connect all machines in a business to a single enterprise management system, companies will stand to benefit from tracking and analyzing the data that span the full enterprise to benchmark and set goals for growth, efficiency, and waste reduction.
While artificial intelligence hasn't replaced people, it is an indispensable tool that continues to improve accuracy and speed in a growing number of use cases. Even better, synergy between humans and AI can mean a combined outcome that's better than either alone. Lorenz cited cancer as an example: Doctors' accuracy at diagnosing melanoma is 86.6%. AI systems can boast 95% accuracy. Combined, accuracy increases to 98% — saving lives and improving outcomes.
Technology, Data, and Humanity: a Powerful Combination
Historically, many people have viewed the advance of technology with trepidation. In fact, technological advances and new analytical capabilities are helping humanity harness our own powers — of creativity, collaboration, empathy, and expertise that are amplified when they all come together.
That's a heartening reflection in challenging times.If you're looking for better ways to connect, engage, and attract the right people and problem-solvers for your business, then you'll benefit from our guide, Inbound Recruiting Essentials for Industrial Sectors.