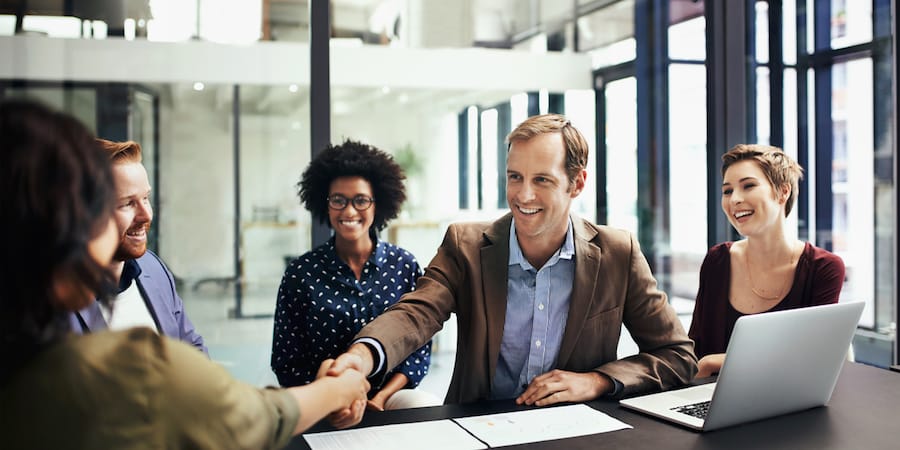 Whether a small job shop or a global manufacturer, the focus since day one of operations has been on making "stuff." Selling that stuff, however, should also be a priority, and that's where a strong marketing strategy comes into play. Manufacturers understand that it's an important factor in achieving success, but the investments in both time and money often fall in line after more "real important" things.
When a lack of dedication to a strategic marketing plan happens, however, opportunities are missed, sales can slump and a company can lose brand awareness and competitive advantage. For many, working with a marketing agency that specializes in B2B marketing for your industry makes sense and can help ensure a consistent focus on attracting new leads. Enlisting the help of an agency will still require dedication on the part of the manufacturer, however — at least if it wants that agency to be effective. But how much time do you really need to dedicate?
Hands-on or Hands-off?
A marketing agency's involvement can vary — from occasional order takers to active strategic partners. Do you have a clear plan and merely want an agency to implement your directives? Or, do you want to rely on the expertise of the agency to collaborate on strategy and work alongside you and your team? Often, it's somewhere in between. Setting expectations from the very beginning will help you know how hands-on you'll need to be.
Whatever you do, make sure your agency has experience marketing to your type of buyer. Too often, manufacturers are wowed by a marketing firm's work for its B2C clients, or for clients in markets unrelated to industrial manufacturing. Successfully attracting prospects of highly considered purchases is a different animal, so if the agency can't demonstrate expertise and results for your specific industry, be very cautious.
Determining your level of involvement depends on many factors. Do you have an internal marketing team or is it a one-man show? Involvement can be minimal or highly interactive. Some clients participate in weekly status calls, writing, posting content and working through editorial calendars with the agency. But we also have clients who don't have the resources and prefer a hands-off approach, so they leverage our team to manage all those details.
No matter how involved, however, your agency still needs to take time to get to know you, your market, your product or service and your competition. When we begin working with a client, they're understandably eager to get rolling and want to start pumping out blogs, emails, social media posts and content pieces right away. But before that can happen, we insist on getting to know everything we can about them — their needs, goals, pain points, competitive advantages, existing resources and more. That information informs how we'll collectively carry out their inbound program to get the results they need.
Tips for a Healthy Hands-on Agency Relationship
If you want to be highly involved, that's great! Make sure your expectations are clear early on so communication guidelines can be established. There are many advantages in this scenario. You can participate in content creation, post blogs to your website, schedule emails and more; you'll always be aware of ongoing activities and, when the agency equips you with a marketing automation platform to manage content and contacts, you can access reports to see which campaigns — and which pieces and parts of those campaigns — performed best, which resulted in the most conversions and, ultimately, ROI.
From there, you can strategize improvements and next steps with the agency. Also consider how difficult it is for your team to establish a solid strategy. Perhaps you don't have the tools or a solid understanding of how inbound marketing works, or your team is wearing too many hats. An agency can provide the necessary guidance and strategy and then allow your team to handle some of the implementation.
How hands-on you choose to be is up to you, but don't miss the opportunity to leverage the agency's skills and experience. A good marketing agency is able to offer extremely valuable outside perspectives that need to be leveraged to maximize your results. As is true with any working relationship, micromanagement can harm collaboration and hinder the outcome.
Want to Take a Hands-off Approach?
No problem! However, no truly healthy working relationship is entirely hands-off. Be aware that you'll still need to be involved regularly, at a minimum for reviews and approvals, updates and discussions, and planning. If you simply don't have the manpower to commit a lot of time for the long haul, it may be more realistic to be more hands-on initially, then shift some of those responsibilities.
Clearly, the advantage of a hands-off approach is that a marketing plan and the work surrounding it will get done with minimal time commitment on your part, allowing you to focus on other critical functions within your organization. The trade-off is you might feel somewhat disconnected to the details of your program. This is when trust is paramount, and it's up to the agency to build that trust and confidence through open communication, transparency and quality work. You'll know you've found the right agency when:
They have demonstrated expertise in your vertical. The right partner will demonstrate that they know your business and your customers, with proven results from other clients. You can trust them to do the best for your company because, when you win, they win.
They showcase that they never stop learning. A good agency will not only commit to continuous learning about your business and prospects, they'll continue to leverage the latest technologies and marketing best practices, and keep looking for strategic and innovative ways to help you succeed.
They hold everyone accountable. Remember, you'll still need to be involved and follow through on your level of commitment, especially in the beginning when the foundation is being built. Then, if you choose, you can shift to a validation and acceptance role, and participate in meetings to keep the agency in the loop of new business initiatives, sales strategies, product enhancements and more. Accountability will go both ways and, because so much of inbound marketing relies on metrics and data, you'll be able to see just how well your campaigns are performing.
Hands-on or hands-off? The level of involvement will vary greatly with each organization, and it will likely evolve over time. Transparency and establishing trust upfront is the key to a healthy partnership in either situation. The first step is finding the right agency with a team of people who can show you a history of work and prove their reliability.
If you're considering working with a marketing agency, we'd love to talk to see if we're a fit. We'll take the time to get to know you and your organization, and we'll be honest about whether we believe we can get you the results you deserve. Contact us for a no cost consultation today.