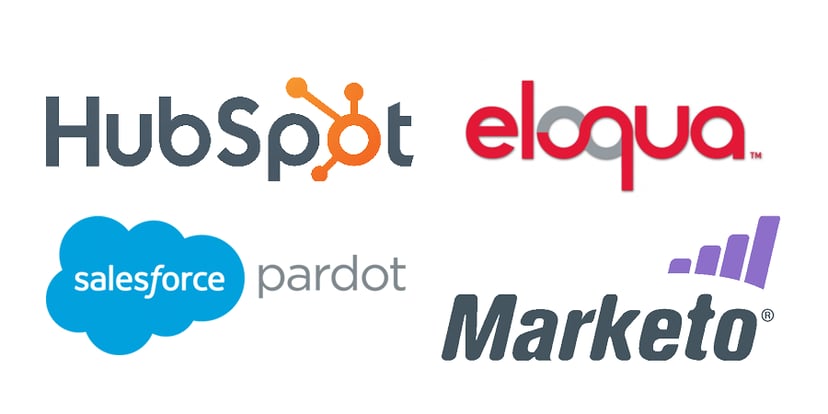 Marketing Automation has become a buzzword over the last few years. With all the tactics available to marketers today – social media, blogs, content, paid ads and more – it's no wonder companies are looking for platforms that help them execute their marketing under one roof.
Of course, there are both good and bad marketing automation platforms. How do you tell them apart? Where do you start? Before answering those questions, you first need to now that marketing automation does not generate leads for you, nor does it magically provide you with a marketing plan. Before searching for marketing automation platforms, you must realize that success comes from offering relevant, optimized content and focusing message around the people you wish to attract.
Think you got that part down? Great! With that said, I've broken down four top marketing automation platforms to consider for your business.
Pardot, which was acquired by Salesforce in 2013, is a marketing automation platform that's primarily aimed at B2B companies. With Salesforce as its parent company, Pardot excels in Customer Relationship Management (CRM). Pardot and Salesforce teams work together to create new features, making Pardot customers feel at ease knowing they're on the cutting edge of marketing technology.
Pardot allows users to create the customer experience they want using data-driven programs that generate new leads and speed up sales cycles. With the feature called Salesforce Engage, users can view a custom, real-time feed of prospect engagement, view interactive and graphical dashboards so reps can easily monitor and control campaigns.
Pros
Has a ton of features:

From visitor tracking and real-time sales alerts to lead scoring and grading, Pardot allows users to

capture top leads
Salesforce integration: Pardot works extremely well with Salesforce
Lead Deck: This tools allows sales and marketing teams to receive real-time alerts and information from prospects
Cons
Not so user-friendly: It takes a while for users to get comfortable with the platform. Some users say that if you don't have much tech awareness, you may have troubles getting projects done
Has a ton of features: Wasn't this just in the pros section? Yes. The amount of features can leave users overwhelmed by the list of options
A/B testing only available to PRO users: You'll need to pay at least $2,000 a month if you want to make use of features such as A/B testing, AdWords integration, or dynamic email content
Marketo was founded in 2006 and in June 2016, Vista Equity Partners acquired the platform for approximately $1.79 billion. Reputable companies that use Marketo are: Glassdoor, Charles Schwab, Curves and CA Technologies.
Marketo receives huge praise for being intuitive, with the ability to execute simple and complex nurturing campaigns, depending on your business needs. Marketo also provides free trainings, course catalogs and certifications through their Marketo University program. However, some users complain about the UI/UX being outdated, and lag time can be a real issue during peak hours.
Pros
Many integrations: Integrates with several industry leaders, including Salesforce
Quick and easy to set up: Compared to some competitors, setup is painless
Engagement programs: One user commented that Marketo's engagement programs, primarily meant for lead nurturing, are best in class. Marketo simplifies complex nurturing tracks
Cons
Poor landing page and form builder: Since Marketo wasn't originally a marketing automation tool, some of their products are difficult to use. Most of these have been updated, but some customers still use 3rd party software for form and landing page creation
Pricing: Marketo offers three pricing tiers: Spark, Standard and Select. The price jumps significantly per month from Standard to Select, with few upgrades
Reporting: It takes users longer to produce reports that should be easy to create. This is a common complaint
Also known as Oracle Marketing Cloud, was one of the first companies to offer marketing automation. Oracle was built in 1999, 11 years before marketing automation became adopted by organizations around the world.
Because of their tenure, Oracle is considered to be one of the best in their class, which explains their high cost, starting at $2,000 a month. Double that price if you'd like to use advanced segmentation, advanced data cleansing and deduplication, sales alerts and email reports, and more.
Pros
Many integrations: Has over 100 integrations with 3rd party platforms
Reputation: Many consider Oracle to be the best marketing automation tool for enterprise businesses
Well-designed visual campaign builder: Oracle's visual campaign builder is thought to be both intuitive and powerful to use
Cons
Intuitive: Some users believe Oracle isn't as intuitive as other platforms
Pricing: As mentioned above, Oracle isn't for organizations with comparatively small marketing budgets
Google Adwords: Despite Oracle's many integrations, users cannot track the ROI of their PPC
HubSpot, founded in 2006, provides its customers with tools for social media marketing, content management, web analytics and SEO. HubSpot is a market leader when it comes to marketing automation for small to medium size businesses. This platform brings your entire marketing campaign together, whether that's social media, web analytics, webpage creation or customer relationship management. It helps replace interrupting marketing with marketing tactics that people are attracted to – and respond to – by using the Inbound Marketing methodology.
Pros
Easy to Use: HubSpot makes it easy for everyone to use, even for small business owners with little or no knowledge of marketing tools or web coding
CRM Tool: Includes a free tool that allows users to manage their pipeline and tracks sales activity automatically
Education: Known as HubSpot Academy, HubSpot provides helpful blogs, certifications and how-to videos and documentations to keep users up to date on the latest marketing trends and tools
Inbound: Inbound is an event held by HubSpot each year in Boston that provides "inspirations, education, and connections you need to grow and transform your business." Past and future speakers include Gary Vanerchuck, Arianna Huffington and Michelle Obama
A place for all your tools: Many users find its workflow functionality, list segmentation and contextual marketing features extremely powerful
User Experience: Using HubSpot is intuitive and the platform easy to navigate, and users find the UI/UX design fresh and simple to use.
Want to learn more about Inbound Marketing and how marketing automation can help you achieve your growth goals? Download our Free Guide on Inbound Marketing for Industrial Manufacturers.