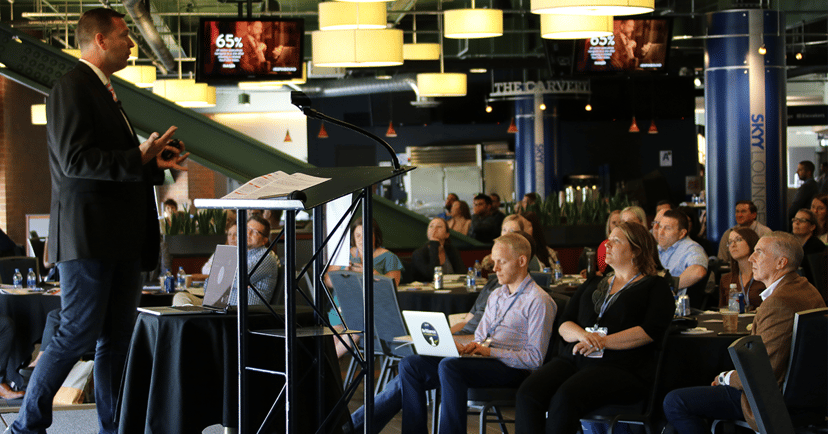 Marketing conferences are like bolts of lightning. They're concentrated bursts of energy that deliver incredible power in an instant (OK, a conference takes a few hours while lightning strikes at 220,000,000 miles per hour…seriously, I looked it up).
Although they don't possess the speed of lightning, the best marketing conferences are loaded with powerful information that can be overwhelming and challenging to take back to your working world and implement. You leave energized but perhaps dizzy, trying to find ways to put these insightful ideas into practice at your company…now! Because you know, if you don't do it now, those notes will just collect dust in a drawer until the next time you move offices.
So…in order to not lose momentum, take a minute and review the presentations to refresh your memory and extract useful nuggets you can put into practice. A significant (and sold out) marketing and sales conference called Experience Inbound happened earlier this month and was co-hosted by Weidert Group and Stream Creative. Even if you didn't attend, reading this quick recap can empower your marketing today and down the road.
Note: While I didn't personally attend every session (I'd have to be faster than lightning for that), I did review each presenter's deck and rubbed elbows with them, and here are my favorite gems worth sharing.
People Love a Good Story
Marketing has a marketing problem. Customers should be, and aren't, the focus of all marketing content. An entire company can be a team of storytellers.
— Michael Brenner from Customers, Content & Stories: The Future of Marketing
As marketers, we shouldn't just change what they (customers) do, we should change how they see. While "buyer's remorse" is real, there's no such thing as "believer's remorse."
— Tamsen Webster from Irresistible Ideas: How To Build The Secret Weapon Of Master Marketers
40% of website visitors will leave if their load time wait is over three seconds. So crafting great stories is only solving part of the visitor's problem.
— Bradley Freidman from 5 Very Actionable Ways To Use Data & Analytics To Boost Website Conversions
Why Wait? Win Today!
Take advantage of the low-hanging fruit to demonstrate ROI, but don't let the competition beat you in the long game. Quick wins do not replace strategy.
— Nicole Mertes from The Down 'n Dirty 30: High-Impact/Low-Effort Tactics All Inbound Marketers Need To Know
Have you met someone in the 3% of internet users who doesn't watch video online? Me neither. Video is affordable and easy. Every single business needs to be utilizing it.
— Greg Linnemanstons from How To Use Video To Enhance Every Stage Of The Buyer's Journey
When writing a web page, make it a laser-focused, problem-solving page. Be the authority, and customers will find you.
— Linda Kyzar from The SEO Mindset: Ten Steps To Get Google To Love You Back
Getting Noticed
Targeting keywords with "good, unique content" no longer clears the high bar for earning SEO (search engine optimization) rankings or shares. The best "double whammy" is to publish on current topics AND what's permanent. Also, just because a high percentage of searches are zero click doesn't mean you can't control how people see your brand in SERP (search engine results page).
— Rand Fishkin from The Search Landscape In 2019
As face-to-face sales opportunities decline, so do the opportunities to build relationships. Reps need to build a relationship digitally.
— John-Erik Pszenny from Sales & Marketing Synergy — Using Content To Close Deals
How you sell matters more than what you sell. As consumers, we favor frictionless buying experiences. We're motivated by convenience, and more convenience means less friction.
— Connor Cirillo from How To Actually Get Started With Conversational Marketing
It's All About Results
You can spend hours optimizing your Google ads account, or your nurture tracks, or your chat bots. But those will amount to diminishing results over time unless you get the foundation right.
— Jennifer Pepper from A Recipe For High-Converting Landing Pages: Your New Secret Sauce For Growth
Automated emails may sound robotic and intimidating. Yet, done properly, automation is actually hyper relevant and rational.
— Caroline Matis from 4 Automated Email Series That Get Serious Results
When developing your marketing playbook, uncover your company's unique selling proposition, communicate your "why," and define your "three uniques." Make sure your brand shines through.
— Janice Dombrowski and Jeff Coon from B2B Marketing Campaign Playbook: Tips and Tools To Maximize Lead Generation
Boooom! That flash of insight hopefully inspires you or at least gets you thinking about ways to improve your company's inbound marketing program. We'll see you next year at Miller Park or Lambeau Field for Experience Inbound 2020!