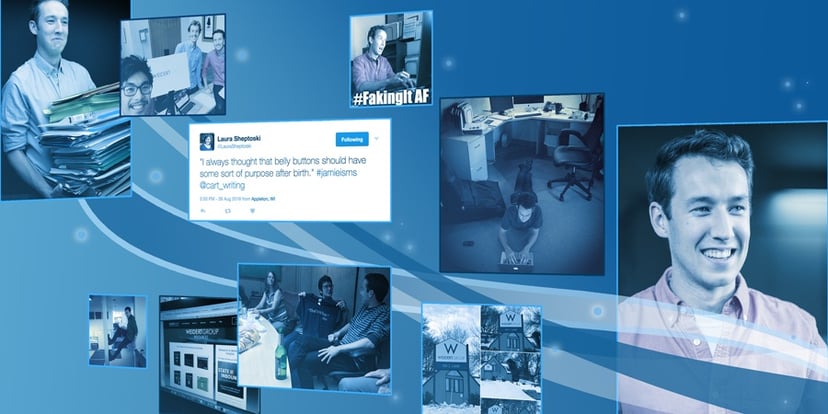 The position described in this post has been filled, but remains on our blog because of its value in describing Weidert Group's culture
I was three months into my internship at Weidert Group in 2012, when two important things happened in a period of about 6 hours:
I published an article on Weidert Group's blog that, to my surprise, spread like wildfire on social media and earned top rank credibility with Google. It was titled "Vimeo vs. YouTube: What's Best for Video Content Marketing?" I wasn't an expert on either Vimeo or YouTube, but I knew how to research and find answers and, as it turned out, that's really the most important skill in content marketing. It was an instant confidence boost to have one of my first articles attract such rampant attention.
That afternoon, I looked at Weidert Group's graph of website traffic and understood for the first time that the upward trend wasn't happening by default. That month we'd beat the previous month's traffic by 8%, which topped the month before that by 10%—the first three consecutive months of traffic growth that would eventually become a full year of consecutive monthly growth. It was all happening because of our hard work; we were publishing high quality content day after day—content like the article I'd just published that morning—and the Web was taking notice.
For me, that was the day I became an inbound marketer.
It was the first time I saw that my most valuable skill—the real premium in all of marketing—is knowing how to learn. I realized then that new discovery and learning wouldn't end with my internship—in fact, everybody at Weidert Group was still learning—but if I could become the most effective learner I could be, my growth in value as an inbound marketer would be exponential, and my role at Weidert Group would grow, too.
I also saw the connection between a creative mindset and strong analytical thinking. I'm the kind of person who feels a compulsion to create—I can't not write, design, and build things—but, at the same time, I'm motivated most by research and analysis: figuring out what works and what doesn't, how to improve, and how to hack growth. Inbound marketing works best when these two ways of thinking operate in tandem, and I've found that's when I'm at my best, too.
For me, those two qualities I discovered early on in my career at Weidert Group—being as analytical as I am creative and knowing how to learn quickly and effectively—are the top two characteristics that make for a successful inbound marketer. And more specifically, they are absolute must-haves for taking on the special job of marketing Weidert Group.
I'm leaving the best first job in marketing...
This article has a far different purpose than that of the post I wrote back in 2012. Today, I'm not looking for search authority or leads or social activity; I'm looking for somebody to take on the incredibly special role I'm leaving at Weidert Group next month.
Over the past five years, I've been fortunate enough to be a part of Weidert Group during a time of incredible excitement and growth. When I walked in the agency's door as a junior in college, I met a team of 7 people who already believed they could achieve amazing growth by adapting to changing buyer behavior and learning advanced marketing technology. They trusted me to become a part of a future that today includes 24 incredible minds, an array of growing clients, and an approach to B2B marketing that's unmatched around the country.
The role I've played during these dynamic few years is marketing all of what makes Weidert Group great: our culture, our value as B2B marketing experts, our team of bold minds, and the powerful impact we've had on our clients' businesses.
I'm not exaggerating when I say Weidert Group's marketing manager position is the best marketing job in Wisconsin because (A) there's nobody doing B2B marketing like Weidert Group, (B) there's no greater professional pleasure than marketing a company you truly believe in, and (C) it's incredibly fun to say that your job is to market marketing. (It's super meta and immediately paralyzing to people you meet at networking events.)
Why you should jump at this opportunity.
What I've learned about Weidert Group these last five years is that above all else, Weidert Group values learning and fosters a unique culture of discovery. As soon as I took the role of marketing manager in 2014, I wasn't learning alone; I became part of a culture of learning—and that culture is really the key to why we've grown so much the past three years.
Soon after I started, we went through a process of strategic discernment, evaluating our internal strengths and weaknesses and aspiring to create a concrete vision for the future. The team wanted to define the value we bring to our clients, and what transpired was a complete revolution in our company positioning. For the first time, we told the world exactly what our strength is: B2B marketing for industrial sectors and finance. That was a huge shift in the mindset of our team from just a few years before, and since then, we've never looked back.
We also have learned immensely through investing in our team's knowledge of technology. Part of being Weidert Group's marketing manager has been to develop the latest and greatest inbound marketing tactics—testing tools, creating new campaigns, and learning from failures and successes. That kind of freedom to experiment and acquire new knowledge is a huge reason why I've loved this job, and it's a major component of our ongoing growth strategy—we want to be the absolute best at what we do.
Finally, there's nothing more exciting than to learn how to adapt to a rapidly growing team. Adding new people, developing new collaboration techniques, managing new priorities—all of these issues are challenges that require a deep commitment to learning and evolving, and the mentorship I've received at Weidert Group to troubleshoot and solve complexity has been hugely developmental for me.
In short, the learning culture I've been immersed in the past five years at Weidert Group is more valuable than any compensation and benefits package I could have received. It is, in part, why I've made the choice now to move into a new role in a different industry: I want to keep on learning, develop a new perspective, understand growth in a context similar to our clients.
Weidert Group is my foundation.
This month, I'll start a new role at a fintech company called Betterment. Betterment believes in making financial advice accessible to all people through advanced technology, sound financial principles, and a dedication to highly effective user experience. And, from my perspective, they deserve a content marketing strategy that matches the strength of their product. That's what I'll be working on.
You can be sure I would never have been considered for this job three years ago. I didn't have the learning, the strategic focus, or the deep interest in financial services that I've developed over my time at Weidert Group. My work attracting Weidert Group's clients in financial services, insurance, and banking, gradually became an interest in growing a company like Betterment that's dramatically transforming the financial advice sector.
What makes Weidert Group amazing is that they didn't even blink when I announced my intention to take the new job. They congratulated me, encouraged me, and lovingly made sure I knew that if I ever wanted to come back, there would be a space for me.
Serving as Weidert Group's marketing manager has been a foundation of learning and growth I'll carry forward for my entire career. It's a role that one grows into over time and you shape into your own as you help define the future of Weidert Group.