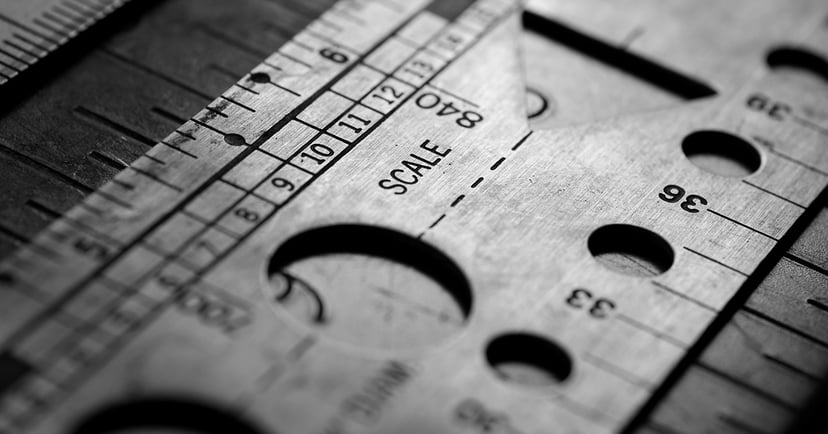 If you're a B2B manufacturer feeling like it's harder to win new customers than it was a few years ago, you're right. But the reason isn't necessarily because of stiffer competition or how you're positioned in the industrial market.
The real reason it's harder to sell is because it's become much, much harder to buy.
That's what Distinguished VP, Brent Adamson of Gartner surmises. The buyer journey for highly considered goods doesn't involve just one buyer persona; it typically involves six to 10 decision makers along the way—engineers, facility managers, operations directors, CFOs and others. Plus, the vast amount of information that's available to them provides more options and considerations than ever, drawing out an already lengthy and non-linear sales process, as illustrated in Gartner's infographic: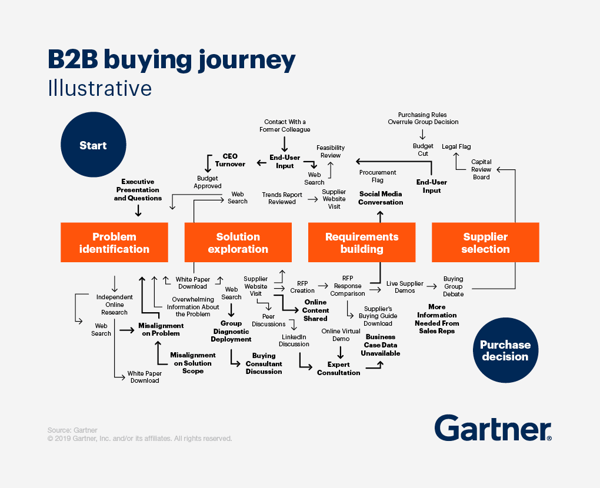 Why Inbound Marketing Metrics Matter
About half of all B2B product researchers are digital natives. With such a large number of players involved in purchasing decisions and the majority leveraging technology and online search to inform those decisions, they're leaving a massive trail of collective data behind them. It's critical to capture as much of that data as possible.
Because so much of your customer's buyers journey takes place online, they already know a lot more than you might realize about your product, company, brand reputation and other details. Some buyers are so informed that they've already made a purchasing decision before they even contact one of your sales reps, if they contact one at all.
Your website is likely the initial place prospective customers have contact with you, but other sources are helping to drive them there, including social media, review sites, email, referrals and more. You know the importance of making sure your B2B site is ready for these researchers through building and identifying effective marketing personas, creating content and leveraging SEO. But do you know what all the data generated by those activities means and how it impacts your manufacturing marketing strategies and, more importantly, your ROI?
If you're not sure, you're not alone. Only about half of B2B marketing teams actually track their content marketing ROI with only a slightly larger percentage saying they glean better insights from technology into their audience's behaviors and preferences.
Only half?
Do you see the opportunity this presents when it comes to gaining a competitive advantage? Half of your competition isn't leveraging marketing analytics to improve lead generation and their bottom lines.
You can. And you should.
There's a lot of data out there, though, and it can be overwhelming. Start with these six important marketing metrics that manufacturing companies need to track in order to hit growth objectives and let them inform your marketing efforts moving forward.
1. Site Traffic and Sources
Perhaps the most obvious metric to measure is site and key page traffic. Measure and evaluate it week over week, month over month, and year over year to gain perspectives on how consistent blog publication and any content promotion (or lack thereof) affects traffic. Determine a baseline for what "normal" traffic looks like for you and determine any seasonality trends in those numbers.

But raw traffic numbers don't mean much if all those visitors aren't within your target market. Take a deep dive to differentiate vanity metrics from those that have true value, and track the source where your marketing qualified leads (MQLs) are coming from.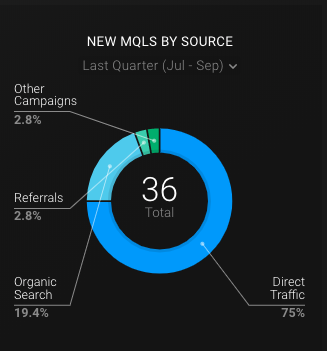 A spike in organic search from a new blog can get you excited, but if the source of much of that traffic is from foreign countries outside your market or outside your industry, it certainly won't help your sales pipeline. It can, however, be an indication that something about the article is resonating and that it needs to be optimized to shift its focus to the right audience.
Direct traffic gives an indication of those who type in your URL, and social and email numbers obviously show visits that originated through those promotional efforts. Referrals or backlinks tell you visits that came from another site, so be sure to keep tabs on whether those mentions are positive or negative and act accordingly.
2. Average Time on Page and Bounce Rate
For key site pages, average time on page will show you whether visitors are consuming content at an appropriate rate for what's there. Is it a full case study or just bullet points? The former should have a higher time on page than the latter, but if not, it's an indication that the study may not be as compelling as you initially thought.
Once you identify pages that need some help, use a heat map tool like Lucky Orange to see where on the page a visitor drops off or loses interest. Then, make improvements based on what you see.
Average time on page goes hand-in-hand with bounce rate, which shows you which page someone enters your site and then leaves without viewing other pages. A high bounce rate will tell you what pages may not be living up to visitors' content needs or expectations.
3. Conversions — Rate and Source
Because sales processes for manufacturing are long and frequently complex, a visitor isn't likely to convert to a customer immediately. Consequently, it's important to think of the buying process as a series of incremental conversions and measure/track those conversions so you can see prospects' lifecycle changes (e.g., visitor to lead to sales qualified lead) and make adjustments to your content approach as needed. At the same time, you'll want to know which sources are converting (or not) so you can apply and/or adjust your efforts accordingly.
In the most basic terms, a high conversion rate says you're pulling in the right kind of traffic. What is a high rate? While a variety of sources will tell you anywhere from 1% to 5%, it's really an individual standard—which is why you need to measure and track your own data.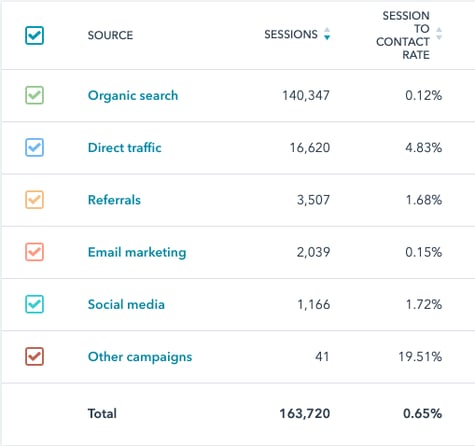 A sales and marketing platform like HubSpot makes doing so easier and allows you to track what content a customer consumed during their buying journey. You can also leverage other integrated tools to optimize conversion rates.
4. Nurturing Email Metrics
Since the sales process is lengthy, you should have nurturing email campaigns in place to keep visitors and leads engaged and feed them key information that will help build trusting relationships. Such campaigns are usually set up as email workflows. Track the open, click and unsubscribe rates for the individual email sends to measure what topics are engaging and how the different campaigns are performing overall.
Also consider using A/B testing on your individual emails to further determine what kinds of headlines and content resonate with prospects in addition to the ideal length, timing, target keywords or format. Nurturing is as much an art as it is a science, so let the data and your intuitive marketing know-how inform how to optimize your email campaigns.
5. Landing Pages and CTAs
Your landing page offers and their related CTAs are the keys to conversions. The page visits and CTA click-through rates will provide a clear understanding on whether the offer (e.g., eBook, tip sheet, etc.) aligns well with a particular need and is compelling enough for someone to give you their contact information. You'll want to track this performance over time so you can see when the offer becomes stale and may need updating or replacing.
6. Number of Qualified Leads
For each offer, you should be collecting data that will help qualify new leads to determine whether they are a good fit for your business (e.g., job title, industry, location, etc.). Doing so will allow you to segment your leads based on whether they're marketing qualified leads (MQLs), sales qualified leads (SQLs) or are simply irrelevant. Of course, to do that, you first need to define your MQLs and SQLs.
Monitoring and segmenting your leads based on their readiness to buy and relevance to your industry is a gauge for how well you site is attracting and converting the right contacts. It will also enable you to evaluate the traffic volume your site needs to generate the desired number of qualified leads over time and manage them effectively.
If you're not tracking the right marketing metrics for your manufacturing business, you're in danger of making decisions based on best guesses and potentially wrong assumptions. But it's never too late to start, and there are many inbound marketing automation tools and tactics available that can help you get there. We outline many of those strategies in our Inbound Marketing Guide for Manufacturing below. Click the link to get your free copy!