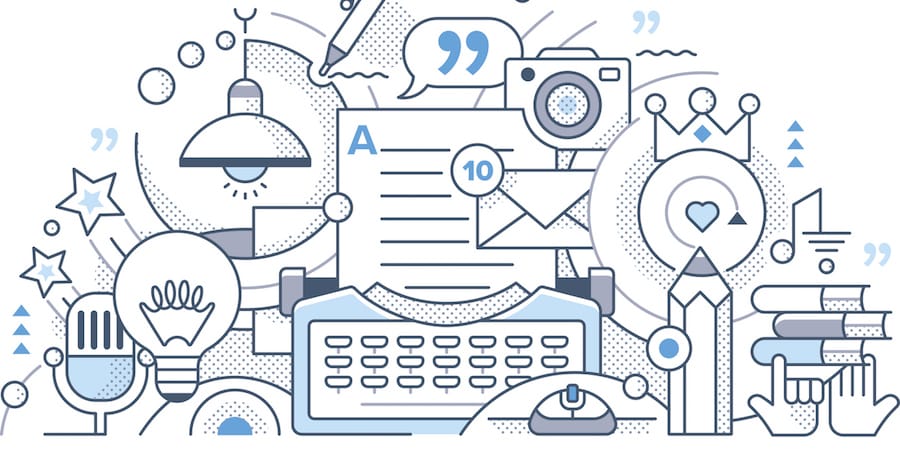 We all have to start somewhere.
Maybe your organization has invested years in traditional marketing (print ads, direct mail, cold calls, etc.). Now, you've convinced others in your company to launch an inbound program (congrats!), but you need content marketing ideas.
Yes, great content is the fuel for inbound programs. It needs to be compelling and published regularly. Oh, and it has to be backed by solid SEO.
That may sound difficult. And, truth be told, it doesn't happen overnight. But, don't get discouraged! There are some relatively easy marketing quick wins to demonstrate value within your organization, generate quality leads, and establish your company as a thought leader in your industry. Better yet, they utilize assets you probably already have in some form!
I'll throw in some extra hints throughout this article, too. Here's your first one! Hint: plan your content by making an actual publishing schedule; it makes content creation easier, and you'll see at a glance how different ideas coordinate and flow.
The following 10 ideas reflect a mix of content types, which is important to continually excite readers and keep them coming back. Every inbound marketing program starts somewhere, and these ideas should ignite your first content executions. Have fun!
Blog Topics
1. Blogs Staring You In The Face
You may have an existing FAQ list somewhere (your website, perhaps?). You can take those FAQs and, depending how involved they are, turn each one into an individual blog post. These are great opportunities to snag featured snippets in Google SERPs as well.
Take a piece of existing technical content — study, paper, presentation, etc. — and turn it into multiple blog posts; readers will return to a series if it's fresh and informative. If your company has recently been mentioned in a survey result or "best of" list, you can grab that news and run with it.
2. Blogs With Brains
You've got content creators all around you! It's not hard to conduct a Q&A session with your on-staff subject matter experts (SMEs) on relevant industry trends or technical product issues. These could even take the form of short videos (more on that later).
Ask sales reps to submit questions or common objections they encounter when talking with prospects. That content can be its own blog post with a call-to-action (CTA) at the end to attract and convert visitors.
Advanced Content Offers
The next quick wins are considered to be "advanced content" pieces. These aren't quick-read blog posts; they're more in-depth, longer pieces that usually dive into a topic, providing useful assistance to the reader. These are often saved and used later or shared with coworkers.
Doesn't sound like a "marketing quick win," but these may not be so tough to produce.
3. Clear Up Confusion With A Glossary
Some industries have a language all their own. Some use a litany of acronyms that make your head spin. Technology, industrial manufacturing, insurance, finance, and law are some examples.
You may already have a glossary of industry terms common throughout your industry. Compiling those phrases, terms, and explanations into a handy, quick-reference PDF may not require an expert, just someone at your company who knows them.
Hint: you'll get more SEO pop if you also publish this as a web page with an option to download the PDF for reference.
4. eBooks Are Essential
eBooks help educate readers on a topic in a concise, easily consumable format, as opposed to a white paper's more detailed information (a white paper's problem/solution format is covered next).
Take an existing industry study or technical paper your team created and turn it into a multi-page eBook. Support copy in the eBook with previous research and industry articles that prospects would find helpful.
Remember that editorial calendar hint earlier? Here's a related one: design your calendar in a way that results in blogs that can later be put together to form an eBook. Similarly, you can create an eBook that's a collection of different studies or industry articles.
5. Whitepapers Get Deep
While eBooks are typically well-designed (loaded with graphics and photos), a white paper is an in-depth report based on factual research, surveys, focus group results, and scholarly journal publications. So, they're not flashy, but they are packed with detailed information.
Usually lengthy, white papers typically offer an analysis or explanation about a certain subject rather than helpful tips for overcoming a problem, like you'd see in a blog article.
Hint: you can write your white paper to help readers overcome problems too; it's just a more formal writing style than what you'll see in other content.
6. Webinars and Presentations Warrant Repurposing
There's no shame in reusing content you already have. In fact, it's pretty smart. If you're conducting technical or training webinars for your customers and prospects, consider making similar recordings available on demand on your website and gate them behind a landing page/form.
Webinars can be shared as a series as well, providing in-depth information about a subject that prospects are interested in. You can also repurpose trade show presentations or technical presentations your engineering team has given.
You've put significant time and effort into webinars and slide decks, so repurposing them into written content forms we already talked about — blogs, white papers, eBooks, etc. — is a great way to turn them into SEO fuel by publishing the content in a form search engines can crawl.
Hint: transcribe the webinar's content and edit it for use in blogs and other website content.
7. Infographics Are Still Cool
They've been around for a while, but people still love infographics. Their combination of data and graphics is easily digestible and can be fun to read.
Technical content that describes a complex process or is full of statistics (e.g., surveys, studies, research, product testing results, etc.), can be broken down in an infographic. The format is a great way to visualize data and make it more engaging for your audience. Some infographics become a hit with readers and go viral on social media, which is always an added bonus.
What's a "mini infographic"? It's a small graphic that highlights a specific point, such as a quote, statistic, or industry insight — like a meme, but with more value. So these aren't "quick wins" on their own, but they can be added to many tactics on this list.
Hint: several websites (Piktochart, Infogram, easel.ly) can help you to create your infographics.
8. Can't Get Enough Case Studies
Prospects in complex B2B industries consume case studies like bacon slices. They love to see what worked in their industry and how it was accomplished.
Do you have a customer that experienced exceptional results because of your partnership? Has your company conducted any research or product testing? You can repurpose the information and results by formatting them into a case study.
Case studies should lay out the problem or challenge, the technical solution, and the results so that readers can learn from and apply the findings to their own situation. The great part? Your sales team likely has some case studies on hand already.
Hint: check to make sure case studies are relevant and formatted to exist in an online format.
9. Checklists Can Be An Instant Door-Opener
Do you have an internal checklist that you use when meeting with customers? Maybe it's an inventory checklist or other assessment that helps determine customers' needs or the right solution for them.
Your prospects may welcome a resource to help ensure they've covered all the bases regarding a specific challenge or process. Your existing checklist can not only be there to guide them, it can also open the door for sales lead nurturing.
Instead Of A Hint: let's address if content should or should not be gated (asking for contact info to allow access to a piece). There is SEO value in NOT gating content, but you still want conversions, right? So, you have to assess the value of gating/not gating: how important are qualified leads, how you'll be perceived by prospects, and how much content to commit both ways. The option we mentioned above of providing a PDF download version of content that lives on an ungated webpage is a nice way to achieve some of both.
10. Video Doesn't Have To Be Vexing
I saved perhaps the most powerful "quick win" until the end of this article. The idea of including video as part of your content strategy is intimidating for many marketers.
"The potential costs of video aren't worth it."
"Video isn't a useful tool for highly complex manufacturers."
"Video requires expensive, confusing equipment."
These assumptions aren't necessarily true. In fact, video is perfectly suited for industrial marketing. Using your smartphone and a couple additional tools to ensure quality sound and lighting, creating captivating videos is easier and can be much less costly than in the past. While some video types (product demonstrations, company overviews, detailed services) are more suited to a professional production, many don't have to be a major production to have an impact.
RELATED: How to Determine the Scope of Your Video Needs
Final Hint: these types of videos can be done quickly and cost-effectively:
Customer testimonials
Industry thoughts from your CEO
A salesperson's takeaways from a trade show
An engineer's big challenges in product design
Event videos
Brief culture-focused videos
Now Get Going!
While some marketers see content creation as a time- and energy-consuming task, it shouldn't paralyze you as you begin your inbound marketing journey. Yes, it's critically important to inbound success, yet you can often take advantage of what you already have as well as do some valuable planning.
For those marketers without the time and resources to regularly produce high-quality content, a partnership with an outside agency may be beneficial.
Hopefully, you're feeling a little less stressed about launching your inbound content marketing program. To help you get started, we're sharing The Ultimate Content Creation Guide, which includes templates and worksheets to help you develop remarkable content, all focused on building your brand and filling your sales pipeline with interested leads.
Click below to download the guide and start making the most of your content.
This article was originally published in 2018 and has been updated for comprehensiveness and current best practices.