Quick wins — tactics that result in a sizable impact with little effort — are always welcome. Especially by busy Sales teams. Many inbound marketers already have some tools that can help Sales in ways they haven't considered.
While there's no replacement for a long-term inbound marketing strategy, the power of quick wins goes a long way in building momentum and getting leadership to notice your efforts. So, why not implement four simple tools to solidify relationships and close more deals?
VIDEO TRANSCRIPT: 4 TOP TOOLS SALES CAN USE TO CLOSE MORE DEALS
On today's Weidert Wednesday, I'll share the top tools Marketing can help Sales use to close more deals.
As someone who's worked both on the Marketing and the Sales sides, I've noticed some low-hanging fruit out there — things that Marketing takes for granted, yet some Sales teams are strangers to.
So here we go: 4 top tools Sales can use to close more deals.
1. Track Your Emails
Tracking your emails gives you more transparency into what your prospects are doing and, just like Marketing knows exactly who's opening and clicking in emails, Sales can do the same. If your sales team isn't using a tool to see what's happening with their emails, it will be a game changer. Knowing this helps a salesperson prioritize leads that are more engaged and follow up at the exact right time.
Email tracking is free within HubSpot with a plug-in that's easy to set up for Gmail and Outlook, but you can find other tools out there, as well.
2. Set Up Sales Landing Pages
Another idea for more transparency around what your leads and prospects are doing is landing pages. I've seen this in many forms — whether it's a landing page built for a specific sales rep, a landing page built with custom resources for your prospect, or a landing page that houses your custom proposal. It's something that can be set up to help your potential buyers and to send you notifications when they interact with it.
It's also a great way for your company to stand out from the competition with a fresh, polished, and professional look. This involves a little collaboration with the designer to create pages as templates so that the sales reps can use them. But if it's done well, it should be easy enough for the sales rep to use and customize on their own once created.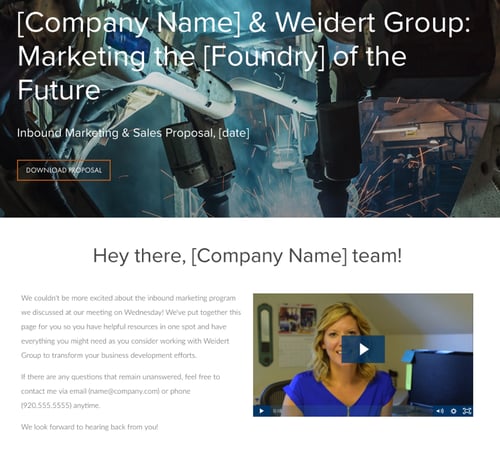 3. Add 1:1 Videos to Your Emails
We know in Marketing that open rates improve when adding video to emails. So why aren't we doing this in our Sales emails? Get comfortable with the technology that's out there for 1:1 personalized videos using your webcams. This one is also built-in and free in HubSpot. But if you're not a HubSpot user, check out Wistia's Soapbox or Vidyard's GoVideo free tools for this.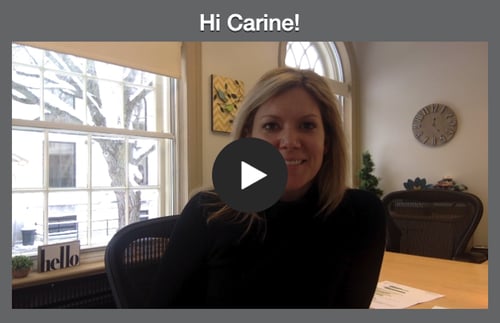 4. Use Meetings Links
If your sales team isn't using a Meetings Link, you could be a hero by introducing this tool! A professional burns up to nearly 5 hours each week scheduling meetings, according to a study by Doodle. Just think about all of the back and forth that goes into scheduling meetings. A Meetings Link tool is something you can set up to sync with your calendar so the next time you need to schedule a meeting with a prospect, you can simply send the Meetings Link in your email, and the prospect will be guided to easily choose the best meeting time that works for them based on your availability on your own calendar.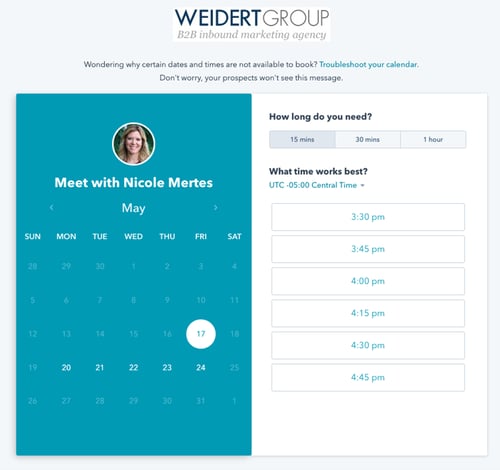 Open up the conversation with your Sales team and introduce these tools. You'll be a hero with some quick wins and actionable ideas to help them focus on top opportunities and close more deals!
In order for a business to grow, Sales and Marketing need to be on the same page. A service level agreement (SLA) aims to create trust and efficiency between these two to create greater revenue results. Discover more in our eBook, Sales & Marketing Service Level Agreements: A Guided Tour. Click the button below to access your copy today.