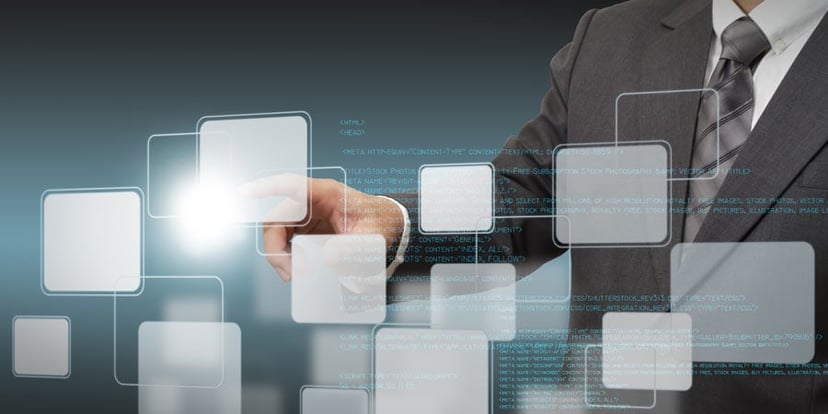 There are two types of business development people in the world: those who want more leads and those who want more qualified leads. Chances are, if you're reading this article, you're in the second camp. You know that quantity can only get you so far, and that ultimately, highly qualified leads tend to result in higher overall sales.
Especially in B2B contexts, not all leads are created equal. Online visitors who become contacts arrive from a number of different channels—from organic search to paid advertising to referrals and social media. The question is: which channels are the best for finding the leads you're looking for?
Today, more than ever, for the sectors Weidert Group services, B2B marketers need to pay more attention to leads generated from social media. Buyers in manufacturing and industrial services don't complete a purchase online, but they definitely look to their social networks for recommendations and advice.
As part of an effective inbound marketing plan, every B2B company should look to increase the contribution social sources, especially LinkedIn, provide to your total lead generation quota. In this article, we'll explore why social leads tend to be better qualified than those who come from other sources, and try to provide some key next steps in growing a B2B social media presence that delivers a steady flow of leads each month.
Seeing the Value in Social Media
Here's what most B2B marketers (especially in heavy industry) tend to think about social media:
"Sure, my company has a presence on social media and we've got a small following, but there's no way that I'd actually consider it a valuable channel for attracting leads, much less high-quality leads. After all, most of our followers are our employees and their family members. How am I supposed to gain some valuable business opportunities from that group?!"
Good question. If you're merely maintaining a social media presence and not growing a new business-oriented audience, most of your web traffic visits from social media are going to be repeat visitors that aren't likely to become qualified business leads.
The value in social media for lead generation lies in taking full advantage of your channels by treating your platforms as content publishing hotspots and allowing them to work like search engines for prospects looking for social recommendations. It's time to get out of the mindset that social media is something you just "do" (or, rather, something that you pay your 17-year-old nephew to do). Instead, your social media presence should be like a loudspeaker that promotes content you create and draws an audience interested in hearing your advice.
It's literally evangelizing. Online, interested business people are looking to hear from people with interesting things to say. Social media can be the main way you promote your message, and attract new attention, if only you choose to use it.
Your Ideal Buyers Are On Social Media Looking for Advice
Over the last fifteen years, people have come to trust our online communities and value what they have to say. Just last week, a friend of mine asked his Facebook friends for suggestions on a roof contractor, which resulted in a whopping 34 comments from his network explaining the pros and cons of just about every roofer in our area.
The same principle holds true for B2B purchase decisions. When buyers have to make a considered purchase, it's only natural for them to turn to social media to get the inside scoop on a product or service from a trusted network of their peers. Now, they might not put their question out publicly; after all, B2B decisions are usually more sensitive. But in monitored groups, among close, relatable connections, business decision-makers are absolutely asking for referrals to great resources. Your company can be that resource that gets shared on social media.
Don't take my word for it, though. According to an IDC study on social buying, 75% of B2B buyers use social media to make purchasing decisions – in addition to 84% of C-level/VP executives using social media to influence buying decisions. The study also points out that "the average B2B buyer who uses social media for buying support is more senior, has a bigger budget, makes more frequent purchases, and has a greater span of buying control than a buyer who does not use social media." Doesn't that sound like exactly the type of buyer you want to attract?
With the large majority of B2B buyers and executives using social media to help guide their purchasing decisions, it's time to start making your social media efforts work for you. After all, when an interested prospect does a search on social media for some high-level information about your industry or product type, you want your company's social messages to be right there for them to reference throughout their buying journey.
Though a B2B buyer likely won't ask his or her Facebook friends who the best industrial window distributor is, that buyer will almost certainly turn to other forms of social media for support and information. In fact, that same IDC study found that 56% of B2B buyers used LinkedIn specifically to support their purchase process, and 63% of C-level/VPs said the same.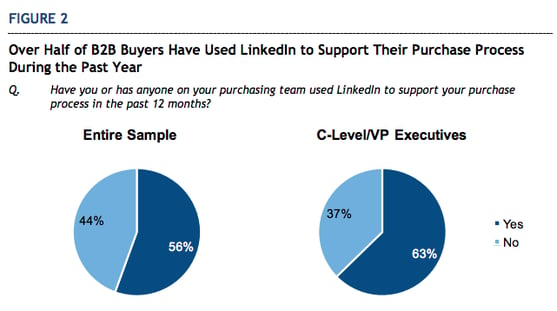 Build Traffic from LinkedIn to Convert Warmer Leads
Everyone knows that LinkedIn is the social network for business professionals, so it only makes sense to takes full advantage of the world's largest professional network. Use LinkedIn to position yourself, your company, and your employees as thought leaders and industry experts. Follow these best practices to get the most out of LinkedIn for lead attraction:
Get involved in the groups your best prospects are interacting in. Share your industry insights by linking to your company's most relevant blog posts or helpful content pieces that your prospects will find valuable, such as a tip sheet or an eBook. Start group discussions by asking relevant questions that address the pain points your prospective buyers are likely experiencing. Monitor the discussions you start and respond to showcase your industry knowledge and expertise, further positioning yourself as a trusted advisor
Publish long-form posts that provide in-depth answers to the questions your prospects are searching. LinkedIn's long-form posts act as a way to publish original content and expand your reach beyond your existing network – and with 300+ million members on LinkedIn, there's quite an opportunity to attract more qualified leads who wouldn't have had the opportunity to see your regular, standard updates to your company page
Optimize the wording across your company page, your personal profile, and your employees' profiles. From your titles and headlines to your summary descriptions, fill your pages with the phrases and keywords that your prospects are actively searching to maximize your chances of being found when a prospect conducts a search for information about your industry
(Find out even more about how to use LinkedIn to attract B2B leads here.)
Attracting qualified B2B leads on social media can certainly be a challenge, but having a well-thought out strategy for LinkedIn will help you get the most value out of your social media lead attraction efforts!