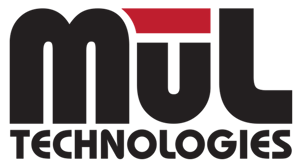 APPLETON, WI, July 2020 – MūL Technologies, a Wisconsin-based robotics company startup has selected Weidert Group, a B2B inbound marketing agency and Diamond Level HubSpot Partner to execute its inbound marketing program.
MūL Technologies was founded by the same ownership group behind GMI Solutions, another Weidert Group client.
"We were so pleased with how Weidert's team improved our presence in the marketplace for GMI Solutions that we knew we could trust them to apply the same inbound marketing principles for growth to MūL, our newest venture," said Hans Dittmar, Director of Marketing for MūL Technologies and GMI Solutions.
Weidert Group worked closely with MūL's leadership team to establish a successful company launch and created a new website complete with video and eCommerce capabilities. MūL also needed help with their first major product launch, MARC™ — a Mobile Autonomous Robotic Cart. It is a truly innovative and economical self-guided Autonomous Mobile Robot (AMR) requiring no Wi-Fi, IT support, or infrastructure changes. Demand for the new technology has been robust.
"It's exciting to work alongside the entrepreneurs behind the MūL Technologies launch," said Greg Linnemanstons, President of Weidert Group. "They've taken the same innovative attitude with their marketing efforts, implementing aggressive inbound marketing strategies, and their full sales pipeline proves it's working."
About MūL Technologies:
MūL Technologies was founded to offer simple, cost-effective robotic solutions for businesses everywhere, "Robotics for the Rest of Us." By using commercial off-the-shelf (COTS) components and adding minimal custom hardware, they created the most cost-effective AMR solution on the market. MūL Technologies is headed by an experienced team of programming, engineering, manufacturing, logistics, and sales professionals with a combined 200 years of expertise.
About Weidert Group, Inc.
Weidert Group, founded in 1980, is a full-service business-to-business inbound marketing agency that has been a certified HubSpot Agency Partner since 2011, and achieved Diamond status as a top partner in 2020. HubSpot is the global leader in marketing automation software, with over 78,700 customers in more than 100 countries. Weidert Group provides all components of effective inbound marketing, sales, and customer service efforts, including web design, search engine optimization, content strategy, social media strategy and promotion, lead nurturing, voice of the customer programs, marketing and sales training and process design, and overall marketing management. Clients represent primarily business-to-business organizations in complex industries such as industrial manufacturing, distribution, insurance, and financial services.