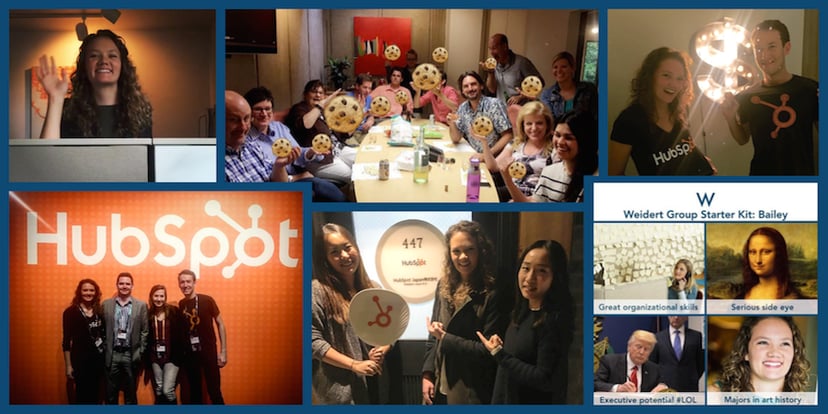 Growing up, my parents always encouraged me to follow my passions regardless of their conventionally practical application in the 'real world.' So, I majored in psychology and art history. In high school, I became interested in marketing and was curious about how and why people make decisions, especially when visual content influences their behavior. Interestingly enough, eight years later, my two passions, psychology and art history, closely parallel my interest in marketing.
More than a year ago, I took a chance and applied for an Inbound Marketing Internship at Weidert Group Inc. I remember my interview really well, partially because it was my 21st birthday, but also because it was the first time I applied for a job that I felt fairly underqualified for. Even though no prior experience was needed, I also knew nothing about Inbound Marketing, especially for B2B companies targeting supply chain, manufacturing, industrial, insurance and financial services. While I did not know much about the company or its target clients, I did know how to research a novel topic thoroughly in a time crunch. In order to prepare, I spent the week before the interview researching and calling anyone I knew who had a background in marketing.
Finally, my three-part interview came. They eased me in with Jamie Cartwright, whose eagerness and passion for inbound was inspiring and contagious to say the least. Jamie eagerly walked me through the internship expectations and opportunities, and also asked some basic inbound/HubSpot questions to see if I had done my research. Luckily, I had. Then, I met with Laura Sheptoski who I quickly connected with. It felt more like I was talking with an old friend than a potential new colleague or boss. Finally, I met with the company president, Greg Linnemanstons, who asked the hard, but fair questions to see how interested in and dedicated I was to this company.
It must have been a combination of my "fake it till you make it" skills and my thorough research on inbound, HubSpot and Weidert's target industries that proved to pay off, and I received an offer.
Here I am a year later, ready to venture out on another of life's adventures, so I thought I'd share a few things I learned in my year as Weidert Group's Inbound Marketing Intern...
Breaking Out of the Comfort Zone
As an intern, new to a job and company I knew very little about, I was quite nervous during my first couple of days to be surrounded by all of these inbound experts, frantically typing away at their computers. I don't consider myself shy or introverted, but I was certainly a bit intimidated by the unfamiliar, professional work environment. Even so, the whole team warmly welcomed me and genuinely made an effort to get to know me and my interests, and they assisted in any way they could.
Getting to Know the Team
One of my first tasks was to take over Weidert Group's social media for Facebook, Pinterest, LinkedIn, and my favorite, Instagram, creating and curating culture-based content. In order to better represent and portray Weidert, its clients and employees, I needed to immerse myself in the culture. I decided that each week I would conduct interviews with each of my colleagues, preparing questions based on information I gathered from their LinkedIn pages. These interviews helped me establish relationships with individuals that I wouldn't typically interact with. I gained insight into how they contribute to our culture while also sharing a bit about myself. Additionally, as a college senior, informational interviews with anyone in my field of interest has helped to broaden my knowledge of possible career paths and hear first-hand what their jobs encompass on a daily basis.
Having Personal Growth Goals
After a few months at my internship, I met with my supervisor Jamie, and we chatted about how things were going, how I felt about my experience, and if there was anything in particular that I wanted to get out of the internship that I wasn't already. Up until then, I hadn't really thought about what I wanted to get out of my experience; I was so focused on doing well and absorbing as much knowledge from the experts around me as I could.
After some thought, I realized that while I had gained a lot of knowledge about Weidert Group, I didn't know a whole lot about our clients and their products, so I requested to join our team on a few on-site client visits to actually meet the clients and see some of their products and locations. The team was eager to bring me along to several on-site visits, and I saw a whole other side to the agency. From then on, I kept a list of goals and new ideas I want to test out to continuously push my personal growth and explore my interests.
Taking Advantage of Opportunities
From my first week at Weidert Group, I had heard about this huge, internationally attended inbound marketing conference hosted by HubSpot in Boston that happens every year. In the weeks leading up to the conference, our team was gearing up to attend networking events, break out sessions from leading marketers, along with famous key-note speakers, and I was so excited to hear all about it when they returned. Then one week before the conference, I learned two things:
That my older brother who was working for an investment bank doing research on tech companies was going to HubSpot's Inbound 2016 conference.
That there was a way for me to attend parts of the conference if I found transportation and lodging.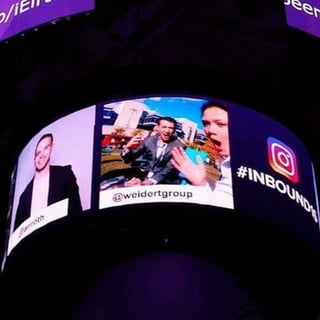 With final exams one week away, I was hesitant to commit, but this was such a huge learning and networking opportunity that I decided it was well worth the sacrifice. There was also a hint of sibling rivalry, and I knew I would be jealous seeing my brother's SnapChats and getting to meet members of my new Weidert family without me. In the end, the benefits far outweighed the costs. I had to work extra hard for finals, but the experience and knowledge I learned at the conference far surmounted any hesitations I had about going. Jamie & I were even featured on the big screen after shaking Brian Halligan's hand!
I also had the opportunity to meet HubSpot Japan's team (featured in the bottom center photo of the cover image) when I was traveling for research, and I learned a bit about their developing international branch.
Great Company Culture Makes the Difference
If you're going to spend 40+ hours/week with a group of people, you want to build a company culture that brings individuals together outside of work-talk. Weidert Group stands out as having one of the most wholesome, well-rounded group of people all commited to the beliefs and values established in our company culture code. Here are a few of the ways that our culture makes our company great (it was always great):
Beer 30: Every Thursday at 4:30 our team meets for drinks and snacks to chit chat in our conference room. It's definitely a favorite part of everyone's week because it gives our team the chance to bond over drinks and relax.
Team Member Spotlight: We have recently started having a different team member spotlight each week, where we send individuals a questionnaire asking them fun, more personal questions about their favorite cartoons, worst jobs or favorite vacation. In the few weeks we've been doing them, I've learned so much about our team members and have had much more personal, interesting conversations because of it.
High-Five: We created a board for people to give virtual high-fives when someone goes above and beyond for everyone to see. It's providing recognition in front of the whole team for even the smallest acheivements because everyone here really cares about one another.
Having experienced what it's like to work for a company with a truly fantastic company culture, I now know what to look for in future companies. The people and environment I worked in greatly contributed to my experience at Weidert, making it one of the best parts of my college career.
Social Media
As social media has been a part of my internship throughout the year, posting on our Instagram and Pinterest daily, and less on our other platforms, I wanted to cover a little bit of what I've learned.
Personal and Company Social Media Are Two Different Games
Sure I have my own social media that I may upload photos of friends and interesting articles, but creating and curating content for Weidert Group's industries — that's a whole different ball game. So, much like my interview process, I began researching, which lead me to learn so much about how to optimize different platforms for different industries with various content. I enjoyed creating culture-based content to show our networks how cool and quirky we really are and also establishing How to Build a Weekly Social Media Plan to simplify our efforts.
Capturing Company Culture
After doing individual interviews with people my first week, I began creating two weekly Employee Spotlight features on Mondays and Wednesdays. My first campaign was Boomerang videos, and my two favorites were of Meg & Alex. I then did starter kit memes. Creating these short videos and clever photos forced me and my colleagues out of our comfort zones to get goofy and creative and, at the same time, show our inbound and Appleton communities who we really are on the inside! Also, be sure to check out some of my tips with How to Display Company Culture on Social Media.
My time at Weidert Group has easily been the best part of my college career. I have learned and grown so much personally and as a marketer, and this blog barely touches the surface of everything I have done and learned — from redesigning client-based workflow segmentations, to writing blog content on complex, unfamiliar topics, like Why Industrial Distributors Need To Think More Like E-Commerce Companies, to implementing a full-blown social media plan. I am so grateful for this awesome opportunity and the people who encouraged and taught me along the way.