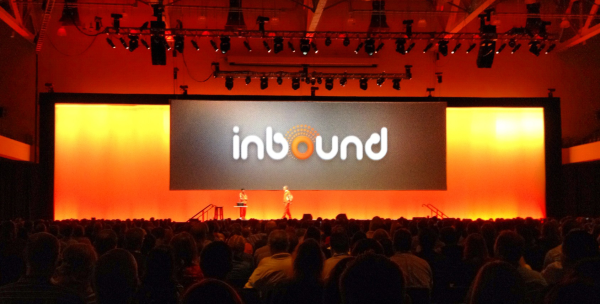 Wow! What a day it's been so far in Boston! With INBOUND 2013 underway and roaring along, HubSpot founders Brian Halligan and Dharmesh Shah wasted no time making 3 BIG announcements as the afternoon's keynote speakers.
To say these newest advancements to HubSpot's all-in-one Inbound Marketing software are game-changing is an understatement. HubSpot is continuing to prove they're the front-runners in the Inbound Marketing movement and are giving Inbound Marketers all the leading tools they need to attract and close more sales for their business. Enough introduction; lets get into all the amazing announcements we just heard from Brian and Dharmesh!
Content Optimization System (COS)
First up was the Content Optimization System (COS). As Brian explained, the problem with a lot of Content Management Systems (CMS) these days is that they don't focus enough on the end user experience. Your website visitors aren't static, so why should your site be? With that in mind, HubSpot set out to create something as dynamic as the people using it. What came out in the end was the COS, the first integrated website, blog, and landing page system that recognizes unique visitors and optimizes content for them. Some of the new features include:
Responsive design. With nearly 60% of adults using mobile devices to access the internet, HubSpot rebuilt their existing CMS, blogging software, landing pages, and emails to use a smart, responsive design that adapts to the screen of any device, no matter the size.

Integrated personalization. HubSpot has always done a great job of integrating their marketing tools and analytics with their users' contact databases. However, now, more so than ever, HubSpot is using this integration to create the ultimate personalized website experience. With the new COS, HubSpot will be introducing the personalization tools from their email marketing to all website pages, landing pages, and blogs, allowing marketers to create smarter, more dynamic content.
Increased speed. To go along with the new COS, HubSpot is using a wicked fast (and secure) content delivery network. Now content will load faster and look better across all devices.
Social Search Ready:

Another exciting feature is the built-in social context area for easily creating authorship tags (e.g. Google rel=author tag) for search engine results, which have become increasingly influenced by social. HubSpot also does a better job than other content management system at integrating social sharing throughout its content tools.
Social Inbox
Not to be outdone by the new COS, HubSpot's second major announcement was the Social Inbox. In the beginning, social media was used as a way for companies to reach out, connect with, and respond to individuals. However, today, social media seems to be more about broadcasting your message than interacting with anyone. As a result, HubSpot took their social monitoring tools and integrated them even further with their contact database to help target the social network activity of their leads, customers, and biggest evangelists. Now, when key individuals are in need of responses, companies won't have to fight through all of the social noise to hear them. Some of the new features include:
Integration with your contacts database. As mentioned earlier, HubSpot has done a great job integrating their tools and analytics with a user's contact database. With Social Inbox, HubSpot will automatically match each prospect, lead, and customer's Twitter account (based on email) and pull up a full record of their interactions with your company to date. In addition, if you receive a tweet from someone with the same name as a contact from your database, HubSpot will flag it automatically for you.
Segment monitoring and alerts. One struggle marketers are constantly faced with is the challenge of sifting through large amounts of data on a daily basis. With Social Inbox, companies are able to quickly select the lifecycle stage of any individual within the Social Inbox tool and set up alerts based on your brand's core priorities.
Social monitoring for the whole company. This is where "smarketing" comes to life. With Social Inbox, your sales team, customer support reps, and marketers will all benefit from the segmented social monitoring. For example, sales managers will receive push notifications from a mobile app based on activity from specific leads.
Improved analytics. Where marketers have struggled to quantify the ROI on social media in the past, Social Inbox will allow marketers to see how many visits, leads, and customers were generated by each social media channel.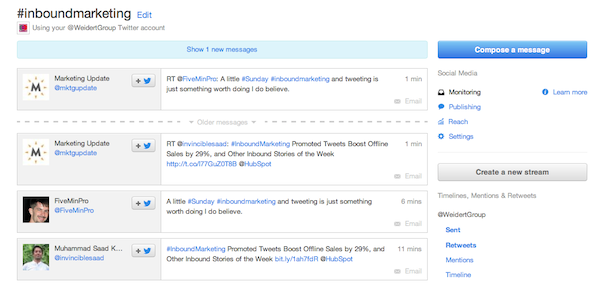 Signals
Last but not least of the "Big 3" came HubSpot's announcement of the new sales tool, Signals. Thanks to popular search tools these days, consumers are more informed than ever before, putting salespeople at a disadvantage. In order to even the playing field, HubSpot created a sales tool to help you interact with leads and customers by notifying you of when and how to engage with them, based on "signals" coming from emails you've sent, your website, your CRM system, and social media. One more thing, did I mention that anyone can use it, for FREE?! Some of the new features include:
Lead revisit notifications. Whenever a lead revisits your website, Signals will send you a notification, helping you to understand what a prospect might be interested in. However, this feature is available with the paid version only.
Email open notifications. Whenever an email is sent, Signals will notify you if that email is opened or clicked.
SFDC email open notifications. Using Salesforce, Signals will notify you any time your email is opened or clicked, as well as informing you of any new leads assigned to you. By speeding up the response times of new leads, you'll start to see higher close rates. However, this feature is also only available with the paid version.
LinkedIn integration. Using LinkedIn, you can mark certain contacts as VIPs to receive notifications whenever they interact on LinkedIn (i.e. change jobs or titles).
Other New Introductions
The news didn't stop there either! HubSpot also announced a new Contacts Report, where users can customize their report by any segment to see just how they navigate your site and convert your content. In addition, HubSpot also announced a brand new Android app, as well as some improved features on the iPhone app. Finally, HubSpot announced the relaunch of its Marketing Grader tool, complete with a new user interface, more reliable data, and a Mobile Responsive Design emulation to show users how certain sites appear on a mobile device.
Stay tuned for other Inbound Marketing awesomeness from here at INBOUND 2013 by following our real-time updates on Twitter at hashtag #weidert13 and by following @WeidertGroup, @FrankIsca and @GregLinn. Oh, and be sure to check out our fun INBOUND Buzzword Bingo Board.