For many small businesses today, the desire to get started with inbound marketing is very real, but there are often many obstacles that need to be overcome before they can really make a commitment. Whether they don't have the proper team assembled yet to manage an inbound strategy, aren't 100% sure that inbound is the way to go, or they simply don't have room in the budget for advanced marketing software, there are many reasons why companies are hesitant to make the jump, with many revolving around the idea that they just aren't ready yet.
Sound familiar? Let us tell you about Leadin.
What is Leadin?
Launched last year exclusively for WordPress users, Leadin is a free marketing automation and lead generation plugin created by HubSpot. In fact, many of the features on Leadin are nearly identical to the tools found in the HubSpot and Sidekick software. With Leadin, website owners can see detailed reports of each visitor that views their website, create lead generation forms designed to maximize conversions, organize email contact lists, and track and analyze important website metrics like visits, contacts, conversions, and more.
Since its release last year, Leadin has been downloaded more than 58,000 times from the WordPress plugin directory, earning a stellar 4.7-rating out of 5 along the way. And while there's no denying the tremendous response Leadin has garnered since its debut, HubSpot knew they couldn't just keep this software for WordPress users. That's why, as of September, Leadin will be available for all CMS platforms!
That's right Drupal, Joomla, Adobe CQ, and other CMS users, you'll get access to all these free features:
Detailed Visitor Information
Whenever a visitor comes to your site, Leadin will create a profile using that visitor's IP address and track and store their movements across your site to help provide you with a better understanding of what they're looking for. Looking at the screenshot below, for example, you'll see that it tracks which pages they visit, how long they stay there, any actions they take, and even provides the referral source. It even gathers information about their company, like size, location, and background, to help you get more in-depth insights about each visitor.
Popup Conversion Forms (with Email Marketing Platform Compatibility)
In need of more conversions on your website? Leadin's popup conversion form tool allows you to place popup conversion forms on any page of your website. These forms have been shown to increase email and blog subscriptions by upwards of 1000% in some instances, and can prove to be extremely valuable for your site. This contact information can then be sent directly to your email marketing platform (e.g. MailChimp, Constant Contact, Campaign Monitor, etc.) and segmented into lists.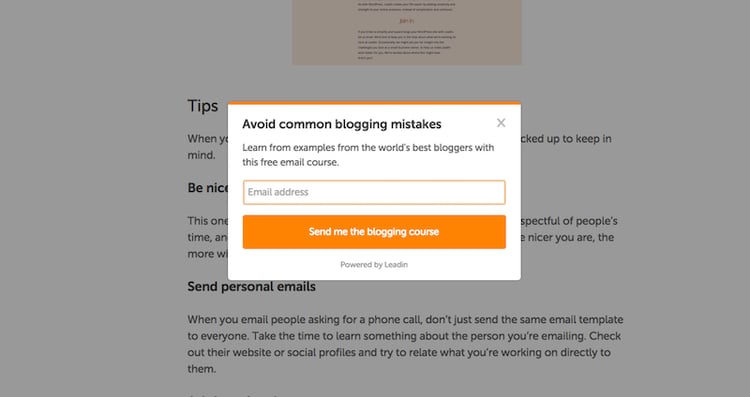 Easy-to-Understand Analytics
No marketing platform would be complete without the juicy data that explains how your website is performing, and with Leadin, these analytics are presented in a way that anyone can understand. You'll get analytics about:
Total visits
Source of traffic
Total contacts
Time on page
Conversions per page
And much more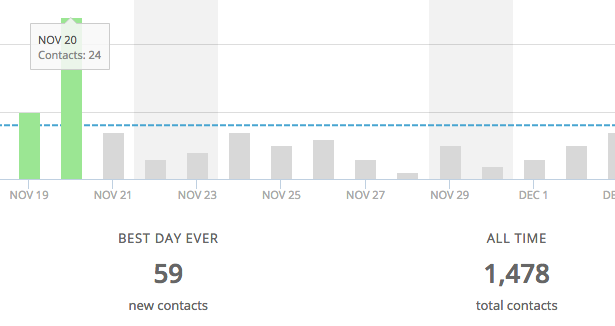 Who is it for?
Though Leadin is very effective and capable of many things, it doesn't have all the firepower of HubSpot and some of the other marketing software programs. That being said, for individual bloggers, small business owners, and other businesses that just aren't ready for a full HubSpot license (but still want to dip their toes into the inbound marketing ocean), Leadin is one of the most functional, highest-rated free marketing plugins available, and a perfect way to get started with inbound marketing.
How can you get it?
While there's no word just yet about how these additional CMS platforms can download Leadin, Wordpress users can download the free plugin by clicking here. Fret not though, non-WordPress users! We're sure HubSpot won't keep you waiting too long.
Still not sure if you're ready to start inbound marketing? Click the button below to request a free consultation with one (or several) of our Senior Consultants. We'll evaluate your company's current position, compare it with your company's short- and long-term goals, and provide helpful feedback and direction about what exactly you need to do to get there – whether this means implementing an inbound marketing strategy or suggesting an alternative route. It's 100% free without any commitment on your part, so don't hesitate to ask for our advice!