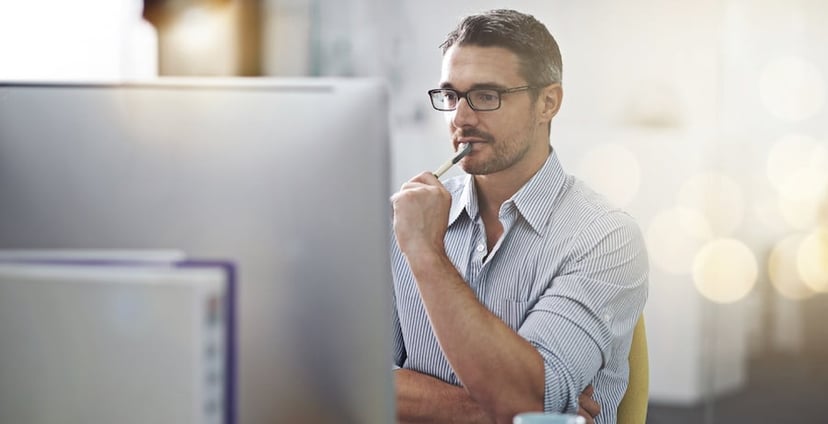 With more and more professionals starting to use LinkedIn long-form posts and similar channels for sharing content, people of all job titles and industries are brushing up their writing skills and making an effort to publish some posts of their own. From custom manufacturers to healthcare professionals, just about every industry has writers creating content for their niche, knowing that 94% of today's business buyers do some form of online research before making a purchase. If you or your company can be one of the sources a prospect consults during that online research, then you can potentially earn them as a customer—granted you do everything right for them to consider you.
That being said, if you haven't written anything more formal than an email in years, chances are you're a bit hesitant to publish something on social media, and you might even be a little unsure of what to write about. You don't want to write something that's uninteresting and mediocre, after all, because you know it'll get overlooked by the many other high-quality posts. If you've written for your company's blog before, you could start by syndicating one of your posts from there, but would it be better to write your own original piece? To help you decide, I'll go over the dynamics of each and share some tips for using both strategies.
Syndicating Blog Content on Social Publishing Platforms
If you write for your company's blog, getting some extra attention on social publishing platforms is as easy as hitting copy and paste—kind of. To make sure you do it the right way, here are some tips to keep in mind when syndicating blog content:
1. The audience for your blog is different than your social media connections and followers
While a lot of people think that if an article works for your company's blog, it's a good fit for social media, but that's not always the case. For example, while a blog post can be used to announce a new product or service, no one is coming to LinkedIn looking for articles that heavily promote your company's products and services. Instead, stick to syndicating articles that offer general advice, support, or your opinions on a certain topic in your industry.
2. Don't syndicate every post from your blog; pick the best ones
In addition to some of your posts not resonating with both audiences, syndicating every post is simply a turn-off to readers. If they really wanted to read every blog article you wrote, they'd just go to your blog. While there's certainly not a problem syndicating your best articles to get a little more exposure, syndicating every one is a bit overkill.
3. Don't syndicate blogs you didn't write
If you aren't writing for your company's blog, don't take one of your coworkers' blogs and syndicate it as your own. Even if they have no plans on syndicating it themselves, people will lose their trust in you if they find out you're using other people's content and putting your name on it. If you're out of articles to syndicate, just write another, and better yet, convince your coworkers to start using social publishing platforms.
4. Give credit to the original source
In order to avoid getting punished by Google for using duplicated content, make sure you give credit to the original blog article in your social post. This will give priority to your blog in the search results page, which is better for earning leads. Just look at the example below for reference.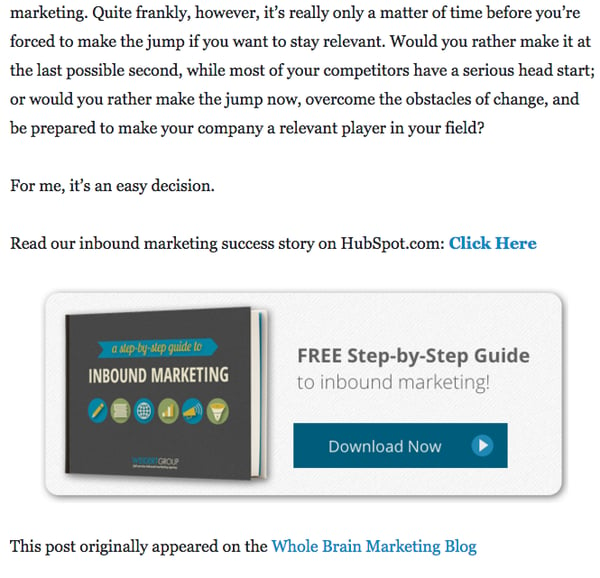 Publishing Original Content on Social Publishing Platforms
When it comes to publishing original content on social platforms, it's one of the most effective ways to develop or grow your own personal brand. For example, if you write something for your company's blog, people will interpret that advice as coming from your company. However, by publishing exclusively under your own name on social media, you can build a reputation for yourself as readers will credit you for your original thoughts, ideas, and opinions. To make sure you're doing it right, here are some tips for writing original content on social publishing platforms:
1. Don't be afraid to be a little less formal and more personal
While different blogs have different tones, a lot of corporate blogs are written pretty formally. In other words, they read more like a textbook rather than an opinion piece from the newspaper. And while there's nothing wrong with that for your blog, that type of writing style isn't necessarily successful on social publishing platforms. People read social posts like the LinkedIn Pulse to see how people really feel about certain issues. They dont want to hear it from a company's perspective; they just want to see what normal people have to say.
2. Branch out from what you normally write about
Because social posts are a great way to develop your own personal brand, writers can use social publishing platforms to get away from what they usually write about. For example, let's say you work for a custom manufacturer, and a lot of the blog articles you write revolve around the types of work your company does. However, let's say you're also passionate about the technological advances being made in manufacturing today. If writing about new manufacturing technologies doesn't fit in with your company's blog, you can always publish your own article on LinkedIn about it, and take your own liberties with how everything is presented.
3. Don't worry about length
A lot of times when you write a blog, you try to maintain a rough word count limit that's consistent with the other blogs you write. However, if you want to write a short opinion piece to address an issue that's been bothering you, feel free to get it off your chest via social publishing—regardless of how long it is. I've seen LinkedIn Pulse articles that are three paragraphs long, but had thousands of views and shares because those three paragraphs said so much. People go to platforms like LinkedIn Pulse to find articles and opinions they can't find on a corporate blog, so as long as you can provide that, it doesn't matter how long it is.
Whether you're syndicating content or writing something completely original, the most important thing is that you're taking advantage of social publishing platforms. For just a little extra work, you can extend the reach of your content so much further, and give yourself more opportunities for lead generation. Once you get over the hump of publishing your first post, it only gets easier from there, so dust off those writing skills and get started today!